Getting a good handle on your handgun is at the foundation of solid marksmanship. VZ Grips in sures this happens no matter your make and model.
A holster manufacturer recently sent me several holsters to try and asked that I offer feedback. The holsters were well made but were equipped with a flange that extended from the rear of the holster up behind where the slide portion of the handgun stuck out of the holster. This is not a bad thing; it can make wearing a holster more comfortable, because it can prevent the handgun from digging into your torso when you bend or flex. It also serves as a mechanism for helping to keep your shirt clear of the holster during the draw or when holstering.
The problem with the holsters I was evaluating was that this flange was too wide. In other words, it was significantly wider than the handgun's slide. Because of this, when attempting to obtain a shooting grip with the handgun in the holster, the flange dug into the web of the hand between the thumb and index finger. This meant that a good shooting grip couldn't be established until the handgun was at least partially removed from the holster.
That's not a good thing. Establishing a shooting grip while the handgun is still in the holster means that when you withdraw it, you don't have to adjust your grip before shooting it, and you have the most and best control over the handgun that's obtainable with one hand. For new shooters who might not immediately grasp—pardon the pun—the importance of this, let me explain.
Establishing a correct shooting grip—pre-draw—reduces the engagement time, because additional time doesn't have to be taken to get a good grip, during or after presentation. It also allows the shooter to have the best opportunity to retain the handgun should a gun grab be attempted, and it reduces the possibility of dropping the handgun while trying to adjust the grip.
Regardless of the type of holster you might be considering, make sure it's a holster that'll allow you to comfortably and quickly establish a shooting grip while the gun is fully inserted in the holster. In the case of the holsters provided for review, I reached out to the manufacturer and explained the design flaw. They made the adjustment and turned a decent holster into a very good one.
VZ Grip Design
I think the design of a handgun's grip is often overlooked. A grip that fits you is one you'll hold on to better and one that'll help you shoot more comfortably and with more precision. I'm not a Glock guy. When I say that, many assume I don't like them because they're plastic or because of some other racist reason. The truth is: Glocks don't fit my hand well or comfortably. Thirteen years of carrying them on duty was enough for me to know that as fact not speculation. One of the first considerations I make when contemplating any handgun is if it fits me and if it's comfortable to hold on to and shoot.
This requirement is one of the reasons I'm becoming more and more fond of the Sig Sauer P320, but only when fitted with the Wilson Combat grip module. It's also the reason most of my serious handguns have undergone a grip replacement. It's not so much that I wanted to customize them or make them look cool; it's because I wanted them to fit me better.
A perfect example is one of my custom Hi Power pistols. I've tried numerous grips on that handgun, looking for something that fit my hand and provided a comfortable and secure grip. Bill Wilson suggested I try a set of VZ Grips Pro Slims grips. I reached out to John VanZyck of VZ, told him what I was looking for, and he sent me a set. Yes, they do look very nice on my pistol, but more importantly, they're extremely comfortable and seem to substantially improve the security of my grip on the gun.
VanZyck also sent a set of his Operator II grips for a Smith & Wesson J-frame. These little revolvers are notorious for having grips that fail to fill the hand, are hard to hold on to and uncomfortable. The Operator II grips truly transformed this little revolver into one that's comfortable and easy to grip. And, just as importantly, they're shaped to allow for ease of loading with a speedloader or stripper clip.
Most VZ Grips are made from G-10, a high-pressure laminate created by stacking multiple layers of glass cloth, which are soaked in an epoxy resin and tempered with heat and pressure. This provides amazing strength and a lifetime of maintenance-free service. They won't rust or oxidize or become soft or brittle. They can be finished with various textures and, damn, if these grips don't look good.
Yes, you need a holster that'll allow you to establish a correct shooting grip before the handgun is removed. But you also need grips that'll allow you to do the same, while ensuring that the gun comfortably and securely remains where it's supposed to be. VZ makes grips for most of the popular semi-autos and revolvers commonly carried for self-defense—even AR-15s. They retail for around $75. VZ also has some pretty neat accessories.
Editor's Note: This article originally appeared in the April 2021 issue of Gun Digest the Magazine.
---
More Useful Gear And Tools: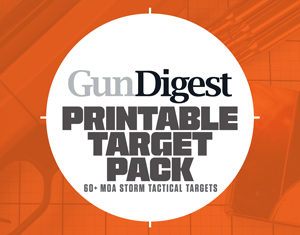 Next Step: Get your FREE Printable Target Pack
Enhance your shooting precision with our 62 MOA Targets, perfect for rifles and handguns. Crafted in collaboration with Storm Tactical for accuracy and versatility.
Subscribe to the Gun Digest email newsletter and get your downloadable target pack sent straight to your inbox. Stay updated with the latest firearms info in the industry.