Little gadgets can make a big difference when dealing with firearms, so here are some must-have tools and accessories to help make your shooting life a little easier.
FIX-IT STICK Tools

If you own guns, you'll sooner or later have to be working on guns. Fix-It Sticks makes the task or tasks, whatever they are, easier. One in particular is called The Works. It contains three different pre-set torque limiters, (65, 45 and 25 in-lb) a 1911 bushing tool, ½-inch socket and adapter, bolt carrier scraper, picks and pry-bar, and an array of tips, bladed and Torx. You can adjust sights, optic and iron, install scope mounts and rings, and tighten up receiver screws to the chassis—everything but overhaul an engine, apparently. All this comes in a zippered pouch that keeps them all together, with room for extras, should you have specialized needs. Where did I put that T1 bit meant for the imported red-dot sight I've been testing?
BADGER ORDNANCE DEAD LEVEL

Getting scope reticles level is a task that seems like magic to some. To make the task easier, Badger Ordnance took a page from the machine tool industry and made the Dead Level. In concept, it's simple: a level rail that you mount your scope to and then make the reticle level. To make one requires precision, which is well within the capabilities of Badger Ordnance. It's a triangular plate with leveling feet on two corners and an indicator on the third. You simply mount your scope mount, or rings, on the rail that's attached to the plate, then use the leveling screws until the bubble is dead center in the indicator ring. Once you know the mounts and or rings are level, you then adjust the reticle until it's level. Bingo-bango, your scope is level. There's no guarantee the receiver is level, which is always a problem, but at least you know the scope and mount isn't the source of that problem.
PRI GASBUSTER

OK, you've finally gotten your suppressor, and now you have gas problems. One location the gas comes at you is out of the gaps between the upper and lower on your AR, and the PRI Gasbuster tames that. The Gasbuster is a charging handle with a machined lip on the bottom rear, to block and divert gases coming out of the gap. Now, short of making your upper and lower one piece (and wouldn't that be a bear to assemble and clean?), no one can stop it all, but the Gasbuster stops a lot, and most of that gas comes jetting back into your face from the gap at the rear. There's no assembly, fitting or installation of the Gasbuster. Just take out your old charging handle and carrier assembly, and install the Gasbuster when you reassemble. And now PRI offers it in an ambidextrous version, with unlocking paddles on both sides.
SAMSON MANUFACTURING

Some is good, more is better and too much isn't enough. Yes, the rock 'n' roll motto. But it also applies to ammunition. If a regular magazine isn't enough, and you want more, then Samson can help you with your S&W M&P situation. Their frame-contour +3 magazine extension adds three more rounds to the capacity of your magazine (9mm, because the 40 is dead and gone now) and follows the frame outline. The baseplate also has sculpted recesses on the top edge, so if you need to yank the old magazine out, your fingers have a purchase ledge for that effort. The preproduction prototype I was shown was done up in Natural Gray, but Samson, ever the clever dudes, also offer it in black. Because if your pistol is formal black, you want your mag extensions to match, right? And it uses the factory follower and spring, making it a simple baseplate swap.
TRIGGERSAFE

Every gun shop I've ever been in had loaded firearms at the ready, strategically positioned around the store. Sitting on shelves or in racks, out of customer sight and reach, they were known by the staff to be loaded and ready. And unless they were a pistol in a holster bolted to the wall that had the trigger covered, all had triggers and safeties exposed. Now, you can use Triggersafe and have that handled. No worries about inadvertently brushing the safety or trigger, because they're now covered or blocked. The AR-15 one (they also offer models for the Glock and a host of shotguns) covers the trigger guard completely, and blocks movement of the selector. But the natural movement of your hand, in grasping the pistol grip and getting ready to use it, moves the Triggersafe off of the receiver. An inadvertent brushing of the firearm won't make it fall off but grabbing it will. The Glock version has a very useful lanyard attachment, so you have the Triggersafe snatched off the frame by the lanyard when you pull the Glock from its storage space.
MAG STORAGE SOLUTIONS

You've heard the observation "as dumb as a bag of hammers." That's because they get tangled and locked in a mass, and you can't just conveniently pull one, any one, out of the bag when needed. Don't do that with magazines. If you want to have magazines at the ready, but don't want them in a jumble inside of a bag or a plastic box, then Mag Storage Solutions have a host of options for you. They make storage racks for magazines, racks that hold the mags in a convenient orientation. You can mount the racks on the inside of the door to your gun safe or gun room. They even make a convenient carry bag that holds a rack and allows you to have magazines at the ready, inside the zippered bag but not jumbled in a pile. Each magazine is racked with enough space to get your hand on a firm grasp of the magazine, to snatch it out of the rack.
REAL AVID MASTER SIGHT PUSHER

The whole CSI aspect of our modern justice system came about because a French detective, a century-plus ago, postulated that nothing can happen without whatever made it happen leaving some mark, trace or evidence. For finding the perpetrators of a crime, that's good. When installing or adjusting sights, that's bad. Far too many times when I was a gunsmith I saw customers' guns come in with hammer marks, or brass or aluminum scuffs on the sights, from someone trying to make adjustments and leaving evidence. Or worse, sights so battered from being adjusted left-right-left-right and never finding center. Real Avid makes an industrial level sight pusher that offers precise adjustments without hammers, punches and scuff marks. Fair warning: It's heavy enough that you can make adjustments without having the tool (and slide clamped within) moving all over the bench as you crank the adjustment handle. Which means it isn't going to conveniently fit into your range bag, unnoticed, when you head to the gun club to get in some practice and zeroing. But a little bit of inconvenient weight is a good thing, when we're talking sight adjustment tools.
Editor's Note: This article originally appeared in the February 2021 issue of Gun Digest the Magazine.
---
More Useful Gear And Tools: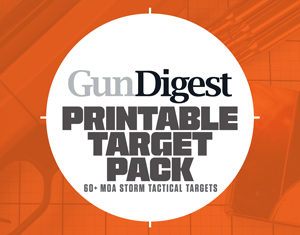 Next Step: Get your FREE Printable Target Pack
Enhance your shooting precision with our 62 MOA Targets, perfect for rifles and handguns. Crafted in collaboration with Storm Tactical for accuracy and versatility.
Subscribe to the Gun Digest email newsletter and get your downloadable target pack sent straight to your inbox. Stay updated with the latest firearms info in the industry.