[imagebrowser id=491]
Shooters have a long-standing love affair with accurate, affordable rimfire rifles. Here's a closer look at 10 of our favorite models.
Like so many other kids, I started my shooting career behind a .22 rimfire rifle. Empty Pepsi cans doubled as targets, and with a little practice even walnuts and hickory nuts were fair game. Just after Halloween, as other kids were digging through piles of dime-store candy, I was busy setting up my annual "pumpkin safari," a rimfire shooting course through the woods where overripe jack-o-lanterns and gourds were the quarry. Later, I hunted squirrels, rabbits, and woodchucks with rimfire rifles by day and, if one of the neighbors had a good hound at the time, raccoons at night.
Those early days carrying rimfire rifles were fun, but they also taught me lessons that would prove valuable later in my shooting career. I learned trigger control, sight alignment, proper stance, and—most importantly—gun safety, skills that would become the framework for hunting, competitive, and tactical shooting down the line. So I have a soft spot for rimfires, and maybe you do too. I went through a magnum phase, like I think all shooters do, when I only liked guns that kicked hard, shot flat, and cost a lot to shoot. That ended pretty quickly. I dabbled in competitive shooting and trained with AR rifles as well, but more and more I'm compelled to pull out those light-recoiling, fun-to-shoot rimfires from the safe when I'm headed for the range.
There have been many great rimfire rifles throughout history, but here's a look at some of our favorite modern rimfires.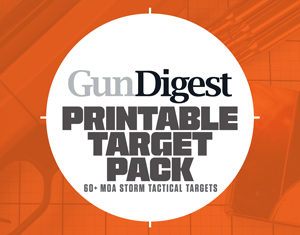 Next Step: Get your FREE Printable Target Pack
Enhance your shooting precision with our 62 MOA Targets, perfect for rifles and handguns. Crafted in collaboration with Storm Tactical for accuracy and versatility.
Subscribe to the Gun Digest email newsletter and get your downloadable target pack sent straight to your inbox. Stay updated with the latest firearms info in the industry.