The 2016 February Regional Firearms gun auction promises to be the largest in Rock Island Auction Company history.
From February 25-28, 2016, the Rock Island Auction Company (RIA) facility will be buzzing with activity as thousands of collector firearms find new owners. Over 23,000 firearms were auctioned by RIA in 2015 and the upcoming February Regional puts the company on pace to far surpass that number in 2016.
The auction's top items include an assortment of Henry rifles and early Winchesters in a variety of different finishes and unique engravings, these highly collectible lever actions should have no trouble finding new homes in the auction. Leading the charge is lot 4020, a Henry rifle with incredible scroll work and deer panel scenes on each side of the receiver. After the Henry and Winchester rifles, the rush for second place is a tight one.
Beautiful Colts, stunning Smith & Wessons, and high condition Remington arms all join the race. An engraved, antique Single Action Army in lot 212 makes a bold statement, as do the rare Smith & Wesson Model 320 revolvers appearing in six separate lots. Too, U.S. military arms are well represented, as shown in lot 2771's Springfield Model 1903 rifle with a rare rod bayonet.
Unique to this Regional Auction are a large number of Class III / Title II machine guns that are listed as "DEWAT" or "Unserviceable." For those seeking out representative models for their collections, these are an excellent opportunity to obtain one at a very attractive price. For those willing to do the work to legally restore these terrors of the battlefield, the rewards reaped could be ever greater.
Lot 547 contains a Steyr Schwartzlose Model 07/12 on its tripod, and lot 546 holds a rare German MP3008 "last ditch" submachine gun. There are 11 lots containing machine guns and many others with extra barrels, drum magazines, accessories, parts, carriages, tools, belts, and more.
This auction's size means that more people than ever are going to be bringing home the guns they want for their collection. Not only will there be firearms, but also the always outstanding selection of bladed weapons, military artifacts, ammunition, accessories, books, Western art, parts, and more. Head over to www.rockislandauction.com today to view full color photos of the 4,000+ lots in this huge event. Direct questions to 309-797-1500 or email info@rockislandauction.com.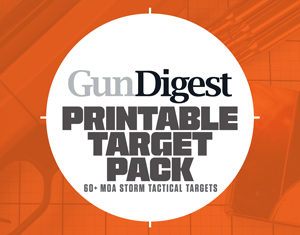 Next Step: Get your FREE Printable Target Pack
Enhance your shooting precision with our 62 MOA Targets, perfect for rifles and handguns. Crafted in collaboration with Storm Tactical for accuracy and versatility.
Subscribe to the Gun Digest email newsletter and get your downloadable target pack sent straight to your inbox. Stay updated with the latest firearms info in the industry.