Nikon's Monarch product name has been well respected in the shooting and hunting industries for some time now, and it has denoted the top of the line in Nikon's product offerings. Hunters and shooters have already discovered the quality of the company's previous Monarch riflescopes and binoculars, but now Nikon is offering fieldscopes with its flagship Monarch title just in time for the hunting season.
The new Monarch Fieldscopes line includes four different spotting scope models available with either a 60mm or 80mm objective lens and a straight or angled body. These new Monarch Fieldscopes are designed with adventurous hunters and long-range shooters in mind and offer an excellent mix of high-end optical features, durability and ergonomics.
To minimize color fringing across the visible light spectrum, engineers have incorporated an Advanced Apochromat Optical System with ED (Extra-low Dispersion) glass. A multi-layer coating is also applied to all lens and prism surfaces to allow for maximum light transmission, which helps hunters identify game in similar-colored environments at longer ranges.
The new spotting scopes come equipped with Nikon's new Field Flattener System, which helps eliminate curvature of field issues where the periphery becomes out of focus when the center is in focus and vice versa. This system provides edge-to-edge sharpness at any distances and compensates for astigmatism and coma aberration.
The Nikon Monarch Fieldscopes feature Nikon's Optimized Focusing System, which enables the shooter to use two different focusing speeds to acquire targets more rapidly at all ranges. These include a fine focus adjustment for more distant targets and a coarser adjustment for closer targets. The oversized focus ring also incorporates a knurled textured for secure grip and reliable adjustment whether the user is barehanded or wearing thick gloves in cold weather.
Waterproof, O-ring sealed and nitrogen-purged to prevent fogging, the Monarch Fieldscopes utilize a very rugged design that's capable of taking abuse in the field. Additionally, these spotting scopes come with Nikon's No-Fault Repair/Replacement Policy.
The new fieldscopes are available with two additional eyepiece options if users don't like the standard eyepiece, but all feature Nikon's innovative Advanced Apochromat Optical System, Field Flattener Lens System Technologies, and a Type 1 Bayonet Mount for swift attachment/detachment. The new Monarch Fieldscopes range in price from $1,399.95 to $1,599.95, with the additional eyepieces ranging from $299.95 to $549.95.


Specifications:


Nikon Monarch Fieldscope 16-48x60mm
Model: Straight body
Magnification: 16-48
Objective Diameter: 60mm
Close Focus Distance: 10.8 ft.
Length Fully Extended: 11.2 in.
Height: 4.9 in.
Width: 3.7 in.
Weight (body only): 44.4 oz.
Waterproof: Yes (up to 1m for 10 min.)
Fog-proof: Yes
Price: $1,399.95

Nikon Monarch Fieldscope 16-48x60mm
Model: Angled body
Magnification: 16-48
Objective Diameter: 60mm
Close Focus Distance: 10.8 ft.
Length Fully Extended: 11.2 in.
Height: 4.3 in.
Width: 3.9 in.
Weight (body only): 44.1 oz.
Waterproof: Yes (up to 1m for 10 min.)
Fog-proof: Yes
Price: $1,399.95

Nikon Monarch Fieldscope 20-60x82mm
Model: Straight body
Magnification: 20-60
Objective Diameter: 82mm
Close Focus Distance: 16.4 ft.
Length Fully Extended: 14.0 in.
Height: 4.9 in.
Width: 4.1 in.
Weight (body only): 58.2 oz.
Waterproof: Yes (up to 1m for 10 min.)
Fog-proof: Yes
Price: $1,599.95

Nikon Monarch Fieldscope 20-60x82mm
Model: Angled body
Magnification: 20-60
Objective Diameter: 82mm
Close Focus Distance: 16.4 ft.
Length Fully Extended: 14.3 in.
Height: 4.4 in.
Width: 4.3 in.
Weight (body only): 57.8 oz.
Waterproof: Yes (up to 1m for 10 min.)
Fog-proof: Yes
Price: $1,599.95

---
Recommended: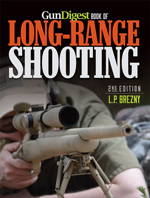 Gun Digest Book of Long-Range Shooting, 2nd Edition
Get the most recent advances in guns and gear to extend your range for hunting, informal target shooting, and formal competition. Discover new tools for long-range shooters both in the field and on the firing range, with coverage of new developments from advances in military applied combat theory. Learn more