Howa has expanded its MiniAction rifle line to incorporate a shooter favorite — the classic and widely available 7.62x39mm.
Going small isn't always a bad thing, particularly if it means shooting zippy or cost-effective centerfire rifle rounds. Howa hit on this winning concept a couple of years back when it introduced a shortened down version of its 1500 action, which it fittingly dubbed the MiniAction.
The rifle series featured the most concise bolt throw in Howa's catalog, giving shooters a lightning-fast bolt-action to send light-to-intermediate rounds down range. It was a target shooter and varmint hunter's dream, one that has only gotten more pleasant with the company's newest addition to the line.
Following last year's introduction of the 6.5 Grendel to the MiniAction family, Howa has now released a rifle chambered for the 7.62x39mm. This is an interesting move and one that allots the rifle a measure of exclusivity, given there are few bolt-actions presently available that feed on the Russian-born fodder.


For certain, the new Howa MiniAction should be an option for shooters who tend to keep a close eye on their wallets. For the most part, 7.62x39mm ammo is as ubiquitous as references to Russia on cable news and relatively cheap, particularly the steel-cased variety. But, along with the Grendel, it gives the platform a heftier round than its original MiniAction calibers: .204 Ruger, .222 Remington and .223 Remington.
Throwing the 7.62x39mm round around, the new MiniAction would make quick work of anything from deer to feral hogs to whistle pigs. It might be a perfect example of the ever-rarer breed of truck gun, perfect to tote along while working on a fence and ready for that overly curious coyote.
Shooters have the choice of 20- and 22-inch barrels in lightweight, standard and heavy configurations. And similar to almost all Howa rifles, the MiniAction is available as a stand-alone gun or topped off with a Nikko Stirling scope. In this case, it's the 3-9×40 Panamax Riflescope and includes base and rings.
Like the rest of the MiniAction line, the new rifle is outfitted with Howa's proprietary two-stage H.A.C.T. trigger, pillar bedding and synthetic stock. The rifle has a 5+1 capacity and feeds from a detachable magazine. The 7.62x39mm Howa MiniAction is fairly easy on the pocketbook, with an MSRP range of $652 to $840 — depending on stock color.
MiniAction 7.62x39mm Specs
Caliber: 7.62x39mm
Action: MiniAction
Barrel Length: 20 and 22 inches
Twist Rate: 1:9.45″
Overall Length: 39.5 or 41.5 inches (depending on barrel length)
Weight: 5.7 or 6 pounds
MSRP: $652 to $840 (depending on stock choice)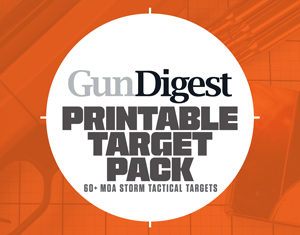 Next Step: Get your FREE Printable Target Pack
Enhance your shooting precision with our 62 MOA Targets, perfect for rifles and handguns. Crafted in collaboration with Storm Tactical for accuracy and versatility.
Subscribe to the Gun Digest email newsletter and get your downloadable target pack sent straight to your inbox. Stay updated with the latest firearms info in the industry.