There are a host of options for shooters when it comes to predator hunting. But which is truly the ultimate predator rifle setup to get the job done?
I've used a broad range of different predator rifle setups over the years, including many bolt guns in ever-popular chamberings like .22-250 and .204 Ruger. I've also been a fan of the AR platform, champion of the 5.56 NATO/.223 Rem. and available in a vastly increasing variety of coyote- and predator-friendly calibers.
The main characteristics of a go-to predator rifle setup are that it be flat shooting, fast reloading and fiercely accurate. This also means having a crystal clear scope with plenty of magnification and, especially for coyote country, some sort of shooting implement to stabilize your shot in any terrain.
On a recent coyote hunting excursion to the Sandhills of Nebraska, I brought along what might be the ultimate predator rifle setup: A SIG Sauer M400 Predator rifle chambered in 5.56 NATO/.223 Rem., topped with a 3-9×40 Whiskey 3 scope, Swagger Bipod and SIG SRD556 suppressor. What makes this setup so ideal? Let's take a look.
The Rifle
The foundation of any predator rifle setup, naturally, is the rifle itself. The M400 Predator is one of the most complete out-of-the-box packages you'll find without adding custom upgrades or a custom price, and it can be had in various configurations (including California compatible and .300 BLK) for right around or under $1,500. It's incredibly lightweight, accurate and offers fast follow-up shots for sets when multiple dogs come in at once.
It's a direct-gas-impingement AR-type rifle with an extremely lightweight ALG aluminum free-float handguard and six-position Magpul buttstock. The M400 Predator features an 18-inch stainless steel barrel and a rubber overmolded pistol grip. Controls are all ambidextrous, while the forend features M-Lok attachment points. For this hunt I also employed the VTAC two-point sling, perhaps my favorite of all time because of its versatility in the field.
For starters, the rifle comes standard with a Geissele two-stage match trigger that's incredibly clean and crisp, breaking right at the 4-pound mark. Besides the accuracy of the barrel—which is phenomenal on the M400—the trigger is one of the single greatest factors for repeatable long-range accuracy, something every predator or coyote hunter depends on. This really is one of the better two-stage triggers I've shot in the AR platform, and it accounts for much of the rifle's accuracy.
When we arrived at camp, I made my way to the bench for a quick check of zero on the rifle. At 50 yards on paper, those 40-grain pills just kept expanding the same hole. I then moved out to a steel coyote target at 180 yards. Playing a couple inches of Kentucky windage, the air-gun-like report of the suppressed rifle was quickly answered by the slap of steel. Dead on. I squeezed off five quick rounds, all of which had the exact same effect.
The Bipod
When it comes to coyote or predator hunting, I wouldn't even think of heading afield without some sort of shooting implement, whether that's a good set of sticks or a bipod. My favorite new bipod, and the one I used in Nebraska's Sandhills, is the Swagger Bipod. I've used it elsewhere on a Ruger American in .22-250 and here on the M400, and it works fundamentally the same way: It attaches either to the existing sling swivel stud or to the forend of an AR via an M-Lok adapter.
Once attached, the Crazy Legs tuck down into the forend attachment for easy carry, secured by a string retention system. When you're ready to setup in the field, simply deploy the legs, set your height, and you're ready to rock. The real beauty of the Swagger Bipod is the Crazy Leg technology, which features heavy duty springs at the base of the legs and, when deployed, allows you to easily pivot and/or match whatever terrain you're trying to conquer without making a lot of adjustment to the bipod.
While to some people the bipod looks heavy, it's actually quite lightweight and nimble. It provides an incredibly stable shooting platform for the real world where terrain is anything but flat. Swagger makes two models, the longer legged Field Model and the shorter Treestand variant, each of which I reviewed in the Sandhills. Since the legs are fully telescopic and adjustable, the Field Model seems like the solid choice for most on-the-ground situations.
The Can
A few years ago I had my first experience hunting with suppressors in Texas, and since then I've been hooked. While a lot of traditional bolt-gun hunters don't see the advantage, I've come to appreciate a good suppressor for its ability to protect my hearing—and the hearing of my hunting companions.
My other favorite feature, which came into play during this hunt, is that a suppressor allows for multiple follow-up shots on game that may not be possible otherwise because of the roar of a rifle's concussion. Likewise, without all that noise pollution, you can clearly hear when a bullet makes impact with the target because of the unmistakable thump.
On this trip I employed SIG's SRD556 suppressor, which weighs around 11 ounces and is roughly 6.5 inches long. A direct thread suppressor, the SRD556 makes the loud bark of the .223 Rem. sound like the report of a nail gun, thus saving your ears. A Taper-Lok design ensures proper alignment and secure attachment.
On the second morning of our hunt, my guide, Justin, called in two dogs with the challenge bark of an electronic call. A big male crested the hill first, and at 150 yards I stopped him in his tracks with the first shot. Rather than tucking tail and heading for the next county, the smaller female with him continued her perch atop the nearest hill, which is when I pulled off an anchoring shot. Make that my first double in one set, plenty to put a smile on my face that morning.
While it's still going to come down to fast target acquisition and fast shooting, the suppressor makes a huge difference in this scenario. Not only that, but my guide's ears were protected from the harmful concussion, and he didn't have to wear additional hearing protection. As a guide, I'm sure he appreciates the effort to save his hearing.
The Glass
No predator rifle setup would be complete without the right scope. Fortunately, SIG's 3-9×40 Whiskey 3 riflescope was perfect for conquering the challenges of coyote country. The magnification range seemed about perfect for our terrain—while you may take serious long-range shots, it's incredibly common to have dogs running in at you barely 30 yards out. This means you need an optic that offers fast target acquisition at a relatively low magnification level for close-range shots, but ample magnification when you need to stretch your shots.
The Whiskey 3 is a second focal plane optic with multiple reticle options, including the HellFire illuminated reticle that I used on my rifle. Every other turn of the left turret increases illumination, while the stops in between cut off power to the red dot. Low dispersion glass provides clarity in any situation, making the Whiskey 3 a great low-light optic. Waterproof and fogproof, the Whiskey 3 retails for a remarkable $360 in the configuration I used.
What's your ultimate predator rifle setup?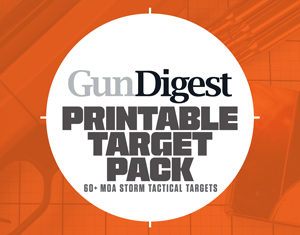 Next Step: Get your FREE Printable Target Pack
Enhance your shooting precision with our 62 MOA Targets, perfect for rifles and handguns. Crafted in collaboration with Storm Tactical for accuracy and versatility.
Subscribe to the Gun Digest email newsletter and get your downloadable target pack sent straight to your inbox. Stay updated with the latest firearms info in the industry.