Leica has a long history in the optics industry, particularly when it comes to laser rangefinders. The manufacturer introduced its GEOVID 7×42 BDA Laser Rangefinding binocular back in 1992. In the years since, the company has only continued to innovate in the rangefinder segment.
Now, Leica has released a new compact laser rangefinder capable of precise measurements out to 2,000 yards. The Leica Rangemaster CRF 2000-B is a powerful ranging tool, offering three different ballistic outputs in addition to line of sight measured distances. Shooters can select from the following options: Equivalent Horizontal Range (EHR) up to 1200 yards or Inches of Holdover, and MIL & MOA corrections to .1 decimal point.
The Leica Rangemaster CRF 2000-B offers incredibly fast speeds, generating information to the rangefinder's heads-up four-digit display in just 0.3 seconds. Precise readings are essentially ensured with the rangefinder's included on-board inclinometer and integral air pressure and temperature sensors.
Pairing Leica's "Optical System" with 7x magnification, the Leica Rangemaster CRF 2000-B produces bright, clear, high-contrast images with an excellent, wide field of view. Measuring only 4.5 inches in length and 2.25 inches tall and weighing just 6.5 ounces, the Rangemaster CRF 2000-B is perfect for extended storage in a pocket. And given its waterproof capabilities and ruggedly durable exterior, it's a great companion afield.
The new Leica Rangemaster CRF 2000-B has an MSRP of $799. For more information on this new rangefinder, check out the specifications below and visit the Leica website.
Specifications:
Leica Rangemaster CRF 2000-B
Magnification: 7x
Objective Lens: 24mm
Linear Field of View: 347 feet at 1,000 yards
Angular Field of View: 6.6 degrees
Eye Relief: 15mm
Measuring Range: 10-2,000 yards
Measuring Accuracy: +/- 1 yard up to 500 yards; +/- 2 yards from 500 to 2,000 yards
Display: Gen. 3 four-digit LED display w/ auto brightness adjustment
Lens Coatings: Fully Multi-Coated, HDC, AquaDura
Prism System: Roof prism w/ P40 Phase Correction Coating
Meter/Yard Selectable: Yes, programmable
Measuring Modes: Single read/scan
Ballistic Solution Output: Line of sight distance to max, Holdover & EHR to 1,200 yards
Angle Readings: Yes
Length: 4.5 in.
Height: 2.25 in.
Width: 1.25 in.
Weight: 6.4 oz. w/ battery
Waterproof: Yes, to 3 feet
Body: Magnesium, Nitrogen-purged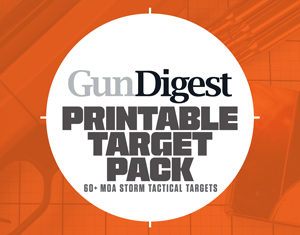 Next Step: Get your FREE Printable Target Pack
Enhance your shooting precision with our 62 MOA Targets, perfect for rifles and handguns. Crafted in collaboration with Storm Tactical for accuracy and versatility.
Subscribe to the Gun Digest email newsletter and get your downloadable target pack sent straight to your inbox. Stay updated with the latest firearms info in the industry.