Looking for a new iron or piece of kit to enhance the one you already own? Check out these seven new bits of guns and gear to grow your firearms wish list. This month, it's custom and collectible guns.
What Are The New Collectable And Custom Guns:
Taylor's & Company Gunfighter Defender
No discussion of collectable guns is complete without an 1873 Single Action Army of some sort. Taylor's & Company has a doozy joining its roster for 2021: the Gunfighter Defender. Essentially modeled on the original Gunfighter, the six-gun is outfitted with the Runnin' Iron model's lowered and wider spur, for a faster cocking time and better handling for mounted shooting. Additionally, Taylor's & Company opted for 1860 Army grips, longer and wider than the traditional Navy type, making it more comfortable for larger hands. They're walnut too—that, along with color-case hardened frame, gives the gun real throwback appeal. Available in .357 Magnum/.38 Special and .45 Colt, the Gunfighter Defender has a competitive edge with plenty of Old West flare. MSRP: Starting at $654
Mossberg Gold Reserve Sporting Series
Heirloom looks at a working gun's price. What's not to love about Mossberg's new over/under shotgun line. In all, there are three models in three gauges—12- and 20-gauge and .410 bore—including two top-end options—the 30-inch barrel Black Label and adjustable-stock Super Sporting. No matter the choice, the Gold Reserve delivers, especially in aesthetics. Rich scrollwork on polished silver or blued receivers capped off with jeweled actions and attractive gold inlays on the underside add class to the guns. The embellishment is further enhanced by an attractive stick of Grade A black walnut, cut-checkering on the grips and forend to boot. Rounding out the package are vent-rib barrels, fiber-optic front bead, shell ejector and set of five extended chokes. MSRP: Starting at $983
Browning Buck Mark Plus Vision UFX
A custom Buck Mark? Not quite. But the Plus Vision UFX is so purpose-built that it certainly flirts with the designation. Among the lightest option in the famed straight blowback rimfire line, the 27-ounce semi-auto is dialed in for fast and accurate action. Giving the nimble .22 LR an extra gear is a tensioned outer aluminum sleeve cutting down on the 5.9-inch barreled pistol's bulk. Furthermore, Browning machines the sleeve, not only cutting weight but giving the Plus Vision better heat dispersion qualities. Did we mention it has a threaded muzzle (1/2"-28 TPI), so it's suppressor ready? Though, if you don't run a can, the factory-installed muzzle brake erases any muzzle flip. MSRP: $719
SK Customs: 'The Mana'
In Polynesian culture, Mana is the spiritual life-force energy that permeates the universe. SK Customs captures this mystical power perfectly in a divine custom Government-sized Colt 1911. Highly polished royal blue slide and frame are accented with superbly etched Polynesian motifs, 24-karat gold inlaid to give it one-of-a-kind appeal. Further offsetting this incredible pistol, ivory scrimshaw owl grips and a diamond-studded front sight. SK doesn't stop there, gold-plating all the hardware, including magazine release, grip screws, barrel bushing and hammer. And the gun is built to perform too, with a high-polished stainless steel national match barrel. Only 200 of this master work have been created. Who are the lucky collectors who will add one to their trove of treasures? MSRP: N/A
Uberti USA Hardin 1875 No. 3 2nd Model Top-Break
Enough drooling on the magazine already. It's called the Hardin, and it's spectacular. Named after the famed Texas gunslinger John Wesley Hardin, Uberti's Schofield replica maintains the iconic six-gun's lines with a dash of modern flare. Namely an eye-catching color-case hardened frame and striking blue-steel barrel, wrapped up with deep black simulated horn grips. It's a right pretty addition to any cowpoke's collection. Available in .45 Colt and .357 Magnum/.38 Special, it's also an easy pistola to feed, so plan on hours of enjoyment. While Hardin was a Colt man most of his career, he was known to wield an 1875 from time to time and with great effect. For certain, if he was around today, he wouldn't turn up his nose as his newly minted namesake revolver. MSRP: $1,479
Volquartsen Mamba-X
When it comes to a winning margin, Volquartsen leaves no stone unturned. With the Black Mamba-X, it's the sighting system, more precisely how it mounted, that gives the .22 LR pistol a gold-medal edge. A multiple-hole mounting system on the slide allows competitors the perfect placement of a red dot for lightning-fast sight acquisition. They're universal too, meaning whatever you run works on top of the LLV-4X 4.5-inch Competition Upper—from Burris all the way through Vortex and everything in between. The Mamba is familiar to handle too, thanks to Volquartsen building the pistol on the iconic Ruger MK IV frame. Accurized with 2.5-pound trigger break, the system is easy to slip into and excel with. MSRP: $1,342
Masterpiece Arms 9mm DS9 Hybrid Pistol
Is there a more aptly named company than Masterpiece Arms? Everything that rolls off its lines is a stroke of genius, including its latest souped-up race gun. A wide-body, double-stack 1911 pistol line from Freedom Gunworks, MPA tweaks and messages the DS9 Hybrid to run as fast as it looks. Built from pure barstock and billet steel—no MIM, castings or forgings here—the 9mm is made for rough play and precision performance. In addition to uncompromising frame-to-slide match-up and an accuracy-enhancing bull barrel, MPA utilizes nothing but high-end components. Koenig hammer, sear and disconnect, Wolff Springs custom machined aluminum trigger shoe and a true one-piece toolless guide rod—the whole nine yards. A 2-pound trigger break, crisp as autumn, and absolute control leaves little doubt the handmade DS9 is worth every penny. MSRP: $2,999
Editor's Note: This article originally appeared in the May 2021 issue of Gun Digest the Magazine.
---
Get More Guns And Gear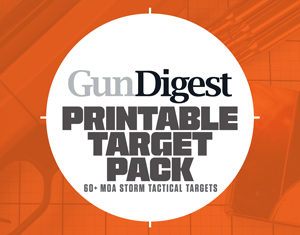 Next Step: Get your FREE Printable Target Pack
Enhance your shooting precision with our 62 MOA Targets, perfect for rifles and handguns. Crafted in collaboration with Storm Tactical for accuracy and versatility.
Subscribe to the Gun Digest email newsletter and get your downloadable target pack sent straight to your inbox. Stay updated with the latest firearms info in the industry.