Sierra Bullets have been making high-quality, award-winning projectiles since the late 1940s. Now that they have expanded their production to include fully-loaded factory ammunition, Sierra is introducing its long-awaited MatchKing Competition ammo line in four popular rifle calibers.
What Calibers Are Available?
223 Remington
308 Winchester
6mm Creedmoor
6.5 Creedmoor
A well-engineered projectile is integral to precision rifle shooting, and the founders of Sierra understood this when they set up shop during the bullet shortage following WWII. They've continued to produce bullets for precision shooting ever since, but have recently branched out into producing complete, factory-loaded ammunition.
While their projectiles were always of sufficient accuracy, that's only half the battle when it comes to loading ammunition for competition. Up until now, shooters of Sierra projectiles were responsible for reloading their own ammo, and there was plenty of room for error. Many may still prefer to handload their own ammunition to their exact liking, but for those who don't have time to reload or who have sufficient faith in Sierra Bullets, their MatchKing Competition ammo can now be bought factory-loaded right off of store shelves (if you can find any).
Their new MatchKing Competition line is available in six flavors—four calibers with two different grain options for two of them. Those options are .223 Remington in 69 or 77 grain, .308 Winchester in 168 and 175 grain, 6mm Creedmoor in 107 grain, and 6.5mm Creedmoor in 140 grain. They are made with tight tolerances using high-quality brass casings to give the most consistent performance. The casings can be reloaded of course, but you'll be hard-pressed to load them as consistently as originally done by Sierra.
Sierra MatchKing Competition ammo is available in 20-round boxes. The .223 caliber options are priced at $39.99 per box and all other calibers are $54.99 per box.
For more information on Sierra Bullets, please visit sierrabullets.com.
---
More on Sierra Bullets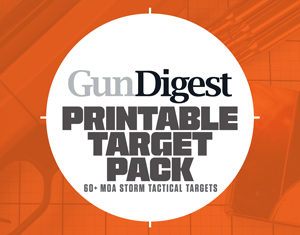 Next Step: Get your FREE Printable Target Pack
Enhance your shooting precision with our 62 MOA Targets, perfect for rifles and handguns. Crafted in collaboration with Storm Tactical for accuracy and versatility.
Subscribe to the Gun Digest email newsletter and get your downloadable target pack sent straight to your inbox. Stay updated with the latest firearms info in the industry.