In addition to type and mode of carry, holster material plays an important role in scabbard comfort and function. Here's an overview to help you make sense of it all.
Leather
The oldest and arguably the gold standard in holster material is leather. Its inherent properties tend to retain the handgun very well. It's durable and long lasting. And it looks good, too. Leather is quiet, and you can draw a handgun discreetly should the circumstances warrant it. It's also comfortable, the longer you wear it the more broken in it becomes as it conforms to your body.
Cowhide and horsehide are the two most common, and each has its own inherent properties that make some difference in the final product.
"Cowhide is by far the most common," writes Ayoob in the Gun Digest Book of Concealed Carry, 2nd Edition (GunDigestStore.com). "Horsehide has its fans: It is thinner and proportionally more rigid, but seems to scratch more easily. Sharkskin is expensive, but extremely handsome and very long lasting and scuff resistant. It may last you longer than it did the shark. (I often wear sharkskin belts in court. Doesn't ward the lawyers off or anything, but seems appropriate, especially during some cross-examinations.) Elephant hide? It's hilariously expensive, but certainly tough, and predictably thicker than you probably need. Alligator and snakeskin holsters seem better suited to 'show' than 'go.' For the most part, cowhide and horsehide are where it's at."
In addition to common-sense things like avoiding extreme heat, humidity, and dry air leather requires maintenance to prevent dry rot and cracking. There are commercial leather treatments on the market but these can soften your holster up too much. Rigidity is one trait you don't want to lose in a gun holster — it keeps your piece from shifting about or pulling outward on the belt. Instead, try Galco's Leather Lotion if your holster starts to squeak or appears dried out. Give the inside a light touch of a silicone-type spray like Galco's EZ Touch to ward off moisture and speed your draw.
Synthetics
The synthetic holster has a following as dedicated as Paul McCartney did during Beetlemania, and is finding its way into more and more holster designs all the time. Its benefits are many: tough, scratch-resistant, maintenance free, precision molded for good gun retention and slick — allowing for a very fast draw.
It also holds its shape, so you can reholster with one hand, a tactical necessity following any defensive gun use (when the cops show up you don't want to have a gun in your hand). In addition, plastics open up design possibilities for unique retention mechanisms, which have been taken full advantage of by some rather imaginative holster makers. Sweat doesn't affect plastics like leather, and you don't have to break it in — it's ready to roll right out of the box and never really changes. Most polymer holsters have retention screws that are used to tighten or loosen the holster's grip on the gun.
Like leather, not all synthetics are created equal. Kydex is the hands-down popular choice for holster construction. It is a high-performance, high-impact, proprietary thermoplastic that seems indestructible and molds to just about any gun. Safariland makes SafariLaminate, and many of their holsters come with a soft liner to protect sights and finish. Bianchi has its own proprietary AccuMold, a basket-weave trilaminate that is moisture resistant, tough and looks damn cool. Even the description for one new holster material from Bianchi, called PatrolTek, reads like something out of Ray Bradbury's The Martian Chronicles, "The PatrolTek line of law enforcement molded accessories features Bianchi's special contour-molded technology and unique trilaminate construction — a 600-denier woven exterior, high-density foam core, and a smooth knit lining. Belts are web construction with hook or loop lining. This synthetic woven product line is both lightweight and durable enough for the rigors of street duty."
Hybrids
Hybrid material holsters blend leather and/or synthetics for the best of both worlds for a new class of super holster. Crossbreed pioneered this field with its popular SuperTuck model that attaches a synthetic holster molded to your specific gun to a large leather pad that rides against your skin. Added comfort was the goal of the big leather pad, while the polymer holster portion was meant to bestow the benefits of a speedy draw. It achieved both perfectly and propelled the company to superstardom in the defensive gun world.
Other companies like N82 (Nate Squared), Stealth Gear and now Galco make synthetic variations on the hybrid theme. Options to check out are Crossbreed's Combat Cut where, as a custom option, they remove a portion of the leather pad to allow you to get a better, faster grip on the handgun. The downside to this option, of course, is reduced comfort.
Bianchi is taking the hybrid material concept in another direction with their Allusion holster. This thing blends thermoformed plastic bonded with leather stitched to the outside. The result, the interior fast-draw benefits of synthetic with the good looks and comfort of leather on the outside.
Nylon
And then there is nylon. Attend any gun show and you will find at least one table where some stinky old fart is hawking his "universal" concealed carry holsters, "For just five bucks!" Buyer beware! You get what you pay for, and the cheap nylon jobs are sure to disappoint. They don't secure your gun at all, even the ones with a retention strap, and they have no structural integrity with which to support the weight of a loaded gun. Configuration options — OWB or IWB — are limited, non-existent or just unclear. Steer clear.
Now that I've cut to the quick of the matter, I will admit nylon does have a place. For example, Bianchi uses it not to make an entire holster, but as a liner in its Ranger. Combined with a trilaminate molded weave structure for rigidity this makes good sense and looks to be one hell of a tough holster used in this application.
Editor's Note: This article is an excerpt of The Comprehensive Guide to Concealed Carry Holsters.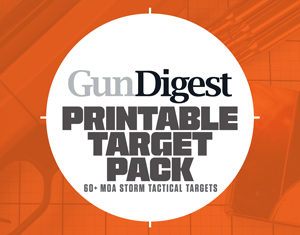 Next Step: Get your FREE Printable Target Pack
Enhance your shooting precision with our 62 MOA Targets, perfect for rifles and handguns. Crafted in collaboration with Storm Tactical for accuracy and versatility.
Subscribe to the Gun Digest email newsletter and get your downloadable target pack sent straight to your inbox. Stay updated with the latest firearms info in the industry.