While it might seem like an oxymoron, there is such a thing as a "big bore compact handgun"—just check out the Guncrafter Model 5.
Based in Huntsville, Arkansas, Guncrafter Industries (GI) was started by Alex Zimmerman in 2004 with a singular mission: to produce the most effective custom pistol for self-defense, which resulted in the .50 GI. Zimmerman and crew have since set their sights on making some of the finest custom 1911s on the market for hardcore aficionados. As a world champion pistol shooter, Zimmerman assembled a crew of skilled "guncrafters" who know how a defensive handgun should be made.
The newest work of art to hit the market is the Model 5 (M5), which is based on the Concealed Carry Option (CCO) pistol. The goal with the M5 was to create a great handgun for daily carry chambered in .50 caliber.
Free Download
Concealed Carry Guns: Semi-Auto Pistol Guide
This download covers the newest and most advanced semi-auto pistols on the market, plus you'll get the must-have 44-page autoloader pistol catalog. Choose the best concealed carry handgun with this free download.
[form id="199314″]
It features a commander-length slide (4.25 inches) and compact frame, making it ideal for IWB carry. The build includes a forged slide, frame and barrel, as well as a heavy bushing-less barrel and a solid match trigger.
To be carry friendly, all the sharp edges have been removed on the M5 and it has a heavy round-butt treatment with ultra-slim lines. As a custom gun, the M5 comes with a range of options for sights, finishes and even a .45 ACP conversion. If you're looking for a bore diameter that means business but in a package that's built for concealment, the M5 might just fit the bill.
Editor's Note: This brief appeared in the June 2015 issue of Gun Digest the Magazine. Click here to download the full issue.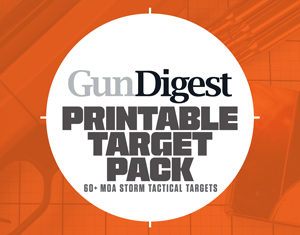 Next Step: Get your FREE Printable Target Pack
Enhance your shooting precision with our 62 MOA Targets, perfect for rifles and handguns. Crafted in collaboration with Storm Tactical for accuracy and versatility.
Subscribe to the Gun Digest email newsletter and get your downloadable target pack sent straight to your inbox. Stay updated with the latest firearms info in the industry.