FN America has announced the relaunch of the FN High Power, and it features several interesting updates and modernizations.


Designed by the legendary John Browning and Dieudonné Saive, FN Herstal of Belgium was the original manufacturer of the pistol most commonly known as the Browning Hi Power. This iconic handgun has had many different names in its nearly 90 years of existence, but regardless of what you know it as, FN has just announced its return in 2022. Now featuring some major redesigns and modernizations, the new FN High Power will be built in the U.S. by FN America at their South Carolina factory.
High Power Legacy Features
While FN America has made several changes to the design, at its heart, the new FN High Power stays true to the original. Fans of the classic BHP should feel right at home with this pistol. The rereleased FN High Power will still be chambered for 9mm, be single-action-only and will have a steel frame and slide. At a glance, the profiles and controls are very similar between the original and the redesign as well. The new High Power's lines were left mostly unchanged, giving it the same sleek look of an old-world gun despite the modern machining and manufacturing techniques used to make it.
FN High Power Redesigns

Most of the new features on the FN High Power were implemented to address the shortcomings of the original design according to contemporary standards. Probably the biggest change is the gun's enhanced magazine capacity. While the original BHP's 13-round magazine was revolutionary for its time, today even many concealed carry pistols can rival or match that. Modern 15-round Hi Power mags from Mecgar were an improvement, but still were lacking compared to modern full-size service pistols. That's why FN designed the new High Power to feature a 17+1 round capacity, using newly engineered magazines to bring it to a competitive level.
The grip's ergonomics have also been updated to prevent hammer-bite, and a new takedown lever greatly simplifies the disassembly process compared to the original BHP. The manual thumb safety and slide release are ambidextrous as well, and the magazine release is reversible.
The FN High Power's appearance has been updated too, now receiving a durable PVD finish rather than being blued or made of stainless steel. The new finish is available in either black, FDE or stainless steel (the color, not the material), and each pistol also includes two sets of polymer grip panels in different colors.
MSRP for the FN High Power starts at $1,269 and the new pistols are supposedly available now, but it may take some time before you actually begin to see them hit store shelves. From the looks of it, FN America really has a winner with this one. They managed to take a classic, beloved and hugely influential design and bring it into modernity without compromising its aesthetics. After handling a few models at SHOT '22, I can tell you that they feel as solid as they look. My only complaint is that the grip angle didn't feel as comfortable to me as the original's did, but this is obviously subjective. With other companies like Girsan releasing modernized BHP clones with features like accessory rails, time will tell if FN America follows suit.
For more information, please visit fnamerica.com.
---
More On The BHP: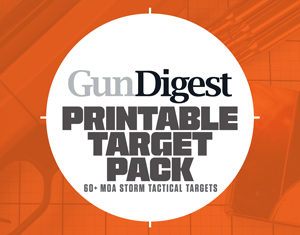 Next Step: Get your FREE Printable Target Pack
Enhance your shooting precision with our 62 MOA Targets, perfect for rifles and handguns. Crafted in collaboration with Storm Tactical for accuracy and versatility.
Subscribe to the Gun Digest email newsletter and get your downloadable target pack sent straight to your inbox. Stay updated with the latest firearms info in the industry.