Enhanced with Ruger's Lite Rack system, the new LCP II .22 LR proves an easy shooting and affordable micro-pistol trainer.
How Has The LCP II .22 LR Been Optimized:
Chambered for the light recoiling .22 LR
Enhanced slide and light springs make for easy manipulation
Excellent 10+1 capacity
A bit like holding a jump kick, micro pistols aren't always the easiest handguns to shoot accurately. That even goes for those chambered in the fairly manageable .380 ACP. There are several factors at play, but the primary culprits are the guns' lightweight combined with scant real estate to get a grip. Generally, a healthy amount of practice is warranted before making one of these mighty mites your go-to everyday carry piece.
Ruger has made boning up on micro pistol fundamentals all the more doable with the introduction of a rimfire variation of one of its most popular carry guns. From muzzle to butt, the LCP II .22 LR is designed for the utmost shootability and ease of manipulation, making it an ideal trainer, as well as potentially filling a back-up role. And its easy-shooting chambering isn't the only thing the 10+1-capacity .22 pistol has going for it to make it an overall sweet shooter.
Chief among the LCP II .22 LR's enhancements is Ruger's Lite Rack system, several features that make manipulating the side worlds easier. In particular, the pistol has refined cocking serrations, cocking ears at the aft of the slide and lighter springs. Together, the assets make working the slide much simpler, making the LCP II well suited for new shooters or those who suffer from weak hand strength.
The LCP II .22 LR features a tilt-barrel, blowback operation and last-round hold open … a bonus in a class of pistols that generally doesn't boast that characteristic. It also has a manual safety—situated on the left, a push-forward-to fire thumb configuration—that proves unobtrusive and further bolsters the pistol as a solid training option. As to price, the LCP II .22 LR is in line with the rest of the series with an MSRP of $349.
More from Ruger:
Sturm, Ruger & Company, Inc. (NYSE: RGR) proudly introduces the LCP® II chambered in .22 LR. This new, low-recoiling Lite Rack™ pistol features an easy-to-manipulate slide that shoots comfortably regardless of hand size or strength.

Since its introduction in 2008, the LCP has set the industry standard for a lightweight, compact and reliable carry pistol. In 2016, the product line evolved with the release of the LCP II, boasting enhanced features like taller sights, a larger grip surface, crisp new trigger and last-round hold open. The all new LCP II chambered in .22 LR represents the latest innovation in compact carry pistols from Ruger.

The .22 LR LCP II incorporates Ruger's new Lite Rack system, which allows for easy slide manipulation. The Lite Rack system includes refined slide serrations, pronounced cocking ears and a lighter recoil spring. Combined, these features ease the burden of cycling a pistol slide by hand. Pistols equipped with the Lite Rack system are ideally suited for new shooters, those who struggle with racking traditional slides and anyone looking to enjoy a day at the range. Whether used as a training tool for an existing LCP or LCP II, or as a concealed carry option, the low-recoiling Lite Rack LCP II in .22 LR allows shooters to train with and operate their pistol with confidence.

Optimized to function with high-velocity ammunition, this new pistol features a tilt-barrel, blowback semi-automatic action, which aids in feeding for reliable function. With a patent-pending floorplate assembly, the magazine offers a very compact 10+1 capacity, extends the grip for improved control and retains the LCP II's popular last-round hold open function.

The LCP II in .22 LR features a first-ever manual safety, making this a great training option for new shooters or those who prefer a manual safety option. Positioned on the left side of the frame, the safety is oriented in a push-forward-to-fire configuration that is instinctive and unobtrusive. A magazine disconnect ensures that the gun cannot fire with the magazine removed, yet still allows the magazine to drop free.

Like the rest of the LCP II family, this American-made pistol features a short, crisp, Secure Action™ trigger with inner trigger safety; improved sights for superior accuracy; and highly-textured grip surfaces. In addition to one, 10-round magazine, this pistol also ships with a magazine loader.
LCP II .22 LR Specs
Capacity: 10+1
Barrel Length: 2.75″
Overall Length: 5.20″
Weight: 11.2 oz.
Grip Frame: Black, High-Performance, Glass-Filled Nylon
Grooves: 6
Feature: Lite Rack System
Slide Material: Alloy Steel
Barrel Material: Stainless Steel
Slide Width: 0.81″
Sights: Integral
Twist: 1:16″ RH
Slide Finish: Blued
Barrel Finish: Satin Stainless
Height: 4″
Suggested Retail: $349.00
For more information on the Ruger LCP II .22 LR, please visit www.ruger.com.
---
Get More Ruger Info: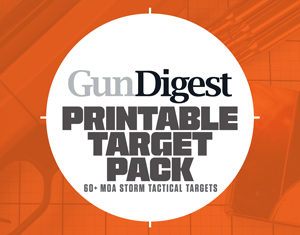 Next Step: Get your FREE Printable Target Pack
Enhance your shooting precision with our 62 MOA Targets, perfect for rifles and handguns. Crafted in collaboration with Storm Tactical for accuracy and versatility.
Subscribe to the Gun Digest email newsletter and get your downloadable target pack sent straight to your inbox. Stay updated with the latest firearms info in the industry.