Champing at the bit for a top new heater? These are the 8 new handguns you should be craving to add to your gun safe.
What Are The Best Handguns For 2019:
I won't lie to you: Sometimes, being a gun writer is work — real work. Even torture. I mean, someone has to look at what's coming that's new, and they have to decide what's tops on the list of must-haves. Hey, I'm willing to make that sacrifice so you won't have to. You're welcome.
Here, in no particular order, are the best pistols you should hunt down, check out and consider adding to your inventory for 2019.
Smith & Wesson 642
Despite having been around for more than a century-and-a-half, S&W does not fail to deliver. The latest for EDC is their 642. You know, the compact .38 Special five-shot revolver with an enclosed hammer. That means you don't have to worry about lint, dust or whatever miscellaneous debris about your person that can fall into the hammer slot. There isn't one.
The short barrel, which is a fraction under 2 inches in length, is plenty long enough to be accurate and deliver the velocity you want from .38 Special ammo. Although, I have to warn you, while the 642 is rated for +P ammo, shooting .38 Special +P loads through a revolver that weighs an ounce less than a pound is not going to be easy.
With all of this comfortable-to-pack defensive sidearm goodness on your belt, S&W had taken another step to improve it: They have installed a CTC laser, the integral-to-the-grip version, and the grips are done in robin's egg blue. So, this gun is lightweight, utterly reliable, stylish, easy to carry and chambered in .38 Special. What's not to like?
Nighthawk Firehawk
My checkbook should be afraid: Nighthawk decided to go and make a compensated pistol, and in their usual obsessive method they spent an inordinate amount of time and computer cycles in designing, testing and tuning a comp. Instead of simply putting a comp on the end of an extended barrel, they shortened the slide, blended the comp to match and made the entire pistol no larger than a standard government model. The magazine well receives a funnel, the grips are aggressively textured G10 and the result is an accurate, soft-shooting-but-hard-hitting pistol.
Being a Nighthawk build, the details are all exacting. The slide and comp have a French border, the frontstrap is lifted and checkered, the fit of slide to frame to barrel is done by master pistolsmiths, and the end result is not just beauty — but performance.
The rear of the slide is serrated, the front sight has a gold bead and you can have your Firehawk in 9mm or .45 ACP. There's no 10mm upgrade right now, but as with all things, that might change … not that you should refrain from acquiring a Firehawk while waiting on the future chance of a 10mm pistol.
Expensive? Perhaps, depending on how you measure such things. But when you consider that it's going to last long enough to leave to your grandkids in your will, that's not so expensive.
Ruger Koenig Custom Shop 1911
Ruger, having made the transition from "ugly blocky 9mm pistols" to the 21st century of AR-15s and 1911s, has taken it a step further. Teaming up with Doug Koenig, they now offer Custom Shop 1911s. The start is a 9mm full-sized 1911, the easiest centerfire pistol in the world with which to learn to shoot — and one of the most fun. Combine a clean trigger with sharp accuracy and lower-than-modest-recoil, and then top it off with cheap 9mm ammo costs, and you have a fun gun par excellence.
The details, such as the Hogue G10 grips, the checkered frontstrap and fiber-optic front sight, just make the Koenig Custom Shop Ruger 1911 one of the top pistols to be tempted by in 2019. And if a 9mm isn't on your must-have list, then it can't be too long before Ruger offers it in .45 ACP. I'll go ahead and say it, if no-one else will: Everything should be available in .45 ACP. And if you want it for daily carry, or to use in competitions, it won't let you down there, either.
---
On Target Handgun Articles:
---
Sig Sauer P229 Legion SAO
OK: If you could improve the Sig 229, what would you do? When Sig asked themselves that question, the obvious answer came up: Add it to the Legion lineup. So, they did. They took the rock-solid P229 and added the Legion gray PVD coating, and they fitted it with G10 grips featuring the Legion logo. They put on tritium night sights, and not just any, but their Electro-Optics XRay3 hi-viz sights, and they packed it with three magazines. It got the X-Five frontstrap undercut, frontstrap checkering and the slide received front cocking serrations. Then Sig installed a solid steel recoil spring guide rod, for extra mass low and forward to reduce felt recoil. For EDC, they installed a low-profile slide stop and thumb safety.
Having done all that, what else could they do for 2019 to further improve the P229? Simple: They made it a single-action-only pistol. The trigger mechanism is now not a double-action to single-action design, but single-action only — for a cleaner, crisper trigger pull. Sure, you give up the DA second-strike capability, but we all know that if a primer fails to go off you don't give it a second chance — you ditch it and get to the next one. For an EDC 9mm with high capacity (15 rounds in the standard mags), the Sig P229 Legion SAO is a steal.
Kimber EVO SP
If a full-sized pistol is not what you're looking for, then the ultra-compact Kimber EVO might be just the thing. New for 2019, the EVO is now a striker-fired pistol, the EVO SP, so the rear of the slide is enclosed. This helps keep lint, dust and the basic everyday carry crud that accumulates on our gear, out of your pistol.
Kimber made the magazine release one that can be swapped for right- or left-handed shooters. They also performed some trickery on the grips: I had to actually read about the EVO SP (oh, the horror) to realize one detail that was different about the pistol — there are no screws or other external hardware holding the grips on. The rear sight has a ledge machined in it, so if you need (and it would be a pretty drastic need) to work the action one-handed, you can. With three finish ensembles and the Kimber Custom Shop to call on, you can pretty much have your EVO SP any way you want it, provided you want it in 9mm Parabellum.
Canik TP9 Elite Combat
The Turks make solid guns. The Canik is the exemplar of the modern service pistol: a striker-fired, polymer-framed hi-capacity 9mm that you can have in black or FDE. However, for the latest model, Century Arms — the importer of Canik — went to Salient Arms for upgrades.
On the barrel, they extended it and threaded it for mounting a suppressor. The slide gets a fiber-optic front sight in your choice of two colors. The slide also gets machined for a red-dot sight, and the TP9 Elite Combat comes with that machined area sporting a filler plate, just in case you don't want a red-dot sight. Yet. The frame, with its replaceable backstrap to accommodate your hands, gets a magwell funnel for speed reloads, and the trigger is replaced with a flat-faced one while the striker system has been tuned for a cleaner trigger press. All of this for a pistol whose price won't break the bank, and in 9mm, which also means feeding it won't break the bank.
Wilson Combat Supergrade Commander Special
The Wilson Combat Supergrade line continues to expand. The latest is the Supergrade Commander Special. The crew starts with Wilson's own forged frame and slide, machined in-house and fitted by pistolsmiths with years of experience. (It takes 5 years just to learn how to do all the tasks they do to a 1911.) Then, it gets a Wilson match commander-length barrel and extra touches for those of you planning on everyday carry … such as a low-profile USGI-derived thumb safety and an abbreviated grip safety that still protects your hand from the rowel hammer but minimizes printing when carried.
They then combine old with new, including USGI cocking serrations with ball-end cuts on the slide. The white/gold bead front sight is on a blued slide. You can have your hand-polished Supergrade Commander Special in all-blue, or blue slide over stainless frame. Carry in style, carry in comfort, carry something comforting, carry the Supergrade Commander Special.
Big Horn Armory AR500
If there's one advertising/marketing tag line I hate, it's "taken to the next level." But there are times when it is actually true. Big Horn Armory has done just that, by taking their .500 Auto Max rifle and crafting an AR pistol out of it. Big Horn takes a new AR-10-based receiver set, with the magazine well broached for an AR-15 sized magazine, and puts an Alien Gear Tailhook arm brace on the back end and a 10-inch barrel on the other end.
The .500 Auto Max is a .500 S&W case with the rim turned off, and you can have ammo loaded with bullets from 350 to 440 grains. Or, you can load your own, as it uses standard .500 S&W Magnum loading data. The result is a compact, relatively lightweight (you don't want a brute like this to be too light, now do you?) pistol that would be perfect as a close-range hog hammer, a camp bear gun or just the range gun to impress your friends. Ammo is available from several sources, and new brass can be had from Starline. As a final note, should you desire, the barrel is threaded, and putting a suppressor on it is thus possible.
There you have it: a few reasons the job of being a gun writer can be so much work. This is my list, and it should be your list, too. No, don't thank me: I'm happy to be of service.
Editor's Note: This article originally appeared in the January 2019 issue of Gun Digest the Magazine.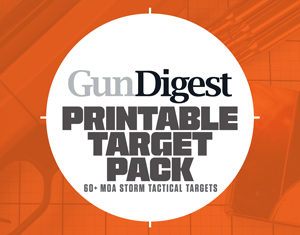 Next Step: Get your FREE Printable Target Pack
Enhance your shooting precision with our 62 MOA Targets, perfect for rifles and handguns. Crafted in collaboration with Storm Tactical for accuracy and versatility.
Subscribe to the Gun Digest email newsletter and get your downloadable target pack sent straight to your inbox. Stay updated with the latest firearms info in the industry.