There were plenty of new guns at the 2019 SHOT Show, but what were the ones that turned heads?
What were the head-turning guns of SHOT Show:
The booths are broken down, the convention center cleared out and another chapter of SHOT Show is in the books.
While the sheer magnitude of the event is always enthralling, overall the latest iteration of the world's largest outdoors and firearms exhibition wasn't earth-shattering. Pistol-grip smoothbore firearms have been done time and time again. Single-stack polymer-framed pistols are as common as Tuesday now. And the 6.5 Creedmoor, what rifle maker doesn't have one in their stable?
This situation is unsurprising, given inventories are still high and buying appetites are not nearly as ravenous as they were a few years back. People, wisely or not, feel politically safe for the moment and aren't racing to make purchases to beat potential legislation to the wire. This makes for the perfect storm where the addition of a thumb safety or FDE finish model constitutes a new release.
Still, even without a nuclear-level release the past week in Las Vegas, there were still quite a few head-turners at the Sands Expo Center. Guns done right, built to perform and well worth the time and effort to check out. To that end, here are four that caught our attention. There a plenty more out there, but these particular ones got us excited about 2019 prospects.
Daniel Defense Delta 5
Best known for their top-shelf ARs, Daniel Defense made a break from semi-automatic rifles this year with its innovative Delta 5 bolt-action rifle. A switch-barrel design, the company presently offers .308 Win., 7mm-08 and 6.5 Creedmoor barrels, and said there is the potential for more calibers down the pike.
No matter what it's launching, the Delta 5 is – from muzzle to buttstock – made to land dead on target again and again. To this end, the rifle boasts a fully adjustable carbon-fiber reinforced stock, with a mini-chassis that creates a rigid platform for the stainless-steel action and CHF barrel. Furthermore, its Timney Elite Hunter single-stage trigger – user adjustable between 1.5 to 4.5 pounds – breaks as crisply as you'd expect. Behind the trigger (no live fire this time around), the Delta 5 feels intuitive and a natural choice for anything from an antelope hunt to banging steel the next county over.
More than anything, you get a sense of ownership with the rifle. No matter your application, with the Delta 5 you have the tools at your disposal to have the right rifle.
MSRP: $2,199. www.danieldefense.com
Armscor VR80 Shotgun
When it comes to box-magazine fed semi-autos, AK-pattern shotguns have ruled the roost. Though, in recent years, AR-style smoothbores have made headway. And if the Armscor VR80 12-gauge is any indication, this familiar configuration's future looks bright.
First and foremost, the new gun works. Granted, this isn't backed up with a 1,000-round torture test, by any means. But from limited range time and plenty of scuttlebutt, the short-stroke piston operated gun just plain chews through what it's fed.
Even better, if you know how to run an AR, you know how to run a VR80. Yes, it does have a side charging handle, but the mag release and thumb safety are right where they should be, making the gun highly intuitive. Furthermore, its nimble frame makes it feel like an AR on the shoulder, only one that pitches, say, 41 pellets of #4 buckshot instead of 5.56 NATO each trigger pull.
For 3-Gun competitors, it could prove a boon – a reliable smoothbore that provides a nearly seamless transition is gold. But, blasting targets or coyotes, you could do a heck of a lot worse than a VR80.
MSRP: $699. www.armscor.com
Colt King Cobra
Colt has made waves since the reintroduction of its double-action revolver line and got people jabbering over it again this year. For good reason. The reboot of a .357 Magnum revolver has been a long time coming, and the new King Cobra doesn't disappoint.
Though, this gun is a long ways from the original iteration. Through and through, the new King Cobra is a carry gun, from its trim 3.5-inch barrel to its integral rear sights. Given the rest of the Cobra line is comprised of snubbie .38 Specials, this should come as no surprise.
Well balanced, the King Cobra performs well above what you'd expect out of a smallish .357. The gun is controllable, and when shooting double-action – thanks to a very smooth trigger – the King Cobra proves highly accurate. Its Hogue Overmolded grips don't hurt either.
Certainly, there are many who would like to see the rebirth of the Python and only time will tell if this is little more than a pipe dream. But for the time being the King Cobra should more than satiate the hunger for a .357 Colt.
MSRP: $899. www.colt.com
Mossberg MC1sc
In all honesty, it would have been very interesting if Mossberg would have dusted off the tried-and-true "Brownie" design to jump back into the pistol world. To what end? Who's to say? But it would have been interesting. The gunmaker, however, did the next best thing – cooked up another small pistol much more applicable to the modern day – the MC1sc.
Outside of the single-stack 9mm coming from Mossberg and a unique removable firing pin takedown, the pistol doesn't hold many surprises. If you know the class of firearms you know what the MC1sc brings to the table. But just because the polymer-framed striker-fired pistol is familiar in a very established niche doesn't mean Mossberg doesn't have something to crow about.
The MC1sc is well put together, with a respectable trigger, is intuitive to shoot and comes with the little extras – steel sights, positive grip texturing, flat-faced trigger. What more could you ask for? If it's affordability, the 9mm has that in spades to boot. Easily one of the most economical pistols in its class, the MC1sc is hard not to consider if you are shopping the single-stack marketplace. Which should have the competition sweating.
MSRP: $425. www.mossberg.com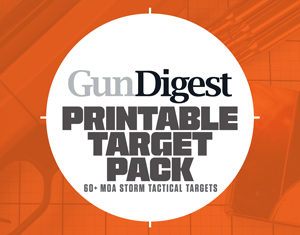 Next Step: Get your FREE Printable Target Pack
Enhance your shooting precision with our 62 MOA Targets, perfect for rifles and handguns. Crafted in collaboration with Storm Tactical for accuracy and versatility.
Subscribe to the Gun Digest email newsletter and get your downloadable target pack sent straight to your inbox. Stay updated with the latest firearms info in the industry.