Cleaning and lubricating your firearms in one felled swoop, Clenzoil streamlines your gun cleaning process.
There are rare cases where someone enjoys cleaning their guns more than shooting them. Maybe if you worked at the Cody Firearms Museum you might find a certain satisfaction in breathing new life into old steel. Even then, it's a safe bet that somewhere in the back of your mind you'd still linger on the idea of sending hot lead, not cold cotton, down the bore of an original Colt Single Action Army revolver or what have you.
---
More Gun Digest Videos:
---
Gun owning means gun cleaning. You might as well make the best and most of it, use it as an opportunity to enhance the overall experience and ensure your gun is in tip-top condition the next time you're behind the trigger. Next to having the right gun cleaning gear, the most important factor in guaranteeing this happens is employing the right solvents and lubricants. Clenzoil streamlines this process, by giving you both of these in one marvelous gun cleaning product.
The one-step cleaner and lubricant has been among the most trusted gun-care products for nearly three-quarters of a century now. Powerful enough to remove oils, dirt, copper, lead and other contaminants, Clenzoil busts up and clears out all the gunk that fouls your gun's bore and other metal surfaces. It also provides a thin, non-greasy coat that prevents rust and lubricates all moving parts. That's enough in and of itself to give it a crack, but Clenzoil also does a number on wood and leather. Yes, you heard that right. The same cleaning agent you use to strip copper from your grooves can keep your sling supple and soft as well.
Certainly, Clenzoil won't stop you from having to clean your guns. But given its incredible versatility, it will make it a heck of a lot quicker and more thorough process.
For more information on Clenzoil, please visit www.clenzoil.com.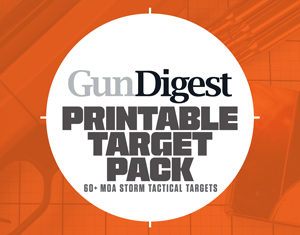 Next Step: Get your FREE Printable Target Pack
Enhance your shooting precision with our 62 MOA Targets, perfect for rifles and handguns. Crafted in collaboration with Storm Tactical for accuracy and versatility.
Subscribe to the Gun Digest email newsletter and get your downloadable target pack sent straight to your inbox. Stay updated with the latest firearms info in the industry.