The new Hudson H9 from Hudson Mfg., a relatively new, Texas-based manufacturer, made a big splash at the SHOT Show this year. Find out more here.
Hudson Mfg., a relatively new, Texas-based manufacturer, made a pretty decent splash at the 2017 SHOT Show with its introduction of the H9 pistol. Something of a hybrid design featuring aspects of a 1911 and characteristics of modern day striker-fired pistols, the Hudson H9 drew a crowd at both the company's booth at the Industry Day at the Range and its booth on the show floor.
Released just ahead of the show, the new Hudson H9 represents Hudson Mfg.'s flagship product. It features a 1911-style, single axis, straight pull trigger but also incorporates an integrated trigger safety similar to those found on many striker-fired guns. And with a pull weight of between 4.75 and 5 pounds and only 0.115 inches of trigger travel, the gun is slated to be a capable shooter.
Another truly unique aspect of the H9's design is its profile. This can be seen clearly just in the gun's appearance, and the result of this innovative frame is a very low bore axis, which, as many shooters are aware, contributes to less perceived recoil and generally improves accuracy and precision.
The gun's frame utilizes an insert chassis and the slide is manufactured from stainless steel. The finish is black nitride, which is provided by H&M Metal Processing. These features contribute to a gun that, in addition to being very shootable, is also fairly durable.
The new Hudson H9 design is also user-adjustable, and very friendly to left-handed shooters. The gun features ambidextrous slide stop levers, as well as a reversible magazine catch for right- or left-handed use. For those who prefer a gun with a 1911-style feel, the H9's trigger can be replaced with a Hudson trigger without the integrated trigger safety, and an external thumb safety can also be added. There is no grip or backstrap safety.
Chambered in 9mm, the H9 comes equipped with a 4.28-inch barrel for an overall length of 7.625 inches. As with a 1911, the width of the H9 is fairly svelte at just 1.24 inches, and the loaded weight is 42.6 ounces.
Other features built into the new Hudson H9 include a Trijicon HD front sight, premium interchangeable VZ G10 grip panels and a textured lower backstrap designed and manufactured by Hogue. Capacity on the H9 is 15 rounds. It also incorporates an accessory rail for mounting things like a laser sight or a flashlight.
Hudson's new H9 pistol is available now with an MSRP currently listed at $1,147. For more information, check out the specs below or visit the Hudson Mfg., website.
Specifications:
Hudson H9
Type: Semi-auto
Caliber: 9mm
Barrel: 4.28 in.
Overall Length: 7.625 in.
Height: 5.225 in.
Width: 1.24 in.
Weight: 36.5 oz. (empty mag), 42.6 oz. (loaded)
Trigger: 4.75-5 lbs.
Sights:Trijicon HD front, notch rear
Grips: VZ G10 interchangeable, Hogue textured lower backstrap
Finish: Black nitride
Price: $1,147
Manufacturer: Hudson Mfg.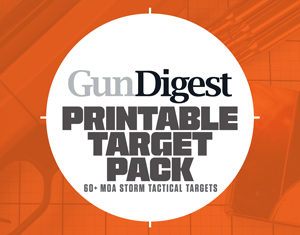 Next Step: Get your FREE Printable Target Pack
Enhance your shooting precision with our 62 MOA Targets, perfect for rifles and handguns. Crafted in collaboration with Storm Tactical for accuracy and versatility.
Subscribe to the Gun Digest email newsletter and get your downloadable target pack sent straight to your inbox. Stay updated with the latest firearms info in the industry.