Bushnell adds to its long-range offerings with the new LRHSi 4.5-18×44 riflescope, which features an illuminated reticle for rapid targeting.
Bushnell has always been a big name in the hunting scene, and in the past few years, the company has really dedicated itself to offering more in the way of quality, long-range optics for hunters and shooters. One of the American manufacturer's biggest releases in recent years was its Elite Long Range Hunting Scope (LRHS), a purpose-built riflescope with features designed to aid the long-range hunter.
Now, Bushnell is expanding its long-range offerings by adding another long-range riflescope with an illuminated reticle to help hunters more quickly place their aiming point on target in any light condition. Like the previous LRHS, the new Bushnell LRHSi 4.5-18x44mm riflescope provides excellent accuracy, especially as distances stretch, making it a powerful tool for long-range shooters and hunters.
The new LRHSi riflescope features a first focal plane G2H-i mil-based reticle with .1 mil clicks. This allows shooters to range targets at any magnification and make quick, easy and precise holdover adjustments in the field. The scope also incorporates a low-profile, target-style elevation turret equipped with a RevLimiter zero stop function that allows shooters to quickly return to zero without dialing past the zero.
Like many of Bushnell's riflescopes, the new LRHSi 4.5-18x44mm comes equipped with Bushnell's Rainguard HD that creates a permanent barrier that beads water to maintain a clear view regardless of the conditions, an excellent benefit to serious hunters who might not always experience ideal shooting conditions. Along these same lines, the LRHSi is Argon-purged for waterproofing.
This new long-range scope utilizes a fast-focus eyepiece and side-parallax adjustment to ensure a clear sight picture regardless of range, and it features fully multi-coated optics with Ultra Wide Band anti-reflection lens treatments.
The LRHSi has a durable 30mm tube construction, yet weighs in at just 26.5 ounces, providing a lightweight option perfect for the field. Overall length is 14.2 inches, and eye relief on the new optic is 3.94 inches.
The new Bushnell LRHSi 4.5-18×44 currently carries a minimum advertised price (MAP) of $2,039.95. For more information on the new LRHSi, visit Bushnell's website.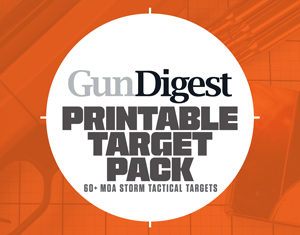 Next Step: Get your FREE Printable Target Pack
Enhance your shooting precision with our 62 MOA Targets, perfect for rifles and handguns. Crafted in collaboration with Storm Tactical for accuracy and versatility.
Subscribe to the Gun Digest email newsletter and get your downloadable target pack sent straight to your inbox. Stay updated with the latest firearms info in the industry.