The new DoubleStar ARC 300 offers shooters the reliability and weight efficiency of the line, but in the eminently suppressible .300 Blackout.
The idea behind DoubleStar's ARC (Always Ready Carbine) when it was released a while back was not only to create a reliable rifle, but one that put a premium on weight efficiency. The Kentucky-based company produced an AR-style rifle packed with the features shooters have come to expect. At the same time, the lightweight 5.56×45 NATO carbine was sized right to be a constant companion — whether in a patrol cruiser or afield.
The ARC appears to have struck the right cords in the black gun end of the firearms market, with DoubleStar expanding the line to include a model in .300 Blackout. Introduced at the April 27-30 NRA Annual Meetings and Exhibits in Atlanta, the DoubleStar ARC 300 promises the same top performance as its predecessor, but shooting the eminently suppressible round.
The move should excite more than fans of the can, though. Expanding the platform up to .30 caliber also opens up the ARC's potential for hunting, particularly in the corners of the country where 5.56 is a no-no for deer. The .300 BLK has also proven itself a capable hog reaper, particularly in porcine-rich regions where, in a semi-automatic platform, it excels when multiple targets present themselves simultaneously.


The 6.7-pound rifle uses forged 7075 T6 aluminum for its upper and lower receivers and is outfitted with forged internal fire control parts. It boasts a 16-inch barrel in a lightweight profile and is topped off with a Big Timber Muzzle Brake to reduce muzzle rise. With a ¾-inch counterbore, the brake threads over the barrel, sitting just outside of the handguard. The ARC 300 has a 15-inch Samson SX M-LOK Handguard with ample space for accessories. And it comes with Samson flip-up front and rear sights.
The direct-impingement rifle cuts down more weight with its Spartan Mortar Plate Buttstock. For shooters who require an adjustable buttstock, DoubleStar does include a collapsible DS4 stock. The DoubleStar ARC 300 is priced fairly competitively, with an MSRP of $1,370.99.
Specifications:
DoubleStar ARC 300
Caliber: .300 Blackout
Weight: 6.7 pounds
Operating System: Direct Gas Impingement
Overall Length: 34.5 in.
Barrel: 16 in., 416 stainless steel, free floating
Twist Rate: 1:8
Sights/Gas Block: Low Profile Gas Block, Samson flip-up front and rear sights
Muzzle Device: Big Timber Brake
Handguard: Samson 15-in. SX M-LOK Handguard
Upper Receiver: Forged aircraft-grade 7075 T6 Aluminum, Mil-Spec anodized
Lower Receiver: Forged aircraft-grade 7075 T6 Aluminum, Mil-Spec anodized
Charging Handle: Tac Latch Charging Handle
Capacity: 30 rounds
Buttstock: Mortar Plate Buttplate with 6-position commercial tube and additional DS-4 stock body
Pistol Grip: A2
MSRP: $1,370.99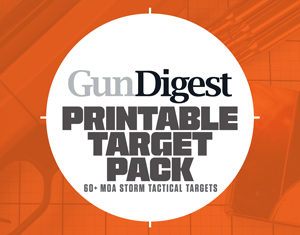 Next Step: Get your FREE Printable Target Pack
Enhance your shooting precision with our 62 MOA Targets, perfect for rifles and handguns. Crafted in collaboration with Storm Tactical for accuracy and versatility.
Subscribe to the Gun Digest email newsletter and get your downloadable target pack sent straight to your inbox. Stay updated with the latest firearms info in the industry.