Constructed from precision machined aluminum, the Rival Arms R-22 Precision Chassis gets 10/22 barreled actions to reach out.
The long-range game requires a lot of turf to play. Enough that in some corners of the country urban sprawl and population density make it all but prohibitive. (Rhode Island, we're looking at you.) Hence, the growing appeal of National Rifle League .22-caliber matches (NRL22) is understandable. Requiring the same set of skills as the centerfire competition, it's scaled-down so as the most modest venues can host an event.
Hand in hand with the rise of Lilliputian precision competitions comes the ascension of irons and upgrades up to the job. A recent entry in this niche, Rival Arms with its R-22 Precision Chassis System for rifles with Ruger 10/22 barreled actions. While bolt-actions make up a hefty segment of NRL22 competitions, the precision components manufacturer pick of the iconic semi-auto makes sense. The plinker is as common as dead leaves in autumn, and no slouch in the accuracy department. Also, the 10/22 is the AR of rimfire, easily modified and upgraded with a minimum of tools.
---
More Rimfire Info:
---
With the R-22 Precision Chassis System, would be small-bore snipers get a billet aluminum rig, precision CNC-machined for a flawless fit up. The fore has room enough to free-float a 1-inch diameter barrel, and includes scalloped texturing aft for grip enhancement. Additionally, there are ample M-Lok slots upfront at the 3- and 9-o'clock positions for accessory attachment, and it is tapped to accept a sling swivel stud or bipod.
Taking advantage of the thriving AR-parts market, the R-22 Precision Chassis is compatible with AR-15 buffer tubes (1 3/16-16 inch Mil-Spec), stocks and pistol grips. The chassis comes in fairly light, at 1 pound, and is available in three finishes—hard black anodized, as well as KG GunKote Flat Dark Earth and Satin Gray.
As to cost, like anything precision the R-22 Precision Chassis is on the spendy side. Yet, for those shooting to dominate their next match, its $254.99 MSRP shouldn't prove prohibitive.
For more information on the R-22 Precision Chassis, please visit rival-arms.com.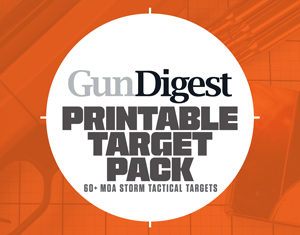 Next Step: Get your FREE Printable Target Pack
Enhance your shooting precision with our 62 MOA Targets, perfect for rifles and handguns. Crafted in collaboration with Storm Tactical for accuracy and versatility.
Subscribe to the Gun Digest email newsletter and get your downloadable target pack sent straight to your inbox. Stay updated with the latest firearms info in the industry.