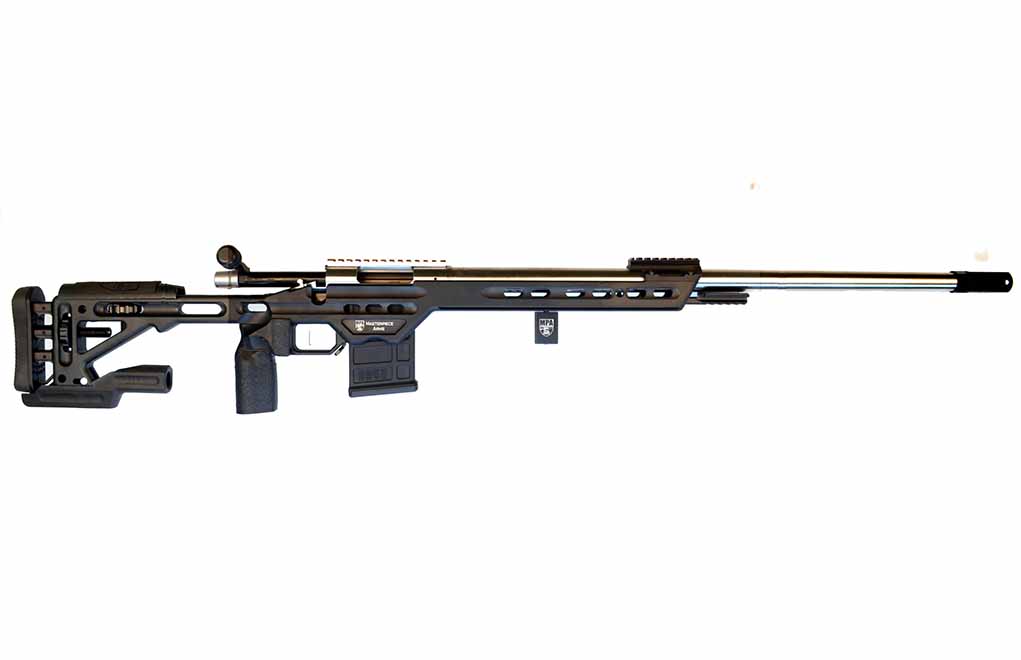 Designed for Production Class precision rifle competition, the MPA BA PMR "Pro" Competition Rifle trims down on the price tag, yet offers all the accuracy.
What The PMR Brings To The Table:
Masterpiece's BA Competition Chassis
X-Caliber stainless-steel barrel
Curtis Custom 3-lug short action
Five chambering options, including 6mm Creedmoor, 6.5 Creedmoor, 6.5 PRC, 223 Rem. or 308 Win
Generally speaking, when you're talking a Masterpiece Arms (MPA) rifle, you're talking about a chunk of change. A favorite among some of the best precision match shooters out there, the Georgia manufacturer demands top dollar. Though, those seeking the advantages Masterpiece allots now have the opportunity to get behind the business end of their rifle without taking a second mortgage.
Meeting Production Class competition stipulations, the MPA BA Precision Match Rifle (PMR) "Pro" Competition Rifle comes in at a more affordable price point, but doesn't compromise on accuracy. So how much? We are talking about a specialty made precision rifle for competition, so not as inexpensive as your everyday long-range shooter would hope. But, relatively speaking, the PMR's $2,499.99 price tag is much lighter on the pocketbook and stays under the Precision Rifle Series' revised threshold of $2,500.
The heart of the MPA BA PMR "Pro" Competition Rifle is the company's BA Competition Chassis. Made from machined 6061 aluminum, the chassis is held to tight tolerances and provides the rigid platform required for consistent accuracy. Boasting a V-bedding system, the chassis provides excellent metal-to-metal mating with the action, eliminating and wiggle or walk. Yet, MPA provides clearance in the BA Competition Chassis for glass bedding, both the action and the straight section of the barrel.
---
Get On Target With Precision Rifles:
---
The chassis also includes several features precession shooters look for in a rig, including thumb rest, lower mounting rail and 20-MOA scope rail. Handily, it's also outfitted with a built-in inclinometer, V4 spigot mount and data cardholder. Incidentally, the BA Competition Chassis is RAT (Rapid Adjustment Technology) compatible, so it's should prove lightning fast to adjust to any particular shooting position. Of course, the buttstock is fully adjustable for length of pull and comb height.
As to the action and barrel on the MPA BA PMR "Pro" Competition Rifle, they're both top-of-the-line. The pipe is an X-Caliber stainless-steel blank, button rifled with M24 Contour, which Masterpiece cambers 6mm Creedmoor, 6.5 Creedmoor, 6.5 PRC, 223 Rem. or 308 Win. MPA tops it off with the company's DN3 muzzle brake, to manage recoil. And the action is a Curtis Short Action, a three-lug affair with an M-16 style extractor, that's as smooth as silk to run and fast as the dickens, with a 60-degree throw.
A few other notables of the MPA BA PMR "Pro" Competition Rifle are a rotating barricade stop, 2-round holder and black or tungsten Cerakote finish. New hand or a seasoned pro at precision match shooting, Masterpiece Arms has whipped up something special to get them on target.
MPA BA PMR "Pro" Competition Rifle Specs:
Caliber: 6mm Creedmoor, 6.5 Creedmoor, .308 Win, .223, 6.5 PRC
Action: MPA/Curtis Short Action
Bolt: 60 Degree Bolt Throw
Chassis: MPA BA Competition Chassis
Chassis Weight: 5 lbs.
Rifle Weight: 12.5 lbs.
Barrel: X-Caliber Hand Lapped 416R Stainless Premium Barrel Blank
Barrel Twist: Caliber specific
Barrel Length: 26" (6.5mm and 6mm)
For more information on the MPA BA PMR "Pro", please visit masterpiecearms.com.
---
NEXT STEP: Download Your Free Storm Tactical Printable Target Pack
62 Printable MOA Targets with DOT Drills - Rifle Range in YARDS
This impressive target pack from our friends at Storm Tactical contains
62 printable targets
for rifle and handgun range use. Target grids and bullseye sizes are in MOA. Ideal for long-range shooting!
Subscribe to the Gun Digest email newsletter and we'll send your print-at-home target pack right away.
Just enter your email address below.
---