The Ruger American Rimfire Stainless rifle is a fetching firearm, configured to thrive in the roughest conditions.
There is something spectacular about stainless steel barrels. There is an edgy aesthetic appeal to the lustrous alloy, one that makes a firearm appear ready to tackle any task it's called upon to complete. But it's not just its striking good looks that attracts shooters, there's also a little matter of performance.
Stainless steel barrels have built a reputation for their accuracy potentials, with shooters willing to shell out the extra bucks for an alloy that aids in tightening groups. On top of that, there is the durability of the stainless steel. While it will still rust if untended, the alloy certainly is inherently better at handling the elements than high-carbon steel.
With these qualities in mind, Ruger's newest addition to its popular bolt-action rimfire rifle line comes as no surprise. The Ruger American Rimfire Stainless looks the part of an all-weather, all-purpose rimfire, and it seems configured to be just that.


Available in three calibers – .22 LR, .22 WMR and .17 HMR – the stainless series of the bolt-action boasts an 18-inch barrel composed of 416 stainless steel. As has become more common in the modern era of rifle making, the Ruger American Rimfire Stainless also comes suppressor ready with a 1/2″-28 threaded barrel. The pattern makes the rifle compatible with numerous suppressors and muzzle devices presently available. The rifle comes with a factory-installed knurled thread protector that also maintains the integrity of the crown when not mounted with a suppressor.
The cold-hammer forged barrel is free floating in a black lightweight polymer stock. The stock itself is modular, being adjustable for both comb and length of pull, which enables shooters to modify the rifle to fit their frame. It is also outfitted with Ruger's Power Bedding system, which consists of four opposing angled aluminum bedding blocks that fit into corresponding receiver grooves. Simply tightening the bedding screws pulls the receiver straight down, wedging it into place and creating a rigid and accurate shooting platform.
The American Rimfire Stainless boasts Ruger's adjustable Marksman Trigger, which can be tuned between 3 and 5 pounds. It is outfitted with a one-piece aluminum scope rail directly above the receiver. And the rifle features a detachable, flush-mounted 10/22 BX-1 10-round rotary magazine and accepts all 10/22 magazines, including the BX-25, BX-25×2 and BX-15.
Presently, the MSRP on all three calibers of the Ruger American Rimfire Stainless Rifle is $429.
Specifications:
Ruger American Rimfire Stainless
Calibers: .22 LR, .22 WMR, .17 HMR
Stock: Black Synthetic
Capacity: 10 .22 LR, 9 .22 WMR & .17 HMR
Overall: Length 37 in.
Barrel: Length 18 in.
Front Sight: None
Rear Sight: None
Thread Pattern: 1/2″-28
Length of Pull: 13.75 in.
Weight: 5.3 lb.
Barrel Material: 416 Stainless Steel
Finish: Satin Stainless
Twist: 1:16″ RH .22 LR, 1:14″ RH .22 WMR, 1:9″ RH .17 HMR
Grooves: 6
Suggested Retail: $429.00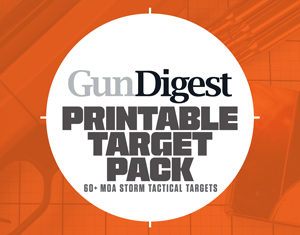 Next Step: Get your FREE Printable Target Pack
Enhance your shooting precision with our 62 MOA Targets, perfect for rifles and handguns. Crafted in collaboration with Storm Tactical for accuracy and versatility.
Subscribe to the Gun Digest email newsletter and get your downloadable target pack sent straight to your inbox. Stay updated with the latest firearms info in the industry.