Incredible light and able to fold to nearly half its size, the Pedersoli Black Widow aims for a spot in your backpack.
Perhaps more now than at any other time in recent years people are more conscious of preparedness. Be it for self-defense in the form of a concealed carry pistol or backcountry survival with a light-and-right takedown rifle, a slew of folks have seen the light when it comes to emergency arms. Davide Pedersoli wants in on it.
Pedersoli … you mean the group with all the throwback guns of the Old West? One and the same, though now the Italian gunmaker has turned their attention to a more contemporary arm in the form of the Black Widow Single-Shot Rimfire Rifle. Quite a break from its usual wares, the space-aged plinker offers one of the lightest and most compact long-gun options presently available. Though, convenience comes at a cost. The breech-loading .22 LR has an MSRP of roughly $400 (this is converted from Euros, so unofficial), which comes in above many of its American-made competitors.
As for what you get for the money, extreme lightweight. The Pedersoli Black Widow tips the scales at a meager 3.3 pounds, which makes it akin to a brick of ammo for the rifle. Much of the weight savings is thanks to a skeletonized polymer stock and a wisp of a fore-end, which gives the hammer-fired rifle gaunt good looks. Size-wise, the 36-inch gun folds down at its receiver into roughly a 19-inch triangular package, small enough to fit into a modestly sized backpack.
The stainless-steel barreled .22 LR has several intriguing features aside from its unassuming size and weight. First and foremost, the Black Widow's rather pronounced pistol grip. Given the svelteness of the rifle, the feature should maximize control and could prove useful in steading it on long holds. Though, the function of extended beavertail above the grip proves somewhat a mystery—is it an enhancement or just styling?
Anyhow, the interior of the stock has holes to store extra rounds and the removable fore-end is outfitted with a small section of Picatinny Rail. Additionally, the muzzle is threaded for the addition of a suppressor and action is drilled and tapped for mounting a dedicated ½ " scope rail. Though the rifle comes with iron sights, so is ready-to-shoot out of the box. Pedersoli expects to begin shipping the rifle sometime in July 2021.
For more information on the Pedersoli Black Widow, please visit davide-pedersoli.com/en
---
More Rimfire Info:
---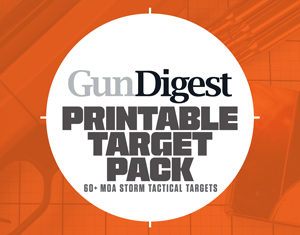 Next Step: Get your FREE Printable Target Pack
Enhance your shooting precision with our 62 MOA Targets, perfect for rifles and handguns. Crafted in collaboration with Storm Tactical for accuracy and versatility.
Subscribe to the Gun Digest email newsletter and get your downloadable target pack sent straight to your inbox. Stay updated with the latest firearms info in the industry.