Interested in giving legs to your AR-15? Check out these six top 6.5 Grendel upper receivers, certain to extend your rifle's range no matter your budget.
What Are The Top 6.5 Grendel Upper Options:
If you're one of those who need better downrange performance and a bit more muscle out of your AR-15, you needn't search far. Since its advent in 2003, the 6.5 Grendel has become a mainstay for shooters who found the 5.56 NATO left them a bit short for some endeavors. Basically, that's why the spicy six-and-a-halfer was created.
For those who missed the memo, Bill Alexander (of Alexander Arms) and Janne Pohjoispää designed the 6.5 Grendel to outdo the AR-15 mainstay in about every possible way. Save for capacity, it does. And it accomplishes the feat nearly seamlessly. The 6.5 is nearly as mild a shooter as the 5.56 NATO and, more importantly, functions in the AR-15 as flawlessly. Given it was designed for this rifle, this should come as no surprise.
While there are plenty of complete 6.5 Grendel AR builds, you needn't go the whole hog to enjoy its advantages. Bolt and barrel (and magazines) are the only things you need to switch out. That pretty much adds up to buying yourself a 6.5 Grendel upper receiver. No big shakes.
6.5 Grendel upper receivers abound, and run the full spectrum in price, from bargain-basement to Cadillac. We've gathered up six 6.5 Grendel uppers that are worth a look and hit nearly every price point. All you need do is decide which is the best fit for you.
Top-Shelf 6.5 Grendel Upper Receiver
Alexander Arms 6.5 Grendel 20″ VP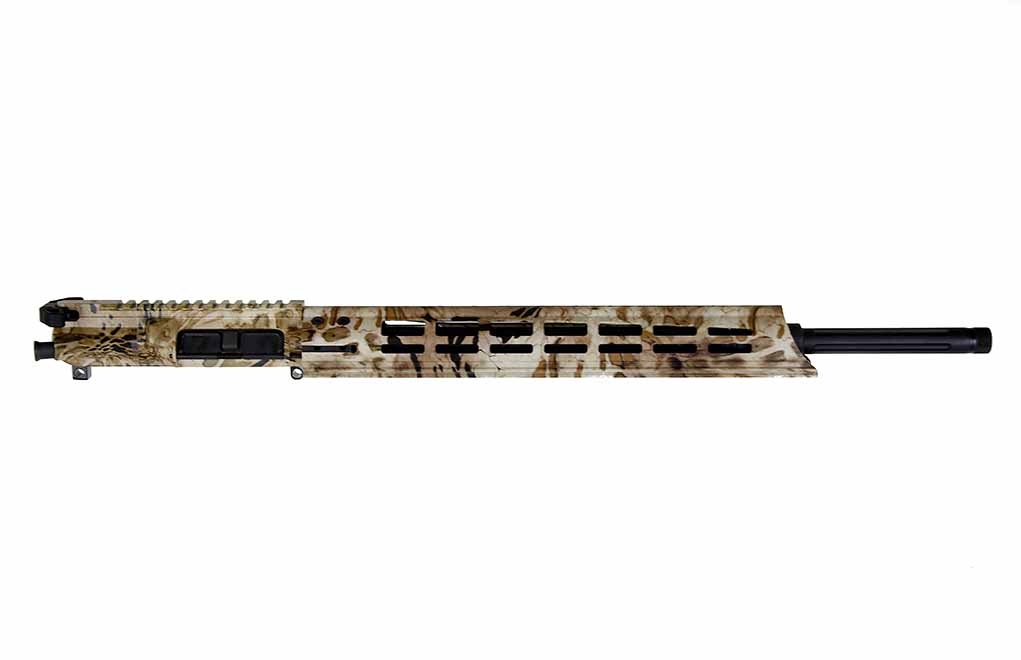 Given Bill Alexander cooked up the 6.5 Grendel, it's a given Alexander Arms knows a thing or two about making rifles for the cartridge. The company's 20-inch barreled VP is an excellent choice in a 6.5 Grendel upper, walking the line on keeping your rifle wieldy while milking the cartridge's ballistic potential.
The stainless steel pipe has a 1:9 twist, which is a favorite of Alexander, who claims the rate is optimal for stabilizing bullets (even heavy) out of 20-plus-inch barrels. It proves that way with light and heavy loads, even tailored handloads that utilize bullets that weigh more than 130-grains. The heavy barrel is threaded (5/8-24 RH) for a muzzle device and fluted, which keeps the upper field worthy at right around six pounds.
---
Learn More About The 6.5 Grendel:
---
Backing up its hunting bent is the attractive and effective Sandstorm finish on the flattop receiver and Catalyst Arms Fast Track handguard. The handguard is very functional, with an Arca Swiss-style rail the full length of the bottom, giving you plenty of options for mounting a bipod. MLOK slots abound up top.
MSRP: $1,069, alexanderarms.com
Precision Firearms 22" Neptune IX
Precision Firearms has a long history producing top-end 6.5 Grendel upper receivers, as well as complete rifles. It shows in their selection. But the 22-inch barreled Neptune IX stands out. It's a legit tack driver, especially if you take advantage of some extras.
Chief among these, and a boon for a precision long-range build, is the ability to upgrade to a Bartlien, Lilja or Krieger barrel (all 1:8 twist)—for a nominal fee, of course. Uniquely, there's also a side charging upgrade available, a useful system that comes with a mil-spec top charging handle for the sake of redundancy.
Off the shelf, however, the Neptune IX is no slouch and comes with some nice touches. Seekins Precision SPR3 15-inch forearm, Superlative Arms adjustable gas block, nickel boron bolt and bolt carrier group (BCG) all come standard. Mate all those up with a quality lower, good furniture and a snappy trigger, and you have a sub-MOA rifle writ large. About the only knock on the 6.5 Grendel upper is that the handguard is KeyMod compatible, but that by no means is a deal-breaker.
MSRP: $1,650 (base), precisionfirearms.com/
Mid-Range 6.5 Grendel Upper Receivers
Radical Firearms 24″ MHR
Looking to reach out, without breaking your bank account? Radical Firearms has you covered. Its 24-inch 6.5 Grendel upper is built on par with the top options available today, but comes in at nearly half the price.
The barrel is a medium contour, which keeps the upper somewhat more manageable for the length. But, the stainless steel pipe will certainly heat up more quickly than its bull counterparts on long strings. As is a case for a great majority of Grendel barrels nowadays, it has a 1:8 twist. For aficionados, there could be a debate about whether this is optimal for a 20-plus-inch barrel, but no doubt it will still get you on target. Additionally, the muzzle is threaded (5/8×24) and comes outfitted with a Pepper Pot Brake. As a side note, 20- and 22-inch barrel options are available.
The RPR handguard proves extremely useful, with plenty of MLOK real estate. But its big selling point is a rail running about a third of the bottom, providing plenty of mounting options for a bipod. Radical Firearms also offers a lightweight RPR handguard, if heft is a concern.
MSRP: $620, radicalfirearms.com
Atheris ARC15-T2 20″
A small company, Atheris has built a large reputation for delivering exceptional value. The ARC15-T2 is no exception. The 6.5 Grendel Upper, has some nice features and incorporates some recent advancements to ensure superior accuracy.
To this end, the stainless steel barrel is 5R rifled (1:8 twist)—a system featuring tapered lands that are opposed by grooves, thus deforming the bullet less as it travels down the bore. Makes cleanup easier too. Furthermore, Atheris gives you some options to consider. The upper comes in six barrel lengths, from 12.5 to 24 inches, and on all but the shortest, you have the choice of fluted or non-fluted. Nice option to have, making the upper about anything you like it to be—from hunter to match rifle.
The handguard is made by Atheris and is well thought out, with plenty of MLOK attachment points and lower and upper rails. Other notables include a Strike Industries dust cover, adjustable gas block and Atheris nitride coated BCG. For the money, it delivers performance that's tough to beat.
MSRP: $620, atherisrifle.com
Entry Level 6.2 Grendel Upper Receivers
PSA 18″ Stainless Steel
Let's face it. If you're testing the 6.5 Grendel waters, you might not want to go the whole hog right off the bat. At the same tick, you don't want to throw quality out the door.
Palmetto State Armory has built a reputation for offering affordable quality for quite some time and in nearly every AR-15 caliber—6.5 Grendel included.
Its 18-inch barreled upper is a great gateway to the cartridge, and for many, it might be all they'll ever need. This is especially true if you're hunting for a medium- to close-range hunter. It's only a hair above 4 pounds, so it would excel in the role, particularly for those who find themselves predominantly on the hoof.
Sure, you don't get a bull barrel and some of the other bells and whistles. But the upper's A2 style stainless steel barrel (1:8 twist) is still a quality tube, one that is more than capable of taking the 6.5 Grendel the distance.
MSRP: $420, palmettostatearmory.com
Sanders Armory 20″ Match Grade
Sanders Armory punches well above its weight. While it teeters between entry and mid-level pricel, it performs on par with top 6.5 Grendel upper receivers, fully capable of sub-MOA performance.
A 20-inch match-grade stainless steel barrel lies at the heart of the system, boasting 5R rifling (see Atheris) and a 1:8 twist. Additionally, it's hand lapped and air gauge tested, ensuring the utmost uniformity of the bore. Furthermore, the barrel comes outfitted with a Fat Comp Stainless Steel muzzle break, cutting down the already mild 6.5 Grendel's recoil to nil.
The upper boasts a Sanders rock-solid melonite/nitride BCG, ultra-slim MLOK handguard and rifle-length gas system. All in all, it's a tidy system, one sure to leave a good taste in your mouth if you're just wandering into 6.5 Grendel ARs.
MSRP: $602, sandersarmoryusa.com
---
NEXT STEP: Download Your Free Storm Tactical Printable Target Pack
62 Printable MOA Targets with DOT Drills - Rifle Range in YARDS
This impressive target pack from our friends at Storm Tactical contains
62 printable targets
for rifle and handgun range use. Target grids and bullseye sizes are in MOA. Ideal for long-range shooting!
Subscribe to the Gun Digest email newsletter and we'll send your print-at-home target pack right away.
Just enter your email address below.
---