Updated 05/06/2022
If you're looking to build a six-and-a-half from scratch, then we've got four 6.5 Grendel barrel options you need to consider.
What Are The Top 6.5 Grendel Barrel Choices Now:
The 6.5 Grendel. If you're looking for more downrange performance and a harder-hitting option for your AR-15 than run-of-the-mill 5.56 NATO, you've found your cartridge. And, if you already own America's favorite rifle, it's extremely simple to get into. Designed specifically for the platform, all you need is a 6.5 Grendel upper (and magazines) to convert over.
Perhaps that's too simple for you. If off-the-shelf makes your stomach turn and you aren't truly shooting unless you're shooting your own build, we get it. In that case, you need to start shopping 6.5 Grendel barrels to piece together the rifle of your dreams. We'll look at some of the best here. Given no two shooters are alike, we'll stay away from barrel length suggestions (well, almost stay away) and home in on manufacturing quality, convenience (all drop-in) and economics. So, without further ado, here are four top 6.5 Grendel barrel options to create a precision AR-15 that packs a punch.
Lightweight: Proof Research
If you survey the gun world presently, there are a lot of companies mating their actions to Proof Research barrels. There's a good reason behind this—they're at the top of the heap when it comes to carbon-fiber wrapped tubes. The company gives shooters four configurations of 6.5 Grendel barrels to choose from. Basically, their selection consists of 20- and 18-inch barrels, each length with two gas journal diameters: .750 and .875. No matter the length, they all have a 1:8 twist (the predominate rate), 5/8-24 muzzle thread and are incredibly lightweight. Regardless of length, Proof Researches barrels are more than 60-percent lighter than their steel counterparts. The 20-inch 6.5 Grendel barrel comes in at a hair over 2 pounds and the 18-inch option is 1 pound, 13 ounces. These are just the ticket for a featherweight tactical build or a mountain hunter.
MSRP: $979, proofresearch.com
---
Learn More About The 6.5 Grendel:
---
Match Grade: Krieger
Kreiger is one of those names that inspire awe. Some of the best shooters in the world turn to the Wisconsin barrel-smith to keep them on target. There's no doubt if supreme accuracy is your ultimate goal, their VarMatch will do the same for you. There's a rub in going this route for a 6.5 Grendel barrel, not only is it fairly expensive, but you're a bit constrained with their drop-in option. All their finished barrels are headspaced to appropriate JP Bolts. This means you have to already run one or get one, which you can from Kreiger. On the plus side, this is a custom barrel, with every spec in your control, from barrel length to twist rate and muzzle diameter. To boot, all Kreiger barrels have single-point cut rifling, which creates nearly perfect concentricity between bore and groove, as well as twist rate. It doesn't get much better than this.
MSRP: $465 (base price for a 6.5mm AR10/DPMS 20-inch barrel), kriegerbarrels.com
Carbine Length: Alexander Arms
We aren't tying this article down to specific barrel lengths, except in this one instance. When it comes to a 6.5 Grendel barrel, carbine length takes some consideration, particularly twist rate. This is where Alexander Arms 16-inch Incursion Barrel gets it right. Boasting a 1:7.5 twist, the shorter pipe is capable of stabilizing heavier bullets—which can be an issue with carbine Grendels. The nice thing, you generally can run lighter bullets at this rate in a Grendel without worrying about jacket failure. As you'd want with a carbine, the barrel is light—1.5 pounds and button-rifled, a solid process that produces very uniform grooves. Best of all, Alexander Arms makes it easy to get into an Incursion Barrel.
MSRP: $304.95, shopalexanderarms.com
Budget: Sanderson Armory
Sanders Armory provides a lot of value for the price they charge. Their 6.5 Grendel barrel options are no different. The company offers five barrel lengths, from 13-inch pistol all the way to a 24-inch match. In all cases, the bore is hand lapped to ensure uniformity and the removal of any imperfections. And each features 5R rifling. The style of rifling opposes the lands and grooves, causing less bullet deformation, thus maintaining your projectile's ballistic integrity. The one down point, every barrel has a 1:8 twist, which might not be optimal for every length.
MSRP: $165-$575, sandersarmoryusa.com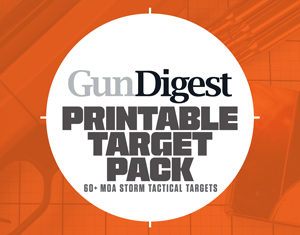 Next Step: Get your FREE Printable Target Pack
Enhance your shooting precision with our 62 MOA Targets, perfect for rifles and handguns. Crafted in collaboration with Storm Tactical for accuracy and versatility.
Subscribe to the Gun Digest email newsletter and get your downloadable target pack sent straight to your inbox. Stay updated with the latest firearms info in the industry.