Springfield Armory goes big in its AR line with the introduction of the SAINT Victor .308.
Halleluiah and pass the ammo! It's an AR-10.
The SAINT Victor .308 comes only months after Springfield Armory kicked off the line of high-end AR-style rifles. And, given the scant choices compared to AR-15s, should prove a welcome option for those who require a little more punch per trigger pull. Perhaps the rifle's biggest selling point is its price isn't through the roof with an MSRP of $1,399. Yes, there's certainly cheaper available, but perhaps not with the SAINT Victor .308's litany of features.
For those who have studied the AR-15 end of the line, the larger-caliber option shouldn't throw any curveballs. Same as its smaller cousin, the SAINT Victor .308 includes:
Nickel-boron coated single-stage flat trigger
16-inch chrome-moly-vanadium barrel
15-inch free-float handguard with ample M-Lok slots
Bravo Company furniture
Flush QD mounts
Flip-up sights
Melonite finished everything
Proprietary muzzle break
Mid-length gas system with a low profiled gas block
Also, the rifle comes outfitted with Springfield's Accu-Tight system, a tension screw that reduces movement between upper and lower receivers.
---
Learn The AR-10 Inside Out:
---
While not detailed in Springfield's literature, the SAINT Victor .308 appears a DPMS pattern AR-10, judging from receiver geometry. Makes sense, given it opens the rifle's compatibility to a greater swath of aftermarket parts.
More scuttlebutt from Springfield:
GENESEO, ILL. – Springfield Armory® proudly introduces a heavy-hitting addition to the new SAINT® Victor family, the SAINT® Victor .308.

The SAINT Victor series of rifles and pistols from Springfield Armory are designed as purpose-built defensive firearms, and manufactured to professional standards for unrivaled performance.

Never before has Springfield Armory offered the popular SAINT® family of rifles in an AR-10 platform, until now. For those who prefer the .308 Winchester/7.62 NATO cartridge, the SAINT Victor .308 is the ultimate lightweight personal defense rifle. Weighing in at only 7.8 lbs., this rifle is purpose built to offer serious power in a quick handling configuration.

The SAINT Victor .308 features a 16" lightweight profile CMV barrel that is Melonite® coated inside and out to provide maximum corrosion resistance, and is partnered with an M-Lok free-float 15" handguard that protects the mid-length gas system, chosen for its smooth recoil impulse and reliability. The SAINT Victor .308 features a full-length "interrupted" rail to reduce weight and accommodate modern shooting styles, and the Accu-Tite tension system eliminates movement between the flat-top upper receiver and the lower receiver, ensuring a rock solid feel.

The SAINT Victor .308 also features a pinned low-profile gas block, a must-have on a serious use defensive AR rifle. High-quality spring-loaded flip-up sights are included, and a Springfield Armory designed muzzle brake eliminates barrel rise and softens recoil. An enhanced nickel-boron coated single-stage flat trigger provides more surface area for improved trigger contact. The end plate on the rifle features a QD mount for sling attachment. The SAINT Victor .308 features an enhanced bolt carrier group that is also Melonite® finished, with a 9310 steel bolt that is MPI-tested and shot peened for the utmost reliability. A 20-round Magpul Gen M3 PMAG is included.
SAINT Victor .308
Caliber: .308 WIN
Magazine: (1) 20-Round Magpul Gen M3
Barrel: 16″ Lightweight Profile, CMV Melonite® Finish Internal & External, 1:10
Front Sight: Spring Loaded Flip-Up
Rear Sight: Spring Loaded Flip-Up
Muzzle Device: SA Muzzle Brake
Trigger: Enhanced Nickel Boron Coated Single Stage Flat
Upper Receiver: Forged Type III Hard Coat Anodized, 7075 T6 Aluminum
Lower Receiver: Forged Type III Hard Coat Anodized, 7075 T6 Aluminum w/ Accu-Tite™ Tension System
Handguard: 15″ M-Lok Aluminum Free Float w/ SA Locking Tabs
Gas System: Direct Impingement Mid-Length, Pinned Gas Block
Receiver Extension: Mil-Spec Dimension Carbine, 7075 T6 Type III Hard Anodized Aluminum
Bolt Carrier: Group MPT, Melonite® Finish w/ 9310 Steel Bolt
Buffer Assembly: Carbine "H" Heavy Tungsten Buffer Charging Handle GI Style Butt Stock: Bravo Company 6-Position
Safety: 90 Degree Single Sided Trigger Guard Integral to Receiver
Pistol Grip: Bravo Company Mod.3
Length: 37.75″ Fully Extended, 34.5″ Collapsed Weight 7 lbs 11 oz
MSRP: $1,399
For more information on the SAINT Victor .308, please visit www.springfield-armory.com.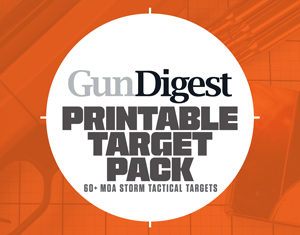 Next Step: Get your FREE Printable Target Pack
Enhance your shooting precision with our 62 MOA Targets, perfect for rifles and handguns. Crafted in collaboration with Storm Tactical for accuracy and versatility.
Subscribe to the Gun Digest email newsletter and get your downloadable target pack sent straight to your inbox. Stay updated with the latest firearms info in the industry.