Optimized for CQB, Springfield Armory's SAINT Edge Pistol offers big performance in a small package.
What are the SAINT Edge Pistol's features:
24.6- to 28.5-inch length
Around 6-pound weight
10.3-inch barrel
Adjustable flip-up sights
Maxim Defense CQB 4-positions brace
SA single-stage match trigger
Carbine-length gas system
Full-length M-LOK compatible handguard
One of the more dynamic gun designs to gain traction in recent years is the AR pistol. Certainly, it occupies strange territory — too big to efficiently conceal, too small to get everything out of a rifle cartridge. Yet, despite this awkward position, the AR pistol is vastly useful. Outside of short-barreled rifle, no other gun provides a more overwhelming advantage in CQB — where nimbleness and mobility can win the day.
Springfield Armory is taking another crack at this configuration with what amounts to a rather intriguing addition. A shrunk down version of its top-line AR, the SAINT Edge Pistol aims at the premium end of the market and shoots for the same level of performance. Does it? That's for time to tell, but it certainly boasts a heck of brace system.
That's the eye-catcher of the rig, a Maxim Defense CQB brace with plenty of play in adjustment. Shooters have a full 2 inches of length at their disposal, all but ensuring they have a solid handle on the 5.56 NATO pistol, whether they shoot two handed or one. Furthermore, it's anything except flimsy, with twin steel struts making up the heart of the system.
---
More Gun Articles:
---
Other notables on the SAINT Edge Pistol include fully adjustable flip-up sights, full-length M-LOK compatible handguard, lightweight (just under 6 pounds), Accu-Tite tension system receivers, forward handstop and adjustable gas block. The final feature is nice if you ever happen to thread on a suppressor. Though, getting all these goodies comes at a price, with the SAINT Edge Pistol ringing up at $1,559.
From the company:
GENESEO, ILL. – Springfield Armory's brand new SAINT Edge Pistol combines the most popular features of the most premium ­SAINT in the lineup with the compact shootability of a pistol platform.

With the same features that make the SAINT Edge a premium rifle, the SAINT Edge Pistol in 5.56 allows for maximum portability and ease of use in close quarters. The lightweight billet-machined lower receiver compliments the patent-pending full-length free float handguard, and the 10.3" lightweight 1:8 twist CMV barrel creates a comfortable, quick-handling and versatile platform. The rugged Maxim Defense CQB adjustable pistol brace reduces size, stabilizes recoil, and enhances accuracy in one or two-handed operation.

The lower receiver is machined, rather than forged, from aircraft grade 7075 T6 billet aluminum, and features Springfield Armory's proprietary adjustable Accu-Tite™ tension system, designed to eliminate movement between the upper and lower receivers. A crisp SA match short reset trigger system provides the feel of a competition trigger in a tactical platform. The flat-top upper receiver is Type lll hard-coat anodized 7075 T6 aluminum, with a forward assist and M4 feed ramps for reliable cycling. The enhanced M16 bolt carrier group is finished with super-hard Melonite® and carries a premium 9310 HPT/MPI steel bolt, superior to Mil-Spec. The charging handle is Springfield Armory's exclusive mid-size design for enhanced operation.

The patent-pending slim free-float aluminum handguard is M-Lok compatible to give you an almost unlimited choice of accessories, with multiple mounting points for slings, lights and other equipment. An aluminum forward hand stop is included to keep your support hand clear of the muzzle. Under the handguard, a carbine-length, multi/mode adjustable gas block allows for tuning to specific ammo or suppressor use, and is pinned to the barrel for reliable operation, eliminating the concern of the block coming out of alignment. Unlike other "optics ready" pistols that are unusable out of the box, the Edge Pistol comes complete with front and rear spring loaded flip-up sights, allowing you to take this SAINT immediately to the range. The ½ MOA windage adjustable dual aperture rear sight, and ½ MOA elevation-adjustable front sight can be folded down or used to co-witness with optics.

The compact SAINT Edge Pistol is the perfect companion for personal defense. At just 24.6" with the brace collapsed, and weighing only 5 lbs, 11.5 ounces, the newest SAINT pistol from Springfield Armory delivers a lot of power in a small package.

SAINT Edge Pistol Specs:
CALIBER: 5.56x45mm (.223 REM)
LENGTH: 24.6″ Collapsed / 28.5″ Extended
WEIGHT: 5 lbs 11.5 oz
UPPER RECEIVER: Forged Type III Hard Coat Anodized, 7075 T6 Aluminum
LOWER RECEIVER: 7075 T6 Billet w/ Accu-Tite™ Tension System
BARREL: 10.3″ Lightweight Profile CMV, 1:8 Twist, Melonite®
GAS SYSTEM: Carbine Length .625, SA Low-Profile Adjustable Gas Block
TRIGGER: SA Match Single Stage w/ Short Reset
SIGHTS: Front: SA SPring Loaded Flip-Up, 1/2 MOA Elevation Adjustable, Rear: SA Spring Loaded Low Profile Flip-UP, Dual Aperture Sight, 1/2 MOA Windage Adjustable
TRIGGER GUARD: Integral to Receiver
PISTOL GRIP: Bravo Company Mod 3
HANDGUARD: M-Lok Aluminum SA Patent Pending Free FLoat w/ SA Locking Tabs & Forward Hand Stop
FOREARM BRACE: Maxim Defense CQB, Adjustable 4-Positions
BUFFER ASSEMBLY: Maxim System
RECEIVER EXTENSION: Integral w/ Maxim System
CHARGING HANDLE: SA Mid-Size
BOLT CARRIER GROUP: Enhanced M16, Melonite®, HPT/MPI 9310 Steel Bolt
MAGAZINE: 1 – 30 Round Magpul PMag Gen M3
CASE: Soft Pistol Case
MSRP: $1,559.00
For more information on the SAINT Edge Pistol, please visit: www.springfield-armory.com.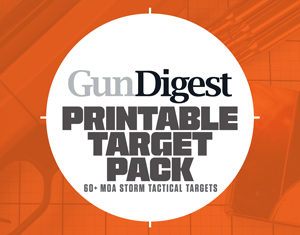 🎯 Exclusive Offer: Get Your FREE Printable Target Pack!
Dive into precision shooting with our 62 Exclusive MOA Targets featuring DOT Drills. Perfect for both rifle and handgun enthusiasts, these targets are designed for accuracy, especially for long-range shots.
Why You'll Love This Pack:
🎯 Expertly Crafted: Brought to you in partnership with the renowned Storm Tactical.
🎯 Versatile Use: Suitable for both rifle and handgun range sessions.
🎯 Precision Design: Target grids and bullseyes meticulously measured in MOA for the best shooting experience.
Bonus: By grabbing this offer, you'll also be subscribing to the Gun Digest email newsletter, keeping you updated with the latest in the world of firearms.
Don't miss out!
Simply enter your email below, and we'll send your downloadable target pack straight to your inbox.