Savage joins the AR market in a big way with four new rifles, including the sweet-shooting and fast-handling MSR 15 Recon.
Savage MSR 15 Recon Snapshot:
Savage is aggressively charging into the AR market with its line of MSRs (Modern Savage Rifle), with four already released and more on the horizon.
The tested model — the MSR 15 Recon — comes decked out in Blackhawk tactical furniture and Blackhawk flip-up sights, and boasts 5R rifling.
Through more than 400 rounds of testing, the MSR 15 Recon functioned flawlessly, though the rifle produced more recoil than expected from an AR.
The MSR 15 Recon produced the best groups shooting Hornady V-Max ammunition, with 1.5-inch five-shot groups the average.
Overall, in the author's opinion, the MSR 15 Recon is a solid, hardworking choice for hunters, plinkers and those looking for a home-defense option.
Earlier this year, Savage entered into the AR market. Given how crowded and competitive this market has become, you might think Savage would've taken a cautious approach, maybe offering up a single rifle to test the waters. But they didn't.
Instead, Savage Arms rolled out an entire line of AR-15 and AR-10 models, four rifles in all. Dubbed "MSRs," for "Modern Savage Rifle," the rifle line is made up of two larger-caliber MSR 10s and a pair of .223/5.56 MSR 15s, the Patrol and the Recon. Savage looks to have more MSR variations coming in the near future. That, on its own, is impressive, and fairly aggressive, too, suggesting that Savage is in the AR game for the long haul.
I had the chance to test one of these new ARs, the MSR 15 Recon model. I found it to be a very functional rifle, accurate and quite reliable. It's good-looking, too, with a tough finish and excellent Blackhawk tactical furniture.
First Impressions
The MSR 15 Recon came with Blackhawk Flip-Up sights, front and rear. I removed the back sight to mount an optic, a new Millett DMS-2 (Designated Marksman Scope), a 1-6X24mm tactical scope. I secured the scope with a quick-detach Alamo Four Star mount, the DLOC-M4-30mm.
Before shooting, I ran some oiled cleaning patches through the barrel, and they came out clean. Next, I used spray lube on the inside of the upper receiver and the bolt carrier group. Both areas showed a light coating of oil, but I find that ARs run better wet than not, hence the extra lubrication.
I had two separate shooting sessions with the Recon and ran four different brands of ammunition through it. In all, it fired off more than 400 rounds, and I had only a single malfunction when an empty brass case didn't eject all the way. Otherwise, no problems. The MSR 15 Recon ejected brass forcefully, flinging it a good 5-plus yards away. The bolt also stayed open at the end of each magazine.
At my first shooting session, I zeroed the Millet DMS-2 at 50 yards using Hornady V-Max ammunition, and once I was on the bullseye, I moved to 100 yards. But I didn't do much for true accuracy testing that first day; I was more interested in finding out how the rifle operated and felt.
The rifle felt very comfortable on the shoulder. But my initial impressions included one surprise: The MSR 15 Recon recoils more than any other .223 Rem. AR I can remember. It's nothing severe, yet the stock popped back into my shoulder with more force than any .223 Rem. I've shot in a good while. If I had fired the rifle blindfolded, I would've guessed I was using an AR chambered in .243 Win. which, in the long run, still is very manageable.
Why that extra recoil? I'm not sure, but it could have something to do with the recoil spring. The gas system is another possibility; however, Savage made it clear it had gone to some lengths to match the gas system to the rifles. According to Savage press materials:
" … many rifles today have 16-inch, mid-length barrels paired with a carbine-length gas system intended for use with a 14-inch carbine barrel. This creates an over-gassed situation that increases recoil and reduces accuracy and durability. All Savage MSR 15 models with 16-inch barrels feature the appropriate mid-length gas system to alleviate this problem."
If the gas system is fine, I can only guess there's some difference in the recoil spring versus other ARs or the Blackhawk Axiom Carbine Stock isn't absorbing much recoil. Again, to be clear, the recoil certainly isn't aggressive enough to be a deal-breaker.
The Recon uses Blackhawk's AR Blaze trigger. Initially, it was quite stiff and required some practice to make a shot without jerking the rifle. The trigger loosened up noticeably with use, and by my second shooting session I felt it was at "Mil-Spec Plus." It's not custom, but it is a solid trigger with a clean break. My Lyman Electronic Trigger Pull Gauge measured the AR Blaze at an average of 6.5 pounds.
At The Range
For accuracy testing at 100 yards, I used three brands of .223 Rem. ammunition: American Eagle Varmint & Predator, 50-grain JHP; Federal Premium Tactical Rifle Urban (Law Enforcement), 55-grain tactical ballistic tip; and Hornady V-Max, 55-grain.
I got some nice three- and four-shot groups under one inch, but I could only accomplish a single sub-MOA group for five shots. That was a .980-inch group fired with the American Eagle ammunition. That ammo also produced a four-shot group of .668 inch, while the Hornady printed a three-shot cluster at .660 inch. The Hornady V-Max also had the best average of five-shot groups at 1.5 inches.
Savage Engineering
"Savage didn't make the decision to enter the modern sporting rifle market on a whim, and the configurations didn't happen overnight," said JJ Reich, Savage's communications manager. "We're best known for our purpose-built bolt actions. But few people realize Savage has also been in the AR business, off and on, for years, quietly creating high-quality barrels for other manufacturers, all the while honing the process to a fine art."
For barrels on all MSR 15s, Savage employs 5R rifling. Traditional rifling cuts a symmetrical series of four to six lands and grooves directly across from each other. It works and has produced some very accurate rifle barrels. Unfortunately, the 90-degree corners where the lands meet the grooves are hard to clean; fouling can and does build up here, eventually degrading accuracy.
Plus, placing lands directly across from each other constricts bullets tightly, which can lead to deformation and negatively affect accuracy. In 5R rifling, lands are slightly slanted, in a more polygonal shape. They're easier to clean and less prone to collect fouling. Lands are lined up across from grooves, cradling the bullet just enough to spin it without unnecessary constriction.
Savage also treats all MSR barrels, inside and out, with its "Melonite QPQ" process, the latter part being short for "quench, polish, quench." The Melonite thermochemical process produces a long-lasting, non-reflective finish harder than chrome and that produces less friction, providing first-rate wear and corrosion resistance
In other words, there's no worry about wetness, grime or oil sneaking in a degrading the reliability or accuracy of the gun.


Furniture on the Recon includes a free-floating M-LOK handguard and a Blackhawk Knoxx AR grip. The Knoxx grip filled my hand nicely and provided a very tactile surface. The full-length handguard offers plenty of attachment points for a variety of accessories.
The rifle's twist rate of 1:8 should allow it to handle all loads fine, except maybe the heaviest (1:7 is usually best for these), which means recreational shooters, varmint hunters, plinkers and those needing an AR for home defense should find the Recon a solid, hard-working choice.
Editor Notes: This article is from the Fall 2017 issue of Gun Digest the Magazine.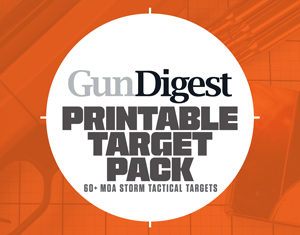 Next Step: Get your FREE Printable Target Pack
Enhance your shooting precision with our 62 MOA Targets, perfect for rifles and handguns. Crafted in collaboration with Storm Tactical for accuracy and versatility.
Subscribe to the Gun Digest email newsletter and get your downloadable target pack sent straight to your inbox. Stay updated with the latest firearms info in the industry.