Anderson Manufacturing has just announced the AM-15 Precision Series, featuring four new rifle models designed to provide precision at an affordable price.
Anderson Manufacturing's AM-15 AR-style rifles have a solid reputation among affordable AR-15s, and the company has just announced the line's expansion with the AM-15 Precision Series. Featuring four new rifle models, the Precision Series was designed to provide shooters with affordable yet accurate AR-15 options.
Each of the four new AM-15 Precision rifles will feature a Schmid Tool two-stage trigger and a Magpul PRS Lite stock. The trigger has a crisp 4.5-pound pull with a short reset and the stock is adjustable for comb height and length of pull. The stock is also ambidextrous, includes QD sling mount points and has an adjustable rubber butt-pad. All AM-15 Precision Series models are also chambered for 5.56x45mm NATO, but most other major features differ between the variants.
The first model in the AM-15 Precision Series lineup is the Marksman, and it features an 18-inch taper-profile barrel, a 15-inch M-LOK handguard and a Night Stalker flash hider. It also includes a Magpul K2 grip and 20-round PMAG. MSRP is $899.99.
The AM-15 Precision Sharpshooter, as the name implies, is more geared toward long-range shooting. The only discernable difference between this model and the Marksman is that the Sharpshooter includes a 20-inch taper-profile barrel to provide extra velocity for increased accuracy at range. MSRP is also $899.99.
The AM-15 Precision Varminter also includes a 20-inch barrel, but it's a bull barrel profile instead to allow for a greater volume of fire before noticeable impact shift occurs. As its name suggests, this is a great feature for varmint hunters who may have shot opportunities arise while their barrel is still hot from previous engagements. Other distinct features on the Varminter were chosen for their increased ergonomics, including a Hogue overmolded rubber beavertail grip and a round tube handguard rather than an angled one. The handguard still features M-LOK slots and is made out of the same lightweight T6 aluminum as the other models, however. A Magpul 20-round mag is also included and the MSRP is $949.99.
The final AM-15 Precision Series rifle is the Competitor, and it has the most unique features of the whole lineup. Designed for competition use, the Competitor features the same 18-inch taper-profile barrel as the Marksman, but it also includes an adjustable Anderson gas block, a low-mass Anderson bolt carrier group and Anderson's Stallion muzzle brake to mitigate recoil. Otherwise, it features the same rubber Hogue grip as the Varminter and the same 15-inch M-LOK handguard as the Sharpshooter and the Marksman. The Competitor also has an ambidextrous selector and comes with a 30-round STANAG magazine. MSRP is $919.99.
For more information, please visit andersonmanufacturing.com.
---
More On AR-15s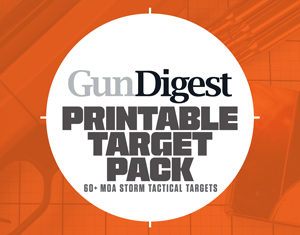 Next Step: Get your FREE Printable Target Pack
Enhance your shooting precision with our 62 MOA Targets, perfect for rifles and handguns. Crafted in collaboration with Storm Tactical for accuracy and versatility.
Subscribe to the Gun Digest email newsletter and get your downloadable target pack sent straight to your inbox. Stay updated with the latest firearms info in the industry.