Here's a piece-by-piece peek into how AR expert Tiger McKee builds all his guns.
What goes into a fighting AR-15?
The best thing about the AR platform is its modular design: You can configure it to fit any application, assembling an AR to meet your specific needs. I'm often asked about how my AR is set up, so I thought this would be a good time to share my setup with you.
Search For Simplicity
The primary purpose for my AR is self-defense, and therefore it's lightweight — just a tad over 6 pounds. You never know how long you might have to carry your rifle or carbine. The last time we had bad tornadoes here, there was lootin' 'n shootin' in areas nearby. We carried our ARs for 3 days until things settled down. Regardless of the application, unless you only shoot off a bench, weight is always an issue.
Simplicity is another goal, and it's a concept I apply to all my long guns. The simpler the setup, the easier it is to use under stress. This is especially true for self-defense, when circumstances are likely to be less than ideal.
The Sling
My sling is a simple two-point design with a quick-release buckle. It's normally used as a carry sling, looping over the support side shoulder. If I need both hands-free, it's looped over my neck — what I call a "hasty" sling. Looping over the neck can get tiring, even with a lightweight carbine, so for use over extended periods of time I run my support arm through the sling and use it as a tactical sling. A quick-release buckle is mandatory to be able to get loose of the rifle if necessary. It's a simple design, but it does everything I need. The simplicity concept carries over to other parts of my AR, too.
Stock Selection
I prefer fixed stocks to adjustable models, and use Magpul's MOE rifle stock almost exclusively. It's shorter than the A2-length stock, which is a little too long for many shooters. The comb of the stock is wider and sloping, providing a positive, consistent cheek weld. The butt is shaped just right to fit into the pocket of the shoulder, and it has a storage compartment for oil, batteries and other essentials, such as small parts that might need replacing in the field — or small survival items.
In addition, there are multiple locations to attach the sling. I like it on the left rear so, when slung, the carbine lays flat against my body. (Magpul has the same shaped stock in an adjustable version.) On the left side of the stock is a SOF tourniquet.
Grabbing A Grip
If the AR has a design flaw, it's the sharp corner between the grip and trigger guard. When manipulating the AR, you normally control it with the strong hand on the grip. This places a lot of weight on that "corner," so it bites into your middle finger.
The DuckBill Tactical grip has an extension that smoothes out the transition between grip and trigger guard, alleviating the potential for getting scars on your middle finger. This is important: If your rifle causes pain, you won't practice, and repetition is mandatory to learn and apply your skills.
The Handguard
Eugene Stoner — considered the father of the AR — was a genius in the ergonomics department. The original ARs had triangular or delta-shaped handguards, which fit the hand really well. But, the design had two problems: The material they were made of cracked and broke easily, and each side required a separate mold to make — one for the left side and one for the right. Later versions of the AR/M16 used round handguards made of stronger material and a single mold.
These days, Precision Reflex Incorporated makes a delta-shaped handguard out of carbon fiber, the Gen III forearm. It fits your hands well, is ultra durable and has plenty of locations to attach a Pic rail as needed. Depending on the position I'm shooting from, I grab the front of the sling in my fist to add stability, so I attach the front sling to the bottom of the handguard.
Vertical Grips
Vertical grips were designed for full-auto fire because the handguard gets too hot to hold. I don't use vertical grips because they have some disadvantages for general use. First, you're holding the grip well below the barrel, so all the weight is up high. Think about holding a really heavy lollipop by the stick … it wants to tilt over to the left or right.
Vertical grips also limit where you can locate the support hand, and the location of the support hand varies according to what body position you're firing from. On top of all that, vertical grips restrict where you can brace or rest the handguard against an object for stability. Simple works well, and it's versatile.
Sights And Lights
The "keep it simple" concept also applies to my sights. I use Aimpoint's "Micro" red-dots. They're small, rugged and dependable, and they come in several different versions. The sight also stays activated, so if I have to grab it in a hurry I don't have to worry about turning it on. The battery lasts a long time, but just to be safe I change the battery every other month.
Regardless of what type of optic you run on your AR, you need back-up sights. I prefer fixed sights, and on my favorite rig the front is a standard fixed post, and the rear is a Daniel Defense A1.5 clamp-on that attaches to the Pic rail of the receiver. The Aimpoint is mounted in a 1/3 co-witness position, so the iron sights appear in the bottom third of the red-dot's window. If the red-dot stops working, all I have to do is lower my cheek weld slightly, acquire the iron sights and keep shooting. If you have flip-up sights, I recommend keeping them up and ready for use.
All long guns for self-defense must have a light. Yes, there are techniques for using a hand-held light, but a weapon-mounted light makes things simple. I use Streamlight's Super Tac, which is lightweight and simple to use. It's mounted at an 11 o'clock position, which works well for rolling to the right, left or over the top of cover, and for clearing corners.
The left thumb operates the light, which features a push of the button for momentary light and a click for on and off. The bezel is designed so it throws a wide beam, but it also has an intense cone in the center that allows for identification of objects well past 100 yards. A quick-release scope mount clamped on the light attaches it to the rail on the handguards.
You Gotta Have Good Guts
A sure way to spark a debate between AR shooters is to bring up triggers. As I mentioned previously, my ARs are for self-defense, so a match or competition trigger is not an option. Using a trigger that's too light under stressful conditions is a sure way to cause negligent, unintentional discharges, and those are scary.
ALG's ACT trigger is my idea of the "perfect" trigger. It's an enhanced mil-spec assembly with smoothed surfaces, and it features a nickel-boron-coated trigger with a Teflon coating on the hammer, disconnector and pins. The group comes with two springs that provide a 4½- or 5½-pound trigger pull. I run the 5½-pound spring.
The bolt group is probably the most critical part of the AR. I run nickel-boron-coated bolt carriers and bolts. They're slick and easy to clean. Inside the bolt I run the Colt Gold extractor spring. I use the original style solid firing pin retaining pin, as opposed to the split cotter pin found in most bolt groups. The solid pins don't get bent out of shape and are easier to install.
For the small parts — ejector spring, gas rings and other springs, detents and pins — I use Colt parts. I know Colt doesn't make all their parts, but I can rest assured that they will be true mil-spec. To cycle everything, I use a Mech Armor Defense ambidextrous charging handle, which is well designed and almost bulletproof.
A True Custom Fit
That's my defensive AR. Most all my other ARs are set up similarly. They are frighteningly similar in fact, which means regardless of which one I'm working with, it's the same manual of arms.
Is my setup the perfect configuration for you? Maybe not, but you can take the same principles and apply them to your application.
Editor's Note: This article originally appeared in the April 2018 issue of Gun Digest the Magazine.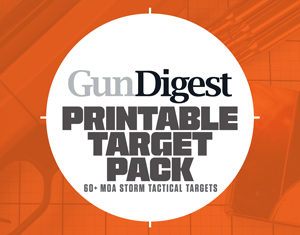 Next Step: Get your FREE Printable Target Pack
Enhance your shooting precision with our 62 MOA Targets, perfect for rifles and handguns. Crafted in collaboration with Storm Tactical for accuracy and versatility.
Subscribe to the Gun Digest email newsletter and get your downloadable target pack sent straight to your inbox. Stay updated with the latest firearms info in the industry.