H&H Precision Rifles proves that a long-range tactical rifle can pull double duty in the competition and hunting worlds.
When it comes to the shooting sports, perhaps no issue at present is more popular, controversial, and heated than long-range shooting. If you ever want to see your mailbox explode with inbound letters from animated readers on both sides of the aisle, just raise the question about what qualifies as an "ethical" shot on an animal at "long range."
When you're shooting at steel the ethical question is basically a non-issue, but add an animal to the equation and things get complicated. But despite the controversial aspect, long-range shooting is also wildly popular for a reason. And as a recent trip to the state of Washington proved, there's a lot the competitive long-range shooting world can teach those in the hunting community.
For the trip I joined Ken Hagen of H&H Precision Rifles to spend some time on the long-range course with his custom-grade rifles and to tag along as a few of his sponsored competitive shooters tried to track down a black bear in the timber country of Northeastern Washington. We'd also be filming an episode of Modern Shooter TV, hosted by yours truly and airing on The Sportsman Channel.
We had the expert tutelage of Brent Webley, owner at In-Motion Targets and shooter on the TV show "Long Range Reality," and Justin Shovell, also a competition shooter sponsored by H&H, and the man who'd be pulling the trigger should our paths cross with a black bear.
Brent's story is unique because he's a hunter who turned to long-range competition as an outlet for honing his shooting skills, and then learned how to use those skills on game animals. He burns through tens of thousands of rounds each year, as well as several barrels. He's a diehard hunter, reloader, and constant competition champion.
Somewhere along the way he put the mechanical background he gained working in a family-owned lumber mill to use by developing a moving steel target, which eventually became In-Motion Targets. In a way, he's the quintessential picture of how competition skills like reading the wind, knowing ballistics and working up your dope can be applied successfully to a hunting scenario, and just how valuable the mastery of those skills are. If anything, that combination of skills makes you a more capable, ethical shooter. You know your "maximum effective range," based on your skill, cartridge and rifle setup, and can use that formula to turn game into meat on the table.
H&H Precision Rifles
No matter how skilled you are, there's no replacement for a finely crafted rifle that can handle the abuse guys like Brent throw at it. That's where Ken Hagen and H&H Precision Rifles enter the picture. Ken builds custom-grade rifles with a pedigree of competitive victories to show for it; it only makes sense those same rifles would dominate with game in the scope. For our time on the range and in the field we'd be using Brent's competition rifle, chambered in 6.5 Short Action Ultra Magnum (SAUM). As Brent put it, it's like the 6.5 Creedmoor on steroids. Paired with one of Ken's rifles, which carries a ¼ MOA guarantee, that amounts to one helluva long-range rifle.
The rifle sports a stainless select, match-grade Benchmark barrel with an Orias chassis built by Killer Innovations and Mega Arms (MegaArms.com). The chassis is available in either M-Lok or Key-Mod, made with Billet aluminum, and is compatible with Accuracy International magazines. It also fits Remington 700 configurations in long or short action setups.
There is no bedding required thanks to Killer Innovations' revolutionary self-adjusting recoil lug locking system (patent pending). The rifle features an XLR Tactical Buttstock, which is easily adjustable for cheek piece and length of pull. The heavy tactical receiver is built by Rainier Arms and is topped by a Picatinny rail for easy scope configuration. The heavy lug design is made for abuse, which is why it's relied upon for competition use.
Ken will build you a rifle with a number of customizable options, including muzzle brake, but Brent's rifle was setup for suppressed fire, perfect for noise reduction in the field. If you do go with a build from H&H, Ken will walk you through your options and encourages folks to fly out for the final test drive at the range. It's hard to beat that level of hands-on customer service in today's big-box marketplace.
At The Range
Before we hit the woods, we spent some time with Brent and his competition and business partner at In-Motion Targets, Carl Taylor. Not only does Carl know his way around a moving steel target, he's a guru among long-range shooters.
He's an unbelievable shooting instructor whose teams have dominated some of the military's best-trained snipers in competition. Within minutes of watching me shoot he was correcting my sloppy trigger habits and helping get me lined up for a 500-yard shot on a steel coyote moving right to left at 3 mph. Brent called wind and elevation, I finally got the right hold, and the 6.5 SAUM was clanking steel every time. That's enough to put a smile on your face.
Grin And Bear It
While many states offer the opportunity to bait your bears, it's entirely a spot-and-stalk proposition in Washington. That meant we'd be driving into forested areas and hiking in to higher elevation vantage points that'd allow us to glass large portions of the mountainous landscape. Our hunt was a draw-only season in the spring, however, so most of the bears are actively feeding post-hibernation and trying to regain what weight they've lost in the winter. I didn't draw a tag, which is why Justin would serve as the trigger man.
After about a half-day of glassing and trekking through timber country, we spotted a bear about 450 yards away. Brent threw up his SIG Sauer Kilo 2000 rangefinder while Justin got into the prone position.
It was a downhill shot across a small valley, so they cleared the tall grass away from the front of the rifle. Brent called the 4-5 mph wind immediately, helped dial in for distance, and spotted as Justin lined up the shot. You could see all the hours of training kicking in; no hesitation, no floundering in the moment of truth.
Justin pulled the trigger, sending the 6.5 SAUM off into the distance. Upon impact, the bear absolutely crumbled to the ground. When we finally cleaned the 300-pound bear, we discovered that the shot went straight through the heart—as good of a shot as you could ask for.
Parting Shots
While Justin managed to make a clean, ethical shot on a bear at 450 yards, I feel confident those boys could have stretched it much farther, if necessary. I'd seen them do as much on extended targets at the range, and in worse conditions. Brent said he'd have been comfortable out to 1,000 yards, no question.
As always, the ethical shot comes down to knowing your abilities, the competency of your rifle, understanding the conditions, and staying within your maximum effective range. It also comes down to having a rifle that's capable of shooting ¼ MOA.
Not only are Ken's H&H rifles exceptionally well made from the best components, he'll also walk you through the build process. He asks his buyers to buy a plane ticket for when the rifle is completed so he can take them to the range and show them how to get the most out of the rifle.
He'll give you load data, make sure you're satisfied and send you on the way with one of the best rifles you've ever owned. It's rare that you get that kind of service anymore. As Ken said, he's just glad to help the next shooter's dream come true with a custom rifle build of a lifetime.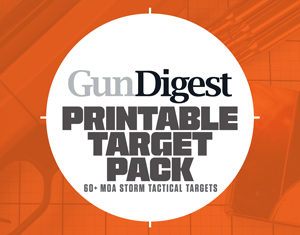 🎯 Exclusive Offer: Get Your FREE Printable Target Pack!
Dive into precision shooting with our 62 Exclusive MOA Targets featuring DOT Drills. Perfect for both rifle and handgun enthusiasts, these targets are designed for accuracy, especially for long-range shots.
Why You'll Love This Pack:
🎯 Expertly Crafted: Brought to you in partnership with the renowned Storm Tactical.
🎯 Versatile Use: Suitable for both rifle and handgun range sessions.
🎯 Precision Design: Target grids and bullseyes meticulously measured in MOA for the best shooting experience.
Bonus: By grabbing this offer, you'll also be subscribing to the Gun Digest email newsletter, keeping you updated with the latest in the world of firearms.
Don't miss out!
Simply enter your email below, and we'll send your downloadable target pack straight to your inbox.