There are a wide variety of defensive guns designed for personal protection, but which ones are the best? We chose 10 standout firearms that you'll want in your corner when trouble arrives.
What are some of the best defensive guns currently available?
The concealed carry movement and the recent rise in the number of AR sales have created an ongoing dialogue in the gun universe about which defensive guns are best for personal protection and home defense. And with so many good options out there, it's difficult to choose the top 50 defensive firearms, let alone the top 10. These guns had to be the very best of the bunch, personal protection firearms that could be relied upon to perform flawlessly when needed. A variety of guns made the list—ARs, shotguns, revolvers and semi-automatic pistols—all of which have the goods required to keep you alive during the worst of times.
There's a good chance you won't agree with all of these choices, or you may feel one gun or another has been slighted. That's fine. The important thing is that we keep that defensive firearm dialogue going, because as more and more shooters exercise their Second Amendment rights of personal protection, the evolution of the personal protection firearm will continue, prompting manufacturers to improve upon existing designs and introduce brand-new guns to market. The competition to produce the best personal defense weapon is fierce, but it's ultimately the American shooter who wins.
Here's our selection of the 10 best defensive guns available today.
Mossberg 500
No list of the greatest defensive weapons could be complete without making mention of the Mossberg 500. Though it began life as a field shotgun, the 500 pump-action shotgun was adopted by law enforcement agencies quickly because it was affordable, reliable and offered plenty of stopping power at close range. The 500 has remained popular for decades, and today there are a seemingly endless variety of defensive-minded Mossbergs available, from standard 6-shot versions to higher capacity models, left-handed versions, a lightweight .410 model, and even the "Chainsaw" with a top grip that more closely resembles the front handle of a Stihl Farm Boss than anything you've ever seen on a firearm. The new FLEX system allows you to swap barrels, stocks and fore-ends, so your 500 can perform a wide variety of functions, and there's a Just In Case (JIC) pistol grip model that comes in its own waterproof tube. New for 2016 is the 500 ATI Scorpion version, shown here, which comes loaded with ATI features like a 6-position stock, heat shield, side saddle and Scorpion recoil reducing grips and rear pads. ($463- ; Mossberg.com)
Ruger LCP
The LCP, or Lightweight Compact Pistol, met the needs of a growing CCW crowd and has become an iconic carry gun. And what was it that made the Ruger so desirable? For starters, it was easy to conceal. The standard LCP weighs under 10 ounces and measures just 5.16 inches long. This is thanks to a sleek, minimized slide and lightweight glass-filled nylon grips. Ruger added other touches as well: a pair of rear sights that are machined directly into the through-hardened alloy steel or stainless slide, a finger grip extension for the magazine and a minimized, clean outline that is easy to hide under light clothing. It is chambered in .380 Auto, which until a few years ago was considered a borderline defense cartridge, but modern loads with better defensive bullets have turned the .380 into a far more formidable self-defense cartridge and the LCP into an even more appealing carry weapon. The best part? This gun has an MSRP of just $259. ($259; Ruger.com)
Colt 1911
If imitation is the sincerest form of flattery, then the Colt 1911 is the most complimented gun of all time. The original John Browning design, now over a century old, has served in armed conflicts since the days of Woodrow Wilson's presidency, and it is still a popular choice with LE and military shooters. The Browning recoil-operated action proved to be robust and reliable, and the .45 ACP was/is an effective defensive cartridge. The 1911's single-stack design was slim and sleek, and the grip angle was comfortable and easy to control. The combining of a grip safety and manual thumb safety means you can carry the gun cocked-and-locked and ready for immediate action, and although Glockophiles who are accustomed to having their guns apart in less than two seconds may feel like field stripping a 1911 is akin to disassembling a Boeing turbine engine, the reality is that the 1911 is relatively easy to maintain once you learn the steps. There are dozens of companies offering up 1911 clones including Remington, Colt, SIG Sauer, Springfield, Ruger and others. If you want a lighter 1911, check out Browning's 1911-380, an 85-percent scale model of the original 1911 chambered in .380 ACP ($669.99; Browning.com). If you're looking for a more exclusive collector's gun that is hand-built just for you, then look to what Republic Forge of Perryton, Texas offers. (Price varies; RepublicForge.com)
Remington 870
How popular is the 870? Remington has sold more than 11 million of these pumps since 1951. And while this versatile pump shotgun works on doves and quail, it is equally as adept as a defensive firearm. In many homes across America, a Remington 870 serves as guard dog, and it offers up a powerful bite. Although the 870 lineup isn't as diverse as the Mossberg 500's, there are still a bunch of great options that will do a marvelous job protecting you, your home and your family. The basic black or hardwood version with an 18.5-inch cylinder bore barrel and bead sight will set you back around $400 dollars or less, and you're getting the same rugged reliability that has made the 870 popular for decades. Twin action bars offer a smooth, slick cycle, and the robust steel action seems near bulletproof. Additionally, if you want to purchase an extra barrel or two, your 870 will serve as a turkey, deer, duck or upland gun while not standing guard in the home. ($420- ; Remington.com)
Glock G19
In the 1980's, Glock introduced Americans to the notion of a polymer-frame, striker-fired semi-auto. Some saw the new Austrian pistol as the gun of the future, while others in the firearm world turned up their nose at this "plastic" gun. Turns out the folks at Glock knew what they had, and soon U.S. shooters would embrace this new design with open arms. Today Glock pistols are the most popular sidearms for law enforcement professionals, and there are now very few pistol companies that don't offer their own polymer-frame striker-fired semi-auto for concealed carry. Perhaps the most classic and storied Glock for personal defense is the 19, now in its fourth generation. Weighing in at 23 ounces and measuring 1.18 inches wide, the Glock is no longer one of the most compact carry guns on the market, but it is still concealable and offers a 15+1 9mm capacity. There are a host of aftermarket parts and accessories, but the 19's greatest draw is its robust design. The Glock is among the most reliable and simplest of all semi-autos to operate. ($599.99; US.Glock.com)
Smith & Wesson M&P Shield
Smith & Wesson gets another nod for the best defensive guns with their venerable M&P Shield line of compact semi-auto pistols. Gun companies and gun writers can praise new models all they'd like, but it's ultimately the consumer that makes any firearm a success or failure. Those consumers have spoken, and they love the Shield. But don't assume that success is simply a byproduct of the Smith & Wesson name; with so many options for concealed carry, the competition is extremely tough. How did the Shield win such a large share of this crowded market? By offering a thin (.95 inches at the frame), lightweight (19 ounces unloaded) polymer striker-fired gun with a good trigger, a durable finish and functional sights that have a low-profile design and are dovetailed into the steel receiver. The grip angle is comfortable, and the Shield is easy to conceal and carry. It offers plenty of firepower (the 9mm version comes with 7 and 8 round mags, the .40 with 6 and 7s) and there are lots of accessories and holster options. S&W continues to build upon this iconic design by offering ported Performance Center models. It's a defensive pistol in its most basic and functional form. ($449; Smith-Wesson.com)
Colt Expanse M4
The original AR design, introduced to the world by Eugene Stoner, was a military design that became popular with civilian shooters, much like the Colt 1911, M1 Garand and others. Accurate and reliable, the AR could be counted upon to deliver accurate shots out to several hundred yards, and the design was robust and reliable. Today ARs are popular for a wide variety of different applications, from competition to hunting to target shooting and, yes, home defense. One of the great aspects of AR ownership is that these guns offer a level of modularity that is unmatched. With some basic tools you can swap out trigger, sights, furniture and more so that the gun is truly customized to your preferences. The recent surge in the popularity of ARs means that, like the 1911, there are lots of companies offering ARs in a wide array of configurations. One new AR to highlight for 2016 is Colt's entry-level Expanse M4, which features a flat-top receiver, collapsible buttstock, GI-style flash hider and a lightweight contour barrel at a price many shooters can afford. ($699; Colt.com)
Taurus Judge
In 2016, the Taurus Judge turns 10 years old, and it certainly deserves a spot on the list of the 10 best defensive guns. Emerging during an era when lightweight compact carry guns were becoming all the rage, the Judge made it look like Taurus hadn't gotten the memo that smaller was better. This revolver had a beefy frame and an extra-long cylinder that could accommodate both .45 Colt ammo and .410 shotshells. It was like no wheelgun that came before, and Taurus was taking a gamble that American shooters would embrace the new design. And guess what? They have. Big time. Judge sales are still strong, and it's still among the most commonly purchased firearms for home defense. So popular is the Judge design that ammo companies like Remington actually started offering special ammo packs with .45 and .410 defensive loads in a single box. Taurus now offers the venerable Judge in 13 different configurations, and it is available with both 2.5- and 3-inch .410 chamberings. Some models are also capable of firing .454 Casull loads. ($514.17- ; TaurusUSA.com)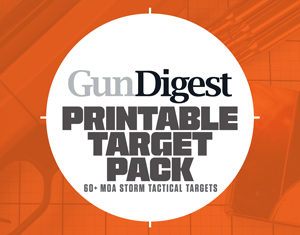 Next Step: Get your FREE Printable Target Pack
Enhance your shooting precision with our 62 MOA Targets, perfect for rifles and handguns. Crafted in collaboration with Storm Tactical for accuracy and versatility.
Subscribe to the Gun Digest email newsletter and get your downloadable target pack sent straight to your inbox. Stay updated with the latest firearms info in the industry.