No surprise, gun owners spend their money on guns and gear. A wiser investment is the development of a mindset, tactics and marksmanship that will save your life.
What Should Defensive Firearms Training Involve:
Ideal training involes a proper understanding of the applications of self-defense.
It turns an eye to developing the proper mindset to act in the face of a threat.
The tactics are applicable to everyday situations most will encounter.
Marksmanship, gun manipulation and safety are emphasized.
"Somewhere in your gun is the bullet that will solve your problem. It might be the first one, or it might be the last one," says David "Boon" Benton.
There's a lot of wisdom in that quote, and there are several lessons to be learned from it. I think many who carry a gun for personal protection often get too wrapped up in their gear. They'll obsess about the gun they carry or the ammunition that's inside it, but quite often they'll overlook the fact that in most cases it won't be the gun or the ammunition that saves their life. Mindset, tactics and marksmanship and gun handling tend to be the things that determine outcomes.
Gun writers like me are often the reason the focus gets misplaced; for years, we've spent most of our time writing about guns and ammunition. This is partly because readers purchase gun magazines to read about guns and ammunition and partly because the manufacturers of guns and ammunition buy the advertisements that fund the magazines. Shooters spend way more money on guns and ammunition than they do on training and, as a result, trainers and shooting schools don't have lots of money to spend on advertisements. This is, after all, a gun magazine not a firearms training magazine.
If you find yourself in a situation where you must shoot your handgun to save your life, the handgun you shoot and the ammunition inside it will be much less important than your drive to survive, your application of tactics and where your bullets land. Somewhere in your gun you have the bullet that'll solve your problem; what you must do is have the mindset, tactics and marksmanship to properly deliver it.
---
More Firearms Training And Drills:
---
Tactically Shifting Focus
So, given the importance of mindset, training and marksmanship, why do all three get much less attention than guns and ammunition? It's mostly because of time and money. Time is our most valuable commodity, and humans are reluctant to devote their time to things that cost money; we don't mind spending money, but when we do, we like to have something tangible to show for it. Most of us don't mind a $500 monthly car payment, because we have that nice new car to drive around. By the same token, we'll also spend hundreds of dollars on a defensive handgun with no buyer's remorse, because we can have that cool gun to carry and show our friends.
When it comes to demonstrating or showing off how you've trained to develop your mindset, tactics and marksmanship and gun handling to the point where you can simultaneously employ it all to save your life, well, we all hope that opportunity never comes. A man with an old Smith & Wesson Model 10, loaded with 38 Special hollow point ammunition, who can act tactically with a survival mindset and deliver good marksmanship, is much better equipped to survive than an untrained tactard who has a Glock loaded with the world's most advanced ammunition.
The point of all this is that you should get some good training. There are a number of reputable schools like Gunsite Academy, but there are also other lesser-known options you may be overlooking. I spent a week participating in some local law enforcement training conducted by Dave "Boon" Benton, who operates Threat Management Solutions, which provides civilian and law enforcement training all over the United States.
Boon is best known for being one of the four contractors who held the line in Benghazi, but you won't hear him talk about it; he's laser focused on teaching you how to stay alive as opposed to regaling you with war stories. Essentially, what you get from Boon is a transfer of the knowledge he has gained from serving 25 years in specialized military and law enforcement teams and during high-threat security and intelligence operations.
What impressed me most about Boon and the instruction he provides is that he does an excellent job of setting the table with an understanding of what personal protection and self-defense is all about. He provides you with the theory and principles, and then teaches you the skills you need to develop a solid foundation to build your mindset, tactics and marksmanship and gun handling skills on. Some instructors tell you to do things a certain way without context; Boon shows you how to do things, explains why they should be done a certain way and then ties it all back to practical operational principles that kept him and other professionals alive when the sh*t hit the fan.
Somewhere in your gun is the bullet that'll solve your problem. It might be the first one; it might be the last one. The thing is that without the proper training or a hell of a lot of luck, you may never find that bullet when you need it. During the week working with Boon, I learned a lot and I think—no, I believe—my magazine now has several bullets in it that'll solve my problems. Maybe one day, with enough training, I'll believe that every bullet in my gun is a problem solver. Spending your money on training might not seem as gratifying as buying that new, supercool handgun. But if you're the last man standing, it'll damn sure seem like money well spent.
Editor's Note: This article originally appeared in the December 2020 issue of Gun Digest the Magazine.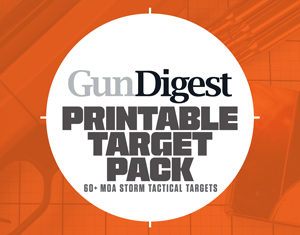 Next Step: Get your FREE Printable Target Pack
Enhance your shooting precision with our 62 MOA Targets, perfect for rifles and handguns. Crafted in collaboration with Storm Tactical for accuracy and versatility.
Subscribe to the Gun Digest email newsletter and get your downloadable target pack sent straight to your inbox. Stay updated with the latest firearms info in the industry.