Jack Lewis—Cowan's Auctions, Cincinnati, Ohio
Jack Lewis, firearms specialist for Cowan's Auction, notes that prices being paid for 19th Century firearms have dropped noticeably the last couple years. And while prices are also down for vintage ammunition, older ammo and the boxes they originally came in are still in good demand.
"Once a collector gets a certain old gun, the next thing he wants is the period ammunition that goes with it," says Lewis. "Best prices are being paid for ammunition in the original, unopened boxes or packages."
At a recent Cowan Auction, a full pack of six "Combustible Skin Cartridges" in .36 caliber, made by the Hazard Powder Company, sold for $517. Packages themselves can be very valuable, too. A rare pack of paper cartridges for a Colt Revolving Rifle in excellent condition, with the words, "5 Combustible envelope cartridges made of Hazards powder Expressly for Col. Colts Patent Revolving Rifle," printed on the box, sold for $862. No ammo—just the package!
But prices here are down, too. Several years ago, for example, an unopened 100-round box of .44-caliber rimfire ammunition for the Henry Rifle sold at auction for $22,000. The next time the same container came up for auction? $12,000.
A noticeable shift Lewis has seen is the growing interest in 20th Century firearms, especially American military arms. A big winner is the Colt 1911 semi-automatic pistol. "If you have a 1911 made between World Wars One and Two? It's going for the best prices I have ever seen."
Another 20th Century winner: the World War One Trench Gun. "Trench guns are going for anywhere between $650 all the way to $10,000," says Lewis. "We recently had a Stevens Trench Gun, with its bluing intact and in really fine condition, sell for $6,750. That's an amazing price, far, far above what we would've seen just a few years ago."
This brief originally appeared in the Winter 2015 issue of Gun Digest the Magazine.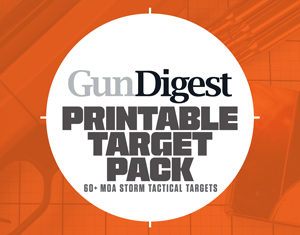 🎯 Exclusive Offer: Get Your FREE Printable Target Pack!
Dive into precision shooting with our 62 Exclusive MOA Targets featuring DOT Drills. Perfect for both rifle and handgun enthusiasts, these targets are designed for accuracy, especially for long-range shots.
Why You'll Love This Pack:
🎯 Expertly Crafted: Brought to you in partnership with the renowned Storm Tactical.
🎯 Versatile Use: Suitable for both rifle and handgun range sessions.
🎯 Precision Design: Target grids and bullseyes meticulously measured in MOA for the best shooting experience.
Bonus: By grabbing this offer, you'll also be subscribing to the Gun Digest email newsletter, keeping you updated with the latest in the world of firearms.
Don't miss out!
Simply enter your email below, and we'll send your downloadable target pack straight to your inbox.