Long-range blackpowder shooters still speak with reverence of the famed Remington Rolling Block Rifle – which is as it should be, since many of these grand old guns are still being shot today, more than a century after they were manufactured. The old Rolling Block is also currently being reproduced by Italian gunmakers, proof of its enduring popularity.
Yet so many magnificent Remington firearms don't fit into a well-defined collector category. Consider the Model 14 or 141 slide-action centerfire rifles, for example. These were unusually accurate, entirely reliable, well-designed arms, yet they don't have the romance of, say, the classic Winchester lever-actions or Colt's Lightning Magazine Rifle. The little 14-1/2 Remington pump rifle has a considerable following, but even it generally doesn't possess the je ne sais quoi, the indefinable glamour that translates into high-dollar auctions.
Or consider the Model 30S sporting rifle manufactured from 1930 to 1940. It went into production five years before the much better-known Winchester Model 70, yet its collector interest is negligible compared to that of the Model 70. Much the same can be said of Remington's excellent Models 720, 721, 722 and 725.
So why is it that Remingtons, as of this writing, falls into what we might call the "second tier" of collectible American firearms? Two reasons, I think. The first lies in the fact that, with few exceptions, particular Remington firearms generally aren't associated with a well-defined historical period. Winchesters are eternally tied into the legends of the American frontier. Colts are immutably linked to both the Old West and World War I and II. Smith & Wessons typify the Golden Age of large-bore American handguns and, moreover, will forever be synonymous with the term "magnum."
The second reason is that Remington's most outstanding firearms have been sporting arms, not military ones. Remington wasn't the gun "you loaded on Sunday and fired all week"; the Spencer was (some say it was the Henry). Custer's troops fell to the last man shooting trapdoor Springfields, not Remington rolling blocks. Teddy Roosevelt charged up San Juan Hill with a double-action Colt .38, not a Remington Model 1890. During the Philippine Insurrection, you "civilized 'em with a Krag," not with a Remington. Alvin York went over the top in World War I armed with his Model 1917, but whether it was a Remington-made rifle is not recorded.
So there it is. Remingtons have been turned out by the thousands, hundreds of thousands, virtually without interruption since 1816. Yet Remington rarely receives credit for the innovations it has introduced to the American shooting scene.
The strongest blackpowder revolver of the Civil War? The Remington. Remington's Rolling Block outlasted the Sharps. Remington introduced the first successful autoloading centerfire rifle and the first American-made autoloading shotgun. Remington introduced the most versatile, foolproof pump shotgun of all time, as well as the first successful, truly high-powered gas-operated autoloading sporting rifle. The first mass-produced long-range centerfire pistol? A Remington. The first polymer-based .22? A Remington. We could go on and on here, but I think you get the point. Like the late Rodney Dangerfield, Remingtons often just don't get no respect. Yet that unhappy situation may at last be changing.
Of course, all antique (pre-1899) Remingtons are collectible and have been collectible for some time. Values for these guns can be expected to rise more or less in lockstep with the rest of the antique firearms market. I'm beginning to detect upward movement in the Model 30S, Model 8/81, and Model 14/14-1/2/141 markets as these undeniably high-stylin' rifles are finally beginning to find their collectors' niche. Values for the 550 and 552 .22 semi-autos are inching upward. Values for the XP-100, both the original single-shot and the later repeaters, are appreciating rapidly, as are the Model 600 and 660 of the Woodstock era.
Yet in terms of appreciation, the fastest-rising star of the Remington family just has to be the Nylon rifle series: the Model 66, 10, 11, 12, 76, 77, 10C and all their variations. The value of these rifles has appreciated dramatically in the past few years. They aren't just hot – they're HOT.
I predict that Remington's nylon rifles will become the rifles of America's baby boom. There simply hasn't been anything like them, before or since. During their heyday, the mid-1960s, these funky little .22s were the Batmobile of American rifles – and now, as we '60s kids have grown into grandparents and taxpayers, many of us are finally in a position to indulge ourselves by buying these unique blasts from the past. A friend of mine recently sold a mint Model 76 lever-action in Apache Black for an amazing $3,200 — more than 32 times its original selling price.
This excerpt is from the introduction to the Standard Catalog of Remington Firearms. The book includes a history of the Remington Arms Co., the grading system, info on the Remington Society of America, and a comprehensive description/price list of Remington firearms, including model data and production dates.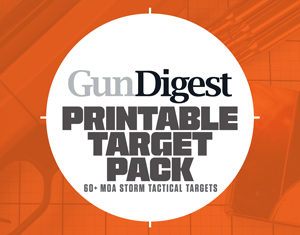 Next Step: Get your FREE Printable Target Pack
Enhance your shooting precision with our 62 MOA Targets, perfect for rifles and handguns. Crafted in collaboration with Storm Tactical for accuracy and versatility.
Subscribe to the Gun Digest email newsletter and get your downloadable target pack sent straight to your inbox. Stay updated with the latest firearms info in the industry.