[imagebrowser id= 461]
There has been plenty of green in Fairfield, Maine this spring, but not just from the new foliage. Instead, the town has enjoyed the green of cold, hard cash from a recent sale by one of its auction houses. James D. Julia reported grossing approximately $15 million during its March 14-15 firearms auction. And it wasn't just the company's ample inventory that raked in the impressive hull. The auction house offered up some highly sought-after firearms with more than 300 lots realizing $10,000 or more and 20 lots bringing in $100,000 or more. But there was plenty to get firearms collectors to break out their wallets at the gun auction, including an impressive selection of Colts and Winchesters from some renowned collections. Here is a brief look at some of the more desirable sales made at the two-day sale, including the final bid for each shotgun, rifle and pistol.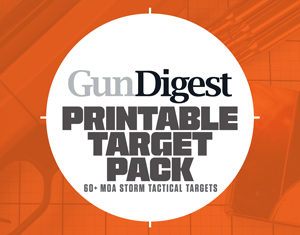 Next Step: Get your FREE Printable Target Pack
Enhance your shooting precision with our 62 MOA Targets, perfect for rifles and handguns. Crafted in collaboration with Storm Tactical for accuracy and versatility.
Subscribe to the Gun Digest email newsletter and get your downloadable target pack sent straight to your inbox. Stay updated with the latest firearms info in the industry.