[imagebrowser id=468]
Morphy Auctions is setting up for its July 30-31 auction in Denver, Pa. And as usual, the gun seller looks to have an impressive stock set to cross the block. The company has around 300 modern and antique firearms ready to go on sale and has already enjoyed a robust year. At Morphy's April fine firearms event, it moved some $1.8 million in collectable guns. The offerings at the upcoming sale also look to have the potential to get collectors and gun fans of every stripe to crack their wallets. Here's a look at some of the fine shoot'n irons ready to go on sale.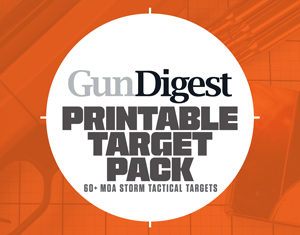 Next Step: Get your FREE Printable Target Pack
Enhance your shooting precision with our 62 MOA Targets, perfect for rifles and handguns. Crafted in collaboration with Storm Tactical for accuracy and versatility.
Subscribe to the Gun Digest email newsletter and get your downloadable target pack sent straight to your inbox. Stay updated with the latest firearms info in the industry.