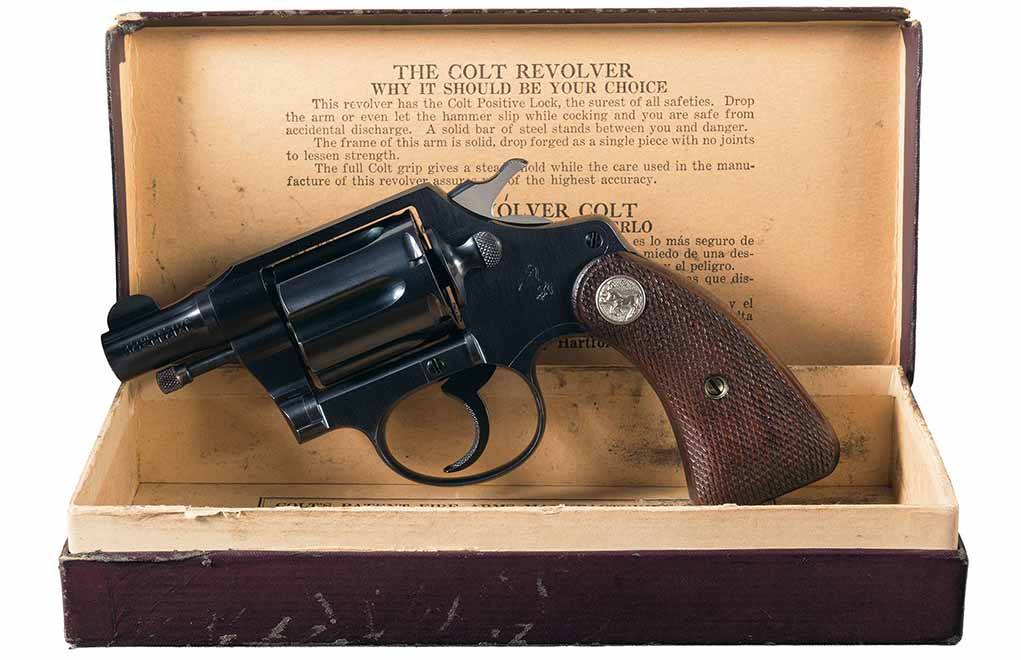 Whether in the hands of cops or robbers, the Colt Detective Special is a true icon among snubby revolvers.
What Makes The Detective Special A Legend:
When introduced in 1927, it was considered the ideal compromise between size and power.
Became iconic on the silver screen in the hands of both cops and robbers.
Essentially a Police Positive with a 2-inch barrel.
The Banker's Special model was introduced within months of the Detective Special's release.
Given its serial number range overlaps the Police Positive Special, it is not exactly known how many Detective Specials were made.
In 1927, Colt introduced one of the true icons of American handgun history: the Detective Special. The snub-nose .38 Special revolver became very popular with the shooting public, as well as the market for which it was created, undercover and plainclothes police officers. At the time, it was considered an ideal compromise between size and power — a compact and relatively lightweight gun chambered for the popular .38 Special cartridge.
Hollywood caught on quickly, and for years, a "snubby" or "belly gun" appeared in virtually every movie about cops and robbers, including many of the film noir classics of the '40s and '50s. Many of these movie guns were Detective Specials or one of the Colt variants, which made them even more popular with the general public.
The Detective Special was basically a Police Positive Special with a 2-inch barrel, and the two models shared the same serial number range. It was only available in .38 Special, while other Colt snub-nose revolvers were chambered for milder rounds, such as .38 Colt New Police (aka .38 S&W), .32 Short and Long Colt, and .22 rimfire.
Within a few months of the 1927 birth of the Detective Special, the Banker's Special was introduced. It was identical to the Detective Special except for the shorter (by 1/8-inch) cylinder for its chamberings, which were for the .38 Colt New Police and .22 Long Rifle. Both models are roll-marked on the left side of the 2-inch barrel, "Detective Special" and "Banker's Special."
The exact number of Detective Specials made is not known, due to the fact that its serial number range overlapped that of the Police Positive Special. However, it's estimated that more than 400,000 were produced between 1927 and 1985. [1]
There were four generations of Detective Specials, or "issues" as defined by the manufacturer and collectors.
1st Issue
Manufactured from 1927 to 1946. Originally chambered in .38 Special only with wood grips and a square butt until 1932, with round-butt models beginning in 1933. This model and all subsequent Detective Specials had a six-round magazine.
2nd Issue
Manufactured from 1947 to 1972. Added calibers were .32 Colt New Police, .38 Colt New Police with a slightly deeper frame. Some were made with a 3-inch barrel. Grips changed to plastic in 1947, back to wood from 1955 to 1965, wrap-around grips from 1966 to 1972.
3rd Issue
Manufactured from 1972 to 1986. Shrouded ejector rod with 2- or 3-inch barrel, wrap-around walnut grips, blue or nickel finish. Chambered only in .38 Special.
4th Issue
Manufactured from 1993 to 1995. Shrouded ejector rod with 2-inch barrel, blue finish, wrap-around black composition grips with gold medallions. Chambered only in .38 Special. A double-action only version with bobbed hammer was available.
Other variants of the Detective Special design include the following:
Banker's Special, previously mentioned, in production from 1927-1943. Approximately 35,000 were made in .38 Colt New Police or .22 LR. Exact numbers of each caliber are unknown, but more were .38s than .22s, resulting in a higher price for the rimfire models.
The Cobra (first issue) was made from 1950 to 1972. This model had an alloy frame and came with a 2-, 3- or 4-inch barrel, and in .22 LR, .32 Colt New Police, .38 Colt New Police or .38 Special.
The Cobra (second issue) was similar to the first issue except it had a shrouded ejector rod. Made from 1973 to 1981.
The Agent, which was similar to the Cobra but with a shorter grip frame. Made from 1955 to 1973 in .38 Special.
The Courier was made in .22 LR and .32 Colt New Police with a 3-inch barrel and short grip frame. Approximately 3,000 were made from 1953 to 1956.
The Aircrewman, a very rare model, was made for U.S. Air Force pilots. Weighing just 11 ounces, it was worn in the cockpit and meant to be used if the pilot was forced down in enemy territory. These 2-inch .38 Special revolvers were blued with checkered walnut grips, and marked "U.S." or "A.F." Less than 1,200 were made, and most of them in 1951 during the Korean conflict.
A model named the DSII was introduced in 1997 as a replacement for the Detective Special series. It featured a new internal lock-work and transfer-bar safety system. Grips were rubber combat style and the finish was stainless-steel. In production through 1998, most were .38 Specials, but a few were chambered in .357 Magnum. The DS in DSII designates "Detective Special," but this model is essentially a totally new design.

FOOTNOTES:
1. Colt: An American Legend by R.L. Wilson. Abbeville Press, 1985
Editor's Note: This article originally appeared in the March 2019 issue of Gun Digest the Magazine.
---
Find Out More About Iconic Colt
---
---
NEXT STEP: Download Your Free Storm Tactical Printable Target Pack
62 Printable MOA Targets with DOT Drills - Rifle Range in YARDS
This impressive target pack from our friends at Storm Tactical contains
62 printable targets
for rifle and handgun range use. Target grids and bullseye sizes are in MOA. Ideal for long-range shooting!
Get Free Targets
---