This 1873 Winchester, caliber .38, sold for $2200 in a recent Shobe auction held in Montana. A similar 1873 Winchester in .44 (not pictured) brought in $93,000.
A Winchester Model 1873, "One of One Thousand," sold for $93,000 last week at a firearm and collectible auction, in Lewistown, Mont.
The rifle owners were Walt and Pat Woodland, Belgrade, Mont., and it sold to a collector from the Seattle, Washington area. United Country – Shobe Auction & Realty conducted the auction at the Fergus County Fairgrounds, in Lewistown.
Winchester records report that this high dollar rifle was made in 1877, and shipped from the Winchester factory in 1878. Authenticity of this rifle was verified by highly regarded experts in the field and by the Winchester Museum in Cody, Wyo. This rifle was in 75% of its original condition.
The Winchester 1873 One of One Thousand is one of the most sought after and arguably one of the most handsome of all Winchesters. The One of One Thousands rifles were fitted barrels that proved to shoot a bit more accurate than the standard production barrels.
In the 1870s, Winchester wanted a special rifle to appeal to their high-end market. They tested their gun barrels for accuracy, and if a barrel did qualify to be in this special "accurate" category, they were then placed in the class called the "One of One Thousand."
The barrels were engraved by Winchester on the top of the front end and the breech end. The stock and fore-grip were a checkered high-grade walnut.
The gun was equipped with a set trigger, ladder tang sight, a globe front sight and cleaning rod. Winchester intended to make 1000 of these guns, but the records show that only about 133 were completed, thus adding to the collector value.
The "One of One Thousands" sold for $100 back in the 1870s and 1880s. The standard quality Model 1873 sold for $18- $20 during the same time period. Granville Stuart, Montana pioneer rancher, was a proud owner of a Winchester 1873 One of One Thousand.
Jayson Shobe of United Country – Shobe Auction & Realty, Lewistown, said "It was very exciting and truly a privilege to sell a historic firearm of this quality and value. It was definitely a highlight in my auction career."
Kyle Shobe, Jayson's son and business partner, commented, "Winchesters are certainly an emblem of the American West. Rarely do we see such a remarkable piece, as this Winchester One of One Thousand, with so much historic value.
Just to hold this rifle in our hands was privilege enough, but the opportunity to sell it? Once in a lifetime."
Last Saturday's auction was attended by 370 registered buyers, from 18 states, bidding live or via the Internet.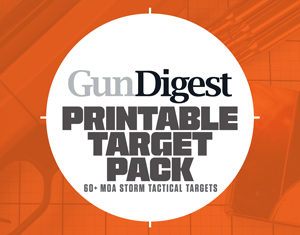 Next Step: Get your FREE Printable Target Pack
Enhance your shooting precision with our 62 MOA Targets, perfect for rifles and handguns. Crafted in collaboration with Storm Tactical for accuracy and versatility.
Subscribe to the Gun Digest email newsletter and get your downloadable target pack sent straight to your inbox. Stay updated with the latest firearms info in the industry.