Our Annual Review of the Finest Examples of Beauty and Artistry in the World of the Custom and Engraved Gun.
Best Custom And Engraved Guns:
Reto Buehler Custom Riflemaker

Swiss-born and educated, Reto Buehler is one of the new breed of custom gunmakers turning out very high-quality firearms. He and his contemporaries are the future of the custom gun trade. His work is impeccable and his talents seemingly endless, with many years left to further his chosen craft. Except for engraving, he is a one-man, one-stop shop in that he is equally adept at stockmaking and metalwork.
Reto Buehler Custom .404 Jeffery

This lovely rifle is built on a Granite Mountain Arms action and is typical of a Buehler Custom Sporting Arms "English Express" model. Chambered for the old but excellent .404 Jeffery cartridge, it features most all the "bells and whistles" one expects to see on such a rifle. Buehler used a PacNor 24-inch barrel, fitting it with a quarter rib, front sight ramp and sling swivel band. He mounted the Leupold straight tube scope in his own quick detachable cam-lever mount. He also installed a trap grip cap, which holds a peep sight that can be installed on the rear bridge when the scope is detached. Buehler crafted the stock from a spectacular stick of Turkish walnut, finishing it with many coats of hand-rubbed oil, and used a flat-topped checkering pattern with 20 LPI.
Reto Buehler Custom Ruger No.1s

A superb pair of No.1 Rugers crafted by Buehler in an unusual chambering combination. The full-length photo shows a No.1 chambered for the .404 Jeffery cartridge. The second rifle is chambered for the .303 cartridge. The factory Ruger actions were heavily modified, including removing the slotted screw in the action, adding new sliding safeties and a steel trigger and other cosmetic touches. He also fitted a set trigger to the smaller-caliber rifle. Both rifles feature PacNor barrels and are stocked in English walnut checkered with "flat-topped" patterns. The fore-ends are attached using the traditional wedge and escutcheons. Buehler installed a recoil reducer in the .404 buttstock, primarily to achieve a better balance due to the heavy .404 barrel. Photos by Brian Dierks
---
Check Out Past Custom Gun Galleries:
---
Brian Hochstrat "Best Engraved Rifle Winner"

Brian Hochstrat is one of the younger master engravers to have reached this level of artistic creative ability. His skills take a back seat to no one. The rifle shown here took the Best Engraved Rifle Award, and the Firearms Engravers Guild of America (FEGA) equivalent to Hollywood's best picture Oscar, the Engravers Choice Award. Photos by Sam Welch
C.J. Cai Engraved Custom Knife

C.J. Cai is one of those master engravers whose style is so distinctive that anyone the least bit knowledgeable about his artistry can recognize his work from across a large room. His talents showcased on this Warren Osborn knife won him two awards at the FEGA Exhibition — Best Engraved Knife and the Best Metal on Metal Inlay. Photos by Sam Welch
Dave Talley: Custom Rifle from the Past

This rifle is not one that was made for me, but was crafted by a good friend of mine, Mr. Dave Talley, many years ago. He used a Mauser action, most likely of WWII Czech manufacture, and the .308-chambered barrel is probably from Douglas. I say probably, as I can't be certain, but I do know he used a lot of Czech actions and Douglas barrels in his work. The action is clearly marked as Talley's work on the recoil lug of the action. The stock is unmarked as to the maker. I suspect that it was crafted by Jere Eggleston, primarily due to the fact that they were both in South Carolina and used each other's talents frequently. I also showed the stock to a colleague and dear friend of Eggleston, Mr. Gary Goudy. He has seen a lot of Eggleston's work and told me that he thought it was an Eggleston stock, but couldn't be certain.
I came across an ad on a website listing the rifle for sale at a very attractive price. Further investigation revealed that the seller was also an Arizonan, living in the Phoenix area, making it an easy acquisition. The photo was taken of the rifle exactly as I bought it. I've since had it professionally cleaned up, swapped out the scope mounts for Talleys (what else!), had the recoil pad exchanged with a red Old English pad from Pachmayr, and had the checkering dressed up by Kathy Forster. Some work at the range revealed that the rifle loved Varget powder and, with its preferred load, gives sub-MOA groups with regularity. It's a neat little rifle that I'm proud to own and use. Photo by Tom Turpin
Hanns Doesel Engraved Floorplate and Grip Cap

Hanns Doesel studied engraving under my old and dear friend, the late Erich Boessler. Boessler, in addition to being a great master engraver, was an outstanding teacher of this fine art. He passed away in 1997, but his many students are still at the bench all over Germany. A good friend of Doesel's and a fine engraver in his own right, Terry Wilcox, has several examples of Doesel's work and I persuaded him to photograph a couple for use in Gun Digest. Photos by Terry Wilcox
James Anderson Custom .22

One of our best custom gunmakers can be found most anytime in his South Dakota shop turning out exquisite custom rifles. In addition to being exceptionally talented, James Anderson is also one of our younger generation gunmakers in a craft whose superstars are mostly dominated by "mature" craftsmen.
One of his latest creations is this custom .22 rimfire, something not often seen in custom rifles. He started with a factory Remington 40X action, which he modified substantially. In addition to the normal honing and general cleanup, he made a new mag housing to accept Kimber magazines. He also made the floor metal unit and replaced the factory trigger with one made by Jewel.
He fit and match-chambered a Shilen hand-lapped barrel and crafted a set of custom scope mounts for a March 2.5-25X scope to the rifle. He then whittled out the stock from a nice stick of California English walnut and fitted an old Niedner-checkered steel buttplate. He then checkered the stock in a pleasing point pattern. To add a final touch, he took the rifle to his South Dakota neighbor, engraver Jesse Kaufman, who embellished the original factory markings.
To sum up the project in one sentence, it just doesn't get any better than this. Photos by James Anderson
Joint Project Single-Shot Falling Block

Members of both the FEGA and the American Custom Gunmakers Guild (ACGG) joined together to craft this lovely single-shot falling block rifle. The metalwork was executed by Glenn Fewless, the stock by Doug Mann, and the outstanding engraving was by Bob Strosin. The modern version of a Daniel Fraser falling block action used in this project was machined by Steve Earl. Photo by Sam Welch
Steve Heilmann Custom .500 Jeffery

Steve is one of the very best custom gunmakers in the USA today. I would go so far as to expand that statement to encompass the globe. Some of the finest custom guns that I've ever had the pleasure of seeing and handling have come from his Grass Valley, California, shop. Like most superb craftsmen, his creations are always for his clientele and never for himself.
The old saw that the cobbler never makes new shoes for himself notwithstanding, pictured here is a creation that he's been working on for a while now, and believe it or not, it is for himself. He only works on it when he has a few spare hours, which isn't often, but he intends to finish this one as he wants it. So far, the metalwork is nearing completion.
Starting with a military '98 Mauser action, a Ted Blackburn bottom metal set and trigger, Model 70-type safety and shroud, and a .50-caliber 2-inch diameter Krieger barrel blank as raw material, Steve added over 350 hours of his precise metalsmithing. It is now as you see it in these photos.
The barrel has been chambered for the .500 Jeffery cartridge and milled octagonal in shape. The full-length rib, quarter-rib, front sight ramp, extra recoil lug and front sling swivel base are all milled integral with the barrel steel. The Mauser action has been extensively machined and has all the bells and whistles usually found and substantially more. Extended top and bottom tangs are but one example. The sculpted bolt has required more of Heilmann's time than some 'smiths devote to an entire action.
Heilmann says he has set aside a spectacular Turkish walnut blank for this rifle from his substantial stash of impressive walnut blanks. Eventually, he will inlet, shape and mate the blank to the metal. Hopefully, I will remain above ground long enough to see its completion. If I don't, my successor for these pages will surely do so. It will be a sight to behold. All photos by Steve Heilmann
Lee Griffiths Hagn Single Shot and Custom 1911

Master Engraver Lee Griffiths is a fantastic engraver and is normally the recipient of several awards at the annual FEGA bash in Las Vegas. The 2018 show was no exception. His artistry on this Hagn-action single shot won him the Best Modern Firearm Award and the Model 1911 pistol won the Best Engraved Handgun Award. Photos by Sam Welch
Marty Rabeno Winchester Model 1876

Master engraver Marty Rabeno engraved this Winchester Model 1876 rifle. Rabeno excels at all styles of engraving, but he is at his absolute best when doing western motif scenes on period firearms. This Model 76 won runner-up Engravers Choice Award at the annual FEGA Exhibition this year. Photo by Mary Rabeno
This article is an excerpt from Gun Digest 2019, 73rd Edition.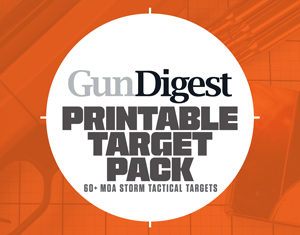 Next Step: Get your FREE Printable Target Pack
Enhance your shooting precision with our 62 MOA Targets, perfect for rifles and handguns. Crafted in collaboration with Storm Tactical for accuracy and versatility.
Subscribe to the Gun Digest email newsletter and get your downloadable target pack sent straight to your inbox. Stay updated with the latest firearms info in the industry.