After a several-year gap, Century Arms has just resumed importation of the Cugir WASR 3 5.56x45mm AK from Romania.
Many Kalashnikov enthusiasts believe that Romanian AKs from the Cugir factory, such as the WASR-10, have consistently been some of the best-value options in the U.S. since Century Arms first began importing them in the 1990s. The guns are often derided for their lackluster finishes, and people are quick to bring up the risk of getting one with canted sights. The reality is that the finish is made for utility rather than aesthetics, and the issue of canted sights was never as severe as it was made out to be (not to mention mostly limited to rifles produced around 2008).
Today, Cugir's QC appears to be as good as ever, and the company is still cranking out supremely reliable AKs built to the old Soviet spec. For many years now, however, Cugir's AKs have been limited to 7.62x39mm, but Century Arms has just resumed importation of the WASR 3 in 5.56x45mm.
Since the first semi-auto Romanian AK rifles hit U.S. shores, there has been a 7.62x39mm option. The rifle has had a few different names over the years, from SAR-1 to CUR-1 to WUM-1 to WASR-10, but it's always been available. What's been less consistent, however, is the availability of this gun's differently-chambered brothers. Namely, the WASR 2 in 5.45x39mm and the WASR 3 in 5.56x45mm NATO. For several years now, both have only been available on the secondhand market. That's why it came as a shock to see new-production WASR 3 rifles being sold recently without any sort of official announcement from Century. As of this writing, it doesn't even have a listing on the company's website.
Despite this, WASR 3 rifles are currently available from various online retailers. As for details on the gun itself, there isn't much to say besides that it's essentially a WASR-10 chambered for 5.56x45mm. In other words, it takes standard AKM-pattern furniture, comes with a side rail for optics and has a 16-inch barrel that's threaded 14×1 LH. Whether the barrel is chrome-lined like the original import's was is yet to be known. The WASR 3 will ship with one 30-round magazine, but hopefully the rifle has been tweaked to have better compatibility with 5.56 AK mags as the original was known to be finicky.
As for price, the WASR 3 is currently being sold for around $1,200, but that is likely to drop over time as it did with the recent WASR underfolder models. At $1,200, the value is questionable in comparison to other available 5.56 AK imports like the WBP Jack or Zastava M90. For the WASR 3 to be competitive, its cost will have to drop below that of the other two options.
For more information, please visit centuryarms.com.
---
More 5.56 AK Imports: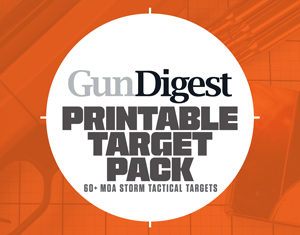 🎯 Exclusive Offer: Get Your FREE Printable Target Pack!
Dive into precision shooting with our 62 Exclusive MOA Targets featuring DOT Drills. Perfect for both rifle and handgun enthusiasts, these targets are designed for accuracy, especially for long-range shots.
Why You'll Love This Pack:
🎯 Expertly Crafted: Brought to you in partnership with the renowned Storm Tactical.
🎯 Versatile Use: Suitable for both rifle and handgun range sessions.
🎯 Precision Design: Target grids and bullseyes meticulously measured in MOA for the best shooting experience.
Bonus: By grabbing this offer, you'll also be subscribing to the Gun Digest email newsletter, keeping you updated with the latest in the world of firearms.
Don't miss out!
Simply enter your email below, and we'll send your downloadable target pack straight to your inbox.