No matter how you slice it, a 9mm revolver is always a compromise.
Why Doesn't the 9mm Revolver Live Up To Expectations:
In all but a few cases, the rimless cartridge requires moon or semi-moon clips to function in a revolver.
Reliablity can be an issue, because because firing pin depth and primer height is occasionally in question.
If a case has split in the chamber or a hot handload has flattened and expanded the cartridge case, clean ejection can be compromised.
Most factory loads are optimized for 4-inch barreled pistols, thus lose performance in snubby carry revolvers.
It's more difficult to make accurate 9mm ammo when compared directly to the .38 Special.
What image pops into your mind? Cowboys? Gunslingers? Your favorite Western film? Shooting wadcutters in a bull's-eye match? Hunting game at bowhunting distances?
The vast majority of people don't think of the 9x19mm cartridge when talking about revolvers. It offers some unique angles for revolver fans … and some deficiencies as well.
9mm Revolvers vs. Semi-Automatics
There are very few revolver designs that are truly optimized for the 9mm cartridge. Of course, there have been many attempts at viability. But, for the most part, revolvers use rimmed cartridges. The frame size, barrel length and many other small design elements give a heavy preference to the use of a semi-automatic when looking at small, rimless cartridges such as the 9mm.
In general, revolvers have never really been designed to use rimless cartridges. It would be a fair assessment to say that they've been adapted to that use only in circumstances for which it's been necessary for military supply channels or commercial relevance.
There existed some problems, because many of the early guns didn't have chambers cut that would allow them to fire without a moon clip holding the base of the cartridges in place.
It's possible to use moon clips with both rimmed and rimless cartridges, depending on the revolver model. You insert all the cartridges together and, because they're held together at the rims, they all eject at once as well. If the chamber is not cut to allow the use of single rounds, the rimless cases can fall deeper into the cylinder and would need to be punched out as a result. The gun would, of course, not fire in this case.
This brings us to the question of reliability in a revolver chambered for rimless pistol cartridges. In my experience, these tend to be the least reliable revolvers, because the critical dimension of firing pin depth and primer height is occasionally in question, depending on if a moon clip is used or not.
A revolver is always a manual-ejection proposition. This can be a struggle with rimless cartridges, because most revolvers are designed to push cases out of the cylinder using their rim. Ejection with a moon clip is quite easy and fast; however, it can also be compromised if a case has split in the chamber or a hot handload has flattened and expanded the cartridge case. In that case, the entire gun can be taken out of commission instantly.
Despite the general consensus that revolvers are more reliable than semi-automatics (a fact that's slowly changing these days due to advanced compact guns), clearing a complicated malfunction with a wheelgun can be next to impossible in the field. The internal mechanisms of many revolvers, while time-honored designs, are fragile compared to modern semi-autos that don't suffer from issues such as cylinder timing and complicated internal lock work.
---
Load Up On More 9mm Knowledge:
---
Why Are 9mm Revolvers still Made?
In my opinion, the sole reason that 9mm revolvers are still made is because of the popularity of the 9mm cartridge. It's no stretch to say that it's the most popular centerfire pistol cartridge in the world. It offers a tremendous number of benefits to a tremendous number of people and, as a result, it's seen spectacular advances in bullet technology and in the guns made to fire it.
The public has accepted the 9mm for its practical assets—great penetration, high capacity and low recoil. Today's world is no longer a revolver world, because inexpensive and reliable automatic pistols can be had almost anywhere and offer the most benefits to the most people in cost, training and ammo availability.
If you're a first-time handgun purchaser and are looking to buy a revolver for self-defense, the 9mm cartridge is not your best bet when it comes to reliability in a small self-defense gun. Options such as the .38 Special are far superior in this role. If you already own several 9mm pistols or are set up to reload ammunition for the cartridge, owning a 9mm revolver is more feasible.
9mm vs. Legacy Revolver Cartridges
The pressure at which the 9mm operates is designed to ensure reliable operation in semi-autos. The powder used and the taper of the case are there to ensure reliable feeding and ejection. This isn't true of the legacy revolver cartridges that the 9mm competes against in a revolver.
The primary competitor the 9mm faces in a revolver is a .38 Special. While many revolver rounds have come and gone over the years, the .38 Special has never lost relevance. Ammunition for the .38 Special in this role has become more advanced over time, and it's quite good for what it is.
Today's .38 Special suffers from several things, including a failure to evolve to meet the cartridge's realistic end use. Most people who own and shoot .38 revolvers have them with barrels that are 2 inches or less. Contrasting this is most ammunition still designed to work at the velocities generated by 4-inch barrels—the typical standard for law enforcement for more than 70 years in the 20th century. What resulted from this are essentially two classes of .38 Special: one that addresses modern carry guns and one that makes use of slower-burning powders that never achieve significant velocity in small guns.
When looking at the 9mm in a small revolver, it does everything that the .38 Special can. However, it, too, suffers from the fact that most 9mm ammunition is designed around 4-inch barrels common on midsized automatics. The .38 Special generally has an advantage in available bullet weight and bullet types, because there's no real 9mm ammunition offered specifically for revolvers.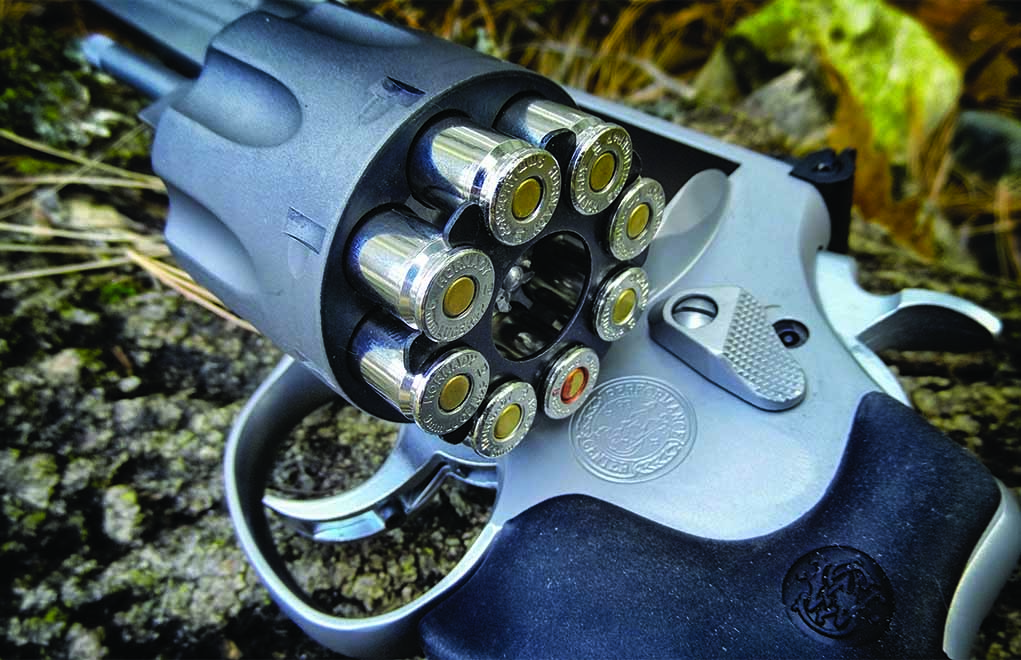 Extremely powerful options from companies such as Buffalo Bore allow the .38 Special to have a significant leg up on the 9mm with identically sized pocket revolvers. The .38 also has a generally higher threshold for accuracy because the bullets have substantially less "jump" through the cylinder gap into the barrel. That's not to say 9mm revolvers are inaccurate; it's just that they're harder to make accurate when compared directly to the .38 Special.
Ammunition in .38 Special and .357 Magnum specifically designed for self-defense in a short-barreled revolver is typically superior to what is available for 9mm (given identically sized guns). You wouldn't be bad off with a 9mm LCR, but if it were a first-time gun purchase or something you intended as a backup, there really isn't a reason to go with 9mm (barring the economic factor or the idea of having a single pistol caliber for all your handguns).
As far as power goes, the 9mm falls into an odd space, because it can produce excellent velocity; but the fact that most factory ammo is not loaded nearly as hot as it could be severely handicaps its performance in a revolver. Factory ammo has to be powerful enough to allow an automatic pistol to cycle, but not so powerful that it could damage the gun.
With a 4-inch barrel on a revolver, you'll almost always be able to produce higher velocities with identical bullet weights in .38 Special. However, if the same guns were to all use full moon clips, the 9mm would offer a significant advantage in terms of reload speed because of its much shorter case body.
So, Why Own One?
The revolver has become something of a specialized tool. For aficionados of the wheelgun, there's nothing better than a slick S&W or Colt Python.
I don't think the 9mm will gain a significant market share of the revolver business. As modern automatics continue to improve, revolvers have to continue to specialize or simply appeal to nostalgia to remain relevant. Many of the revolvers chambered for the ubiquitous 9mm are simply there to feed a niche market.
In more than one sense, the 9mm revolver will always be limited by the 9mm cartridge. I doubt there's a company willing to make a high-pressure, revolver-only 9mm load—knowing that a novice or a devil-may-care shooter might, either by ignorance or design, chamber it in an automatic pistol and blow their hand off. It's simply not feasible when the .38 Special and .357 Magnum already exist in relative abundance.
At the end of the day, the 9mm chambered in revolver will always be a compromise.
Editor's Note: This article originally appeared in the April 2020 issue of Gun Digest the Magazine.
---
NEXT STEP: Download Your Free Storm Tactical Printable Target Pack
62 Printable MOA Targets with DOT Drills - Rifle Range in YARDS
This impressive target pack from our friends at Storm Tactical contains
62 printable targets
for rifle and handgun range use. Target grids and bullseye sizes are in MOA. Ideal for long-range shooting!
Subscribe to the Gun Digest email newsletter and we'll send your print-at-home target pack right away.
Just enter your email address below.
---