Following up on the inaugural 9mm version, Ruger releases the SR1911 Competition in .45 ACP.
What Makes The SR1911 A Top Competitor:
Pistol is hand fitted
Barrel has polished throat and target crown
Koening Shooting Sports low-mass hammer and competition sear
Flat-faced match trigger shoe
Integral plunger tube and hand-tuned sear spring
Striking two-tone stainless and black nitride finish
Fiber optic front sight and adjustable serrated rear target sight
Undercut trigger and beavertail for a high grip
Extended magazine release and ambidextrous safety
Ruger doesn't get the credit it's due, at least when it comes to 1911 pistols.
A latecomer to John M. Browning's legendary design, you don't quite hear prattling over the SR1911 like you do more established models from other makers. Could be people are still discovering the company turns out a pretty tight rendition. Though, things could pick-up in this department, given its new whiz-bang competition gun.
Ruger launched its new Custom Shop with the SR1911 Competition this year, and it looks the part of a keystone pistol. Feels it, too. I got to study one up close at the 2019 SHOT Show and was fairly impressed with what the 9mm brought to the table. Its action is spooky smooth and it has a great fit, as well as responsive controls and trigger … a head-turner to boot. Everything you'd expect from a hand-fitted outfit. I especially liked the 25 LPI checkering on the front strap and mainspring housing, which is very comfortable and positive, without being overly aggressive. I regret I didn't get hands-on at range day.
The cord being struck, Ruger has followed up, recently releasing a .45 ACP SR1911 Competition. In all honesty, it was as inevitable as tomorrow's dawn, yet welcome.
---
More 1911 Posts:
---
The gunmaker doesn't throw any curveballs with the large-bore model, it's essentially the same gun — down to Doug Koenig's surname on the slide — only in .45. Well, the grips are different; the 9mm has toothy Hogue Piranha G10 and the .45 a more traditionally textured G10 grip. And the smaller caliber has one ounce and two more rounds of capacity on the 8+1 .45 ACP, otherwise it's an I say potato, you say potato comparison. Which is good. Ruger laid this gun out well the first time around, so no use fixing what isn't broke.
More from Ruger:
Sturm, Ruger & Company, Inc. (NYSE: RGR) is pleased to announce the Ruger® Custom Shop SR1911® Competition pistol chambered in .45 Auto. This single-stack SR1911 is built for the highest levels of competition; whether you are a world-class competitor, collector or target shooter who appreciates exceptional firearms, the Ruger Custom Shop SR1911 in .45 Auto will not disappoint.

Each slide and frame are hand fitted to ensure that the action is tight, smooth and accurate. The competition barrel featuring a polished throat, fitted barrel lug and target crown is also hand fitted for precise lock-up. The Custom Shop SR1911 is assembled with only the best components, including the Koenig Shooting Sports low-mass hammer and competition sear, flat-faced match trigger shoe, precision-machined Cylinder & Slide disconnector, forged slide stop, integral plunger tube and hand-tuned sear spring. The stainless steel frame's black nitride finish contrasts with the two-tone, hand-polished, stainless and black nitrided slide with distinctive Ruger Custom Shop markings. Textured G10 grips finish off this rugged and reliable match pistol.

"I am excited about this addition to our Custom Shop lineup," said Team Ruger Captain Doug Koenig. "Just like its 9mm Luger counterpart, this .45 Auto model is full of industry-leading features and fully machined, hand-fitted parts. A must-have for all 1911 aficionados! I cannot wait to hit the competition circuit with it."

Standard features on the Custom Shop SR1911 Competition pistol include a fiber optic front sight and adjustable serrated rear target sight for match speed and accuracy; undercut trigger guard and beavertail grip safety for a comfortable high hold designed to reduce muzzle flip; and an ambidextrous safety and extended magazine release.

This pistol ships in a waterproof, fitted hard case and includes one, 8-round and one, 7-round competition magazine, a Ruger Custom Shop Certificate of Authenticity, challenge coin, cleaning cloth, gun peg and decal.
SR1911 Specs
Capacity: 8+1
Slide Material: Stainless Steel
Barrel Length: 5″
Grip Frame: Black Nitrided Stainless Steel
Grip Panels: Textured G10
Width: 1.45″
Weight: 40 oz.
Slide Finish: Black Nitrided and Stainless Two-Tone
Front Sight: Fiber Optic
Rear Sight: Adjustable Target
Overall Length: 8.67″
Height: 5.63″
Grooves: 6
Twist: 1:16″ RH
MSRP: $2299
For more information on the SR1911 Competition, please visit www.ruger.com.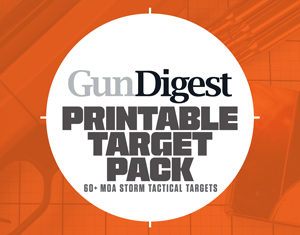 🎯 Exclusive Offer: Get Your FREE Printable Target Pack!
Dive into precision shooting with our 62 Exclusive MOA Targets featuring DOT Drills. Perfect for both rifle and handgun enthusiasts, these targets are designed for accuracy, especially for long-range shots.
Why You'll Love This Pack:
🎯 Expertly Crafted: Brought to you in partnership with the renowned Storm Tactical.
🎯 Versatile Use: Suitable for both rifle and handgun range sessions.
🎯 Precision Design: Target grids and bullseyes meticulously measured in MOA for the best shooting experience.
Bonus: By grabbing this offer, you'll also be subscribing to the Gun Digest email newsletter, keeping you updated with the latest in the world of firearms.
Don't miss out!
Simply enter your email below, and we'll send your downloadable target pack straight to your inbox.