There's more to life and shooting than simply the Colt 1911 .45 ACP.
What are Colt's top Models chambered other than .45 ACP?
The gritting of teeth is about to get deafening. Not only is the topic calibers, but 1911 calibers.
Yes, for many the only acceptable chambering of John M. Browning's wonder pistol is .45 ACP. Hard to argue against it, the gun-cartridge combo has more than earned its due — be it in a Government, Commander, Officer or Defender model. There's no scoffing at two World Wars and countless other conflicts, not to mention its role as a self-defense arm. Those are airtight resume bullet points. Yet, there's no reason why the proven and potent pistol design shouldn't stretch its legs. It certainly has over the years, successfully so.
One of the most intertwined names with the 1911 — Colt — and other gunmakers have taken the pistol far afield caliber-wise — .30 Luger, .357 Magnum, .38 Special, 10mm, .40 S&W, 9mm, 9x23mm, .22LR just to name a few. Certainly, not everyone a success, but plenty of solid variations off the original 1911 concept. So why not spread your wings, even if you're a purist?
Colt especially has a respectable collection of 1911s in chambering other than .45 ACP, perfect for work, play and any conceivable task in between. Here are five of the best the company has to offer, breaking from the tried and true and worthy of consideration even by the most staunch 1911 absolutist. A quick gander and you too might find man does not live by Colt 1911 .45 ACP alone.
Colt Defender (9mm)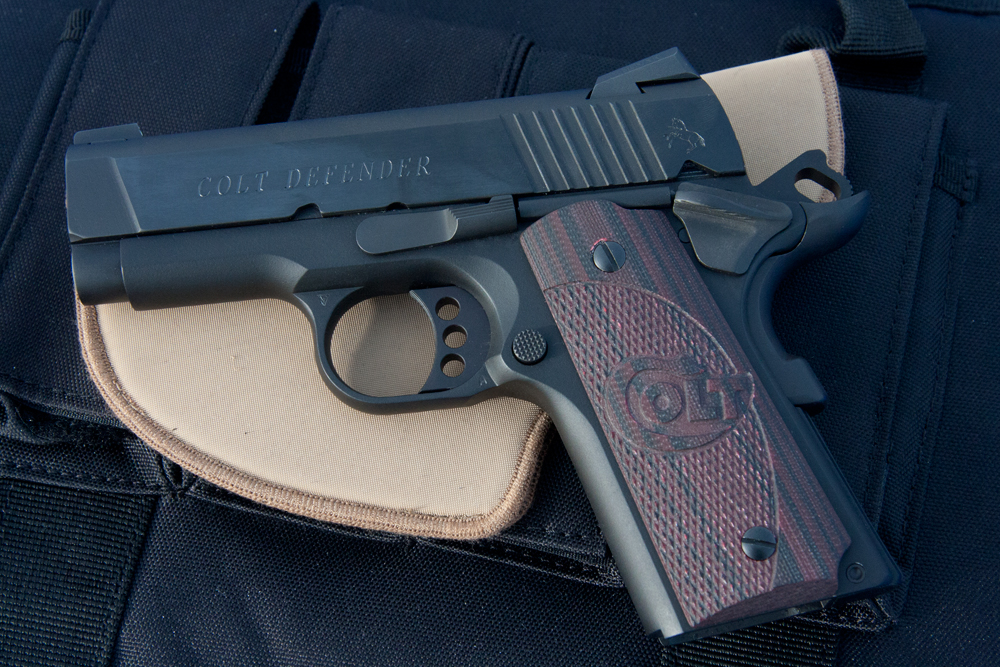 With dashing good looks, this Colt 1911 9mm is among the company's top picks for concealed carry. It also marks quite a feat in the development of the iconic pistol. Before 2000, when the Defender hit the market, 3-inch barreled 1911s were typically a custom-made affair, at least the ones that worked without flaw.
Dolled up a bit recently, the aluminum-framed pistol comes with a genuine Novak tritium night sight up front and low-mount in the rear. The latter ensuring your draw stroke remains smooth. Additionally, the black-and-blue Cerakote finished 1911 boasts rugged and striking G10 black cherry grips, moderately textured to ensure a firm grip without discomfort — important on a micro nine.
An extended thumb safety and a 4.5- to 6-pound three-hole aluminum trigger, the pistol is easily manipulated and a sweet shooter. To boot, it's outfitted with Colt's Dual Spring Recoil System, reducing the 1911's recoil and increasing spring life.
Sized for comfortable carry, the Colt 1911 9mm is a whisker over 1-inch in width and tips the scale at 24-ounces unloaded. Holding one more round than the .45 ACP version, the 9mm Defender has an 9+1 capacity. No double-stack, but more than enough ammo to handle most self-defense jobs. The hitch for some is the MSRP, at $899 it's not a give-me. Then again, you're getting a Colt for your money.
Delta Elite (10mm)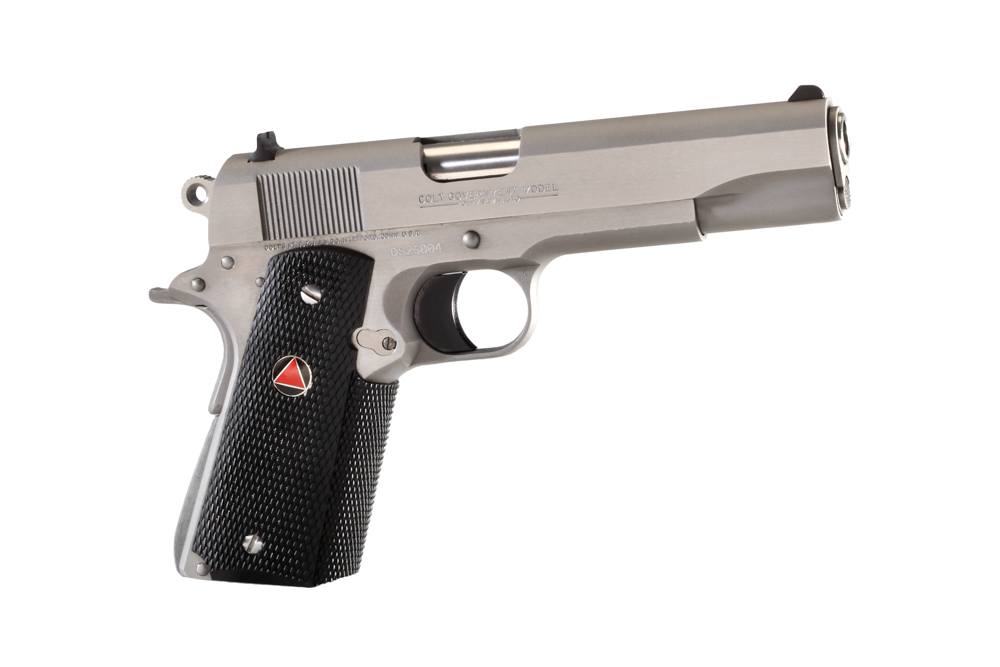 The 10mm pick is a bit like cheating, given the Colt Delta Elite stands alone in this caliber. Released shortly after the advent of the powerful cartridge, the 1911 continues to hit the right notes with shooters who have a taste for manageable power.
Stainless steel frame, slide and barrel, the pistol feels its 35 ounces (unloaded). Not necessarily a bad thing, given the full-sized Government Model's heft does its part in making the recoil as bearable as most .45 ACPs. And the Colt Delta Elite's manageability opens up the pistol's potential. Most certainly, it has the chops as a carry or home-defense gun, but it certainly wouldn't be out of place on the hunt.
Immediately noticeable, the large aluminum beavertail grip safety provides abundant protection from slide cuts. Additionally, the black composite grips (with Delta Medallions) give a solid purchase, along with enhancing its spartan good looks. Outfitted with Novak three-dot sights, low-mount carry on the rear, and rounded edges, the Colt Delta Elite is smooth out of the holster. With an extended thumb safety and deep cocking serrations, the 8+1 capacity pistol is a dream to operate. And traditional barrel bushing and recoil-spring guide make it equally simple to field strip. The 10mm most definitely runs Colt prices, though the $1,199 MSRP is worth it for its power and performance.
Government 1911 .22LR

There are plenty of plinkers, but few with the gravitas of Colt's classic rimfire. Manufactured by Walther and imported by Umarex USA, the Colt Government 1911 .22LR is touted as the only "only genuine Colt tactical rimfire replica available in the world today." Modeled after the 1911A1, it has the feel of the legendary and battle-tested U.S. Military handgun, but with the appeal of inexpensive and downright fun shooting.
Keeping things relatively true to form, the Colt 1911 22 weighs in at 36-ounces empty, which has to put it near the top in heft for rimfire pistols. As expected, this weight makes shooting the pistol seem nearly like firing an airgun, with the added benefit of improving its accuracy.
Interestingly, the gun does not get its heft from extensive use of steel, instead from a cast zinc-alloy frame. The material is steel backed for added resiliency and is matched with an aluminum slide. The 1911 features a fully functional slide lock and release, left-side thumb safety and grip safety. A similar design to the centerfire original, the beavertail is slightly elongated, ensuring the slide doesn't sink its teeth into your hand. The hammer of the blow-back pistol is a traditional spur and incorporates a half-cock notch. Plenty of firepower, the 5-inch barreled pistol has a 12+1 capacity and really doesn't break the bank. Competitively priced with other class rimfire pistols, the Colt Government 1911 .22LR has an MSRP of $399.
Mustang Pocketlite (.380 ACP)

A Colt 1911 .380 ACP in the truest sense? Not exactly. The Mustang breaks from the herd on a number of design points — polymer guide rod, no barrel bushing nor grip safety. Yet, the pocket pistol's heart is in the classic design, providing a dependable and familiar carry gun equally ideal as a primary or backup piece. The right holster, the pistol is nearly perfect in a pocket or positioned on the ankle, if you're looking to veer away from traditional carry positions.
It's a straight blowback operation, which would make you expect a sharp recoil. But the pistol is much tamer than similar .380s available today — most likely due to its short 2.75-inch barrel not giving a chance for all the powder to burn. Yes, this reduces the velocity (what did you expect with such a short barrel) but does wonders for the rate of fire. You can chew through 6+1 rounds as fast as you can pull the trigger, which may not be a quick as you think. The pistol has a near double-action pull weight, despite being a single-action semi-auto.
The aluminum-frame (electroless nickeled finished) is mated with a stainless steel slide and outfitted with a fixed front sight and dovetail rear. Definitely geared toward the affordable end of the carry market, the Mustang comes in a bit above what many would like to pay for a .380 with an MSRP of $599.
Competition SS (.38 Super)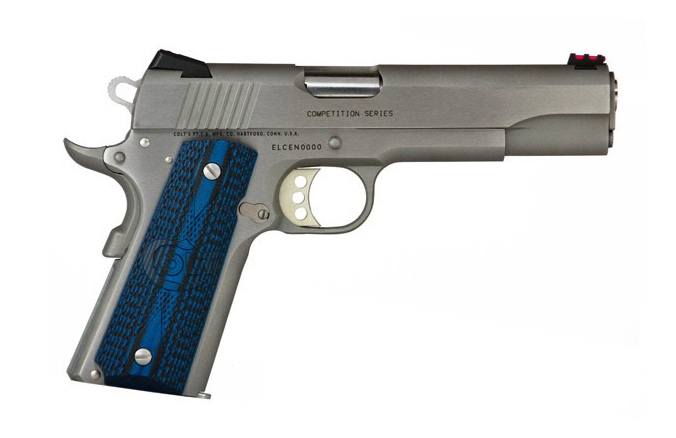 At one time, it was among the world's most powerful cartridge. Now, the .38 Super has nearly been forgotten. A shame, given it really is a spectacular round, especially in defensive use. The manageable and powerful cartridge was, after all, designed to defeat body armor and the sheet steel of car bodies.
Today, the cartridge continues to live on mainly with competitive shooters and Colt has a dynamite way of launching the souped-up .380 ACP — the Competition SS. Born to run, the Colt .38 Super has all the features you need to beat the clock out of the box. Chief among these, the gun's 5-inch National Match barrel, Novak adjustable rear and fiber optic front sights and Colt's Dual Recoil Spring System. The springs really do a number, noticeably tamping down the 36-ounce pistol's recoil so you can reach your full accuracy potential in rapid fire. As does a crisp three-hole aluminum trigger, which breaks at 4.5 to 6 pounds.
Enough stainless steel to outfit an operating room and slick blue G10 grips, the Competition SS looks fast to boot. Checkered and scalloped, the grips also facilitate a rock-solid handle on the gun, giving you shot-to-shot confidence. Of course, it is priced like a Colt — a Competition Series Colt. But the sticker shock isn't as great as you'd figure for what you get — $1,049.
---
NEXT STEP: Download Your Free Storm Tactical Printable Target Pack
62 Printable MOA Targets with DOT Drills - Rifle Range in YARDS
This impressive target pack from our friends at Storm Tactical contains
62 printable targets
for rifle and handgun range use. Target grids and bullseye sizes are in MOA. Ideal for long-range shooting!
Subscribe to the Gun Digest email newsletter and we'll send your print-at-home target pack right away.
Just enter your email address below.
---