Rock Island Armory has recently unveiled the RIA 5.0 pistol, a new American-made 9mm with an interesting combination of features.
Rock Island Armory has mostly been known for its imported handguns, but that may be about to change. At SHOT Show 2023, the company announced its first entirely American-made firearm, the RIA 5.0. It's a full-size 9mm pistol that combines a few interesting elements from other handgun designs into a single pistol.
Made at Rock Island's brand-new facility in Cedar City, Utah, the most promising feature of the RIA 5.0 is its soft recoil impulse, and this is achieved through a combination of a few different design choices. Firstly, the pistol features what RIA is calling its patented RVS Recoil System. The company claims it helps reduce recoil by maximizing barrel mass and linear movement. Additionally, the slide rides inside the frame like on a CZ-75, lowering the bore axis and reducing muzzle flip. Finally, the frame is made out of aluminum rather than polymer, providing extra weight to help keep the pistol flat during firing (with a total weight of 2.47 pounds, the RIA 5.0 is pretty beefy).
The pistol's shootability is further improved by a smooth, 4-pound trigger, a two-piece modular grip for increased control with differently-sized hands and good sights out of the box. The RIA 5.0 ships with a Dawson Precision fiber optic front sight and an LPA adjustable rear sight, and it can also be purchased with a pre-installed C-More RTS II red dot sight. Other notable details worth mentioning include its 17+1 magazine capacity, accessory rail and barrel length of 4.91 inches.
Martin Tuason, President and CEO of parent company Armscor/Rock Island Armory, said this about the new handgun:
The RIA 5.0 is really an engineering marvel…It's an extremely shootable sporting pistol with a meticulously engineered trigger system. Best of all, we're proud to say it's made entirely in the U.S.A.
The standard RIA 5.0 has an MSRP of $998 and the Special Edition that includes a red dot has an MSRP of $1,298.
For more information, please visit armscor.com.
---
Load Up On More 9mm Knowledge: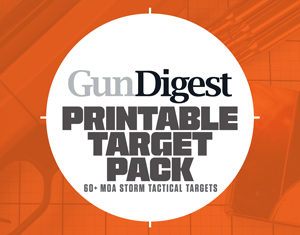 Next Step: Get your FREE Printable Target Pack
Enhance your shooting precision with our 62 MOA Targets, perfect for rifles and handguns. Crafted in collaboration with Storm Tactical for accuracy and versatility.
Subscribe to the Gun Digest email newsletter and get your downloadable target pack sent straight to your inbox. Stay updated with the latest firearms info in the industry.