Beretta brings the rough and ready French MR73 revolver to the American market.
How The MR73 Is A Cut Above The Rest:
Features triple adjustable trigger features overtravel, hammer force and hammer spring weight adjustment screws.
Outfitted with LPA target adjustable rear sight.
Comes with ergonomic Trausch grips.
Battle test by French GIGN counterterrorism unit.
Ah, France! Home of the Eiffel Tower, good wine and revolvers as salty as Charlemagne. Wait … what? You heard that right.
True enough, France isn't exactly the first country that comes to mind when discussing high-performance European firearms, however, the nation has a long and storied history innovating guns. OK, the Chauchat was a deadly lemon, but a mere mote on an otherwise outstanding record.
In contemporary times, count the Manurhin MR73 among these triumphs. Built for match accuracy and operator toughness, the .357 Magnum possibly vies for the title "best revolver in the world". And Beretta is bringing it to America.
What's So Dang Special About the MR73?
Certainly, it's a thumb in any red-blooded American's eye to claim another country—particularly France—makes a better wheelgun than us. But as far as production revolvers go, this could very well be the case with the Manurhin MR73. It had to be among the best, given the demands placed upon the gun by an elite unit of the French national police force unit—Groupe d'intervention de la Gendarmerie Nationale (in English National Gendarmerie Intervention Group or GIGN).
Formed in 1973, the GIGN's missions include hostage rescue, threat surveillance, protecting government officials and, most notably, counterterrorism. Initially, the tactical unit employed Smith & Wesson revolvers, but the guns were unable to withstand the GIGN's rigorous training regimen, which includes firing 150 rounds daily. The French pistol, however, could and in the unit's skilled hands has acquitted itself well.
Most famously, and mention nearly anytime the MR73 is, is the revolver's role in the 1994 rescue of hijacked Air France flight 8969. The point man in the rescue, Chief-Warrant Officer Thierry Prungnaud, killed two of the four hijackers—members of the Armed Islamic Group of Algeria—and neutralized a third with his MR73. Mind you, this was with the entirety of the flight's crew and passengers onboard. There's little arguing Prungnaud's skill in a tense scenario with ample opportunity for collateral damage, but his tool responded admirably, as well. Incidentally, he did earn seven rounds of 7.62x39mm for his efforts—and survived. Tough dude.
In this particular case, it's likely GIGN Chief-Warrant Officer used his 5.25-inch barreled MR73. But members of this unit also were issued a 3-inch barreled concealable model for protection duties and an 8-inch barreled urban sniping variant. French police forces utilized 2.5-, 3- and 4-inch fixed-sights MR73s, and Manurhin has offered all the iterations as sport models. An aside, it's not unheard of for an issue GIGN MR73 to have more than 250,000-round life, which also speaks volumes to the gun's ruggedness.
---
Get More .357 Magnum Info:
---
What MR73 Is Beretta Offering
Beretta is slated to import two variants of the famous Manurhin revolver (made by Chapuis Armes)—the MR73 Sport and the MR73 Gendarmerie. The difference here is barrel length, the former with a 5.25-inch pipe, the latter a 4-inch option. Both versions of the 6-round revolver include a cold hammer-forged barrel, LPA target adjustable rear sight, front ramp sight, ergonomic target grip, and a premium target trigger.
The trigger merits comment. Manurhin's triple adjustable trigger not only features a built-in overtravel screw but also a hammer force adjustment screw and a hammer spring weight adjustment screw. The latter features are built into the frame and offer a shooter more control over the performance of the trigger than most revolvers on the market. And the grips, Ruger fans will most likely recognize them as a Jacques Trausch creation, given he produced a model for the SP101. In essence, the unique rubberized grips are heralded for their fine recoil mitigation qualities and control improvement.
The aesthetics of the revolver are pleasing as well, with a full underlug, a rich black finish and gold trigger and hammer. Controls are also familiar, with a cylinder release similar to Smith & Wesson's, placed on the left-hand of the frame.
Pretty top-shelf, perhaps akin to another top-end European revolver maker—Germany's Korth. Guess what, the Manurhin MR73 runs you nearly as much. Both the MR73 Sport and Gendarmerie run a cool $3,300. Spendy, but look at it this way, it works out to around $.01 a trigger-pull if you get it to 250,000 rounds.
Manurhin MR73 Sport Specs
Caliber: .357 Magnum/.38 Special
Barrel Length: 5.25 inches
Capacity: 6
Overall Height: 5.6 inches
Overall Length: 10.39 inches
Sight Radius: 6.85 inches
Weight (Unloaded): 37 ounces
MSRP: $3,300
Manurhin MR73 Gendarmerie Specs
Caliber: .357 Magnum/.38 Special
Action: DA/SA
Barrel Length: 4 inches
Capacity: 6
Overall Height: 5.5 inches
Overall Length: 9.17 inches
Sight Radius: 5.6 inches
Weight (Unloaded): 34.2 ounces
MSRP: $3,300
For more information on the Manurhin MR73, please visit www.beretta.com.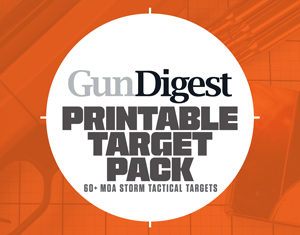 Next Step: Get your FREE Printable Target Pack
Enhance your shooting precision with our 62 MOA Targets, perfect for rifles and handguns. Crafted in collaboration with Storm Tactical for accuracy and versatility.
Subscribe to the Gun Digest email newsletter and get your downloadable target pack sent straight to your inbox. Stay updated with the latest firearms info in the industry.