Revolver grips, it isn't the most scintillating topic. But some consideration in this area goes a long way in taming a large-bore beast.
The grip your heavy-kicking revolver is equipped with matters. Whether it's a double- or single-action, the handle you hang onto will make your revolver pleasant to shoot—and thereby controllable … or not.
Grip shape determines how the revolver will recoil. Double-actions tend to recoil straight back into the hand. The recoil dynamic of double-action revolvers differs significantly from that of single-actions. The single-actions have a propensity for flipping the muzzle upward.
There are distinctly different types of single-action revolver grips, but as a basic design and type (they're all variations on the same theme), let's refer to them as "plow handles." These grip designs tend to point very naturally but, by design, they'll pivot upward in your hand. There's absolutely nothing wrong with this grip type; however, when recoil climbs, they become increasingly more difficult to control.
Ruger addressed this "shortcoming" with its interpretation of the Bisley grip frame that was made famous by Colt. It's a more vertical profile, and frankly, it recoils much more like a double-action, in that it goes back more than a plow handle design. People love them or hate them, but the general consensus is that the Ruger Bisley is a better choice for control and quick follow-up shots under heavy recoil.
---
Gun Down More Handgun Hunting Info:
---
However, it can be better when not equipped with narrow, one-size-fits-all factory grips. The chief complaint about the Ruger Bisley is that the middle knuckle of the shooting hand makes painful contact with the trigger guard.
Freedom Arms revolvers are equipped with a grip frame the author finds very recoil-friendly, even with factory grips. In essence, it's a cross between a plow handle and a Ruger Bisley.
Magnum Research's BFR single-action revolvers come equipped with a plow handle-style grip. While a rubber grip of the company's own design is available, it doesn't work well for the author's hands. However, Magnum Research recently added its own iteration of the Bisley grip that sort of resembles a banana in profile. That said, the Magnum Research Bisley is, hands down, the best grip for big recoil. It substantially improves control and comfort.
Custom Revolver Grips
There's a way to make your favorite grip frame a whole lot better: Add aftermarket or custom grips. The key is the fit to your hand. There are many aftermarket grip manufacturers that should be explored because they might have a good product for you.
Hogue makes a particularly good "Tamer" grip for the Ruger Super Redhawk. The better option (for single-actions) is a custom set of grips made for your hand dimensions. Yes, they can be costly, but the final product will be vastly superior than anything mass-produced. When the grip is right, your shooting experience will be greatly improved.
Editor's Note: This article originally appeared in the August 2020 issue of Gun Digest the Magazine.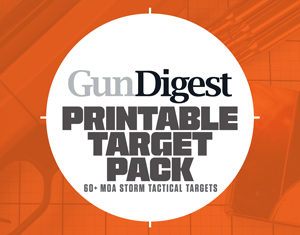 Next Step: Get your FREE Printable Target Pack
Enhance your shooting precision with our 62 MOA Targets, perfect for rifles and handguns. Crafted in collaboration with Storm Tactical for accuracy and versatility.
Subscribe to the Gun Digest email newsletter and get your downloadable target pack sent straight to your inbox. Stay updated with the latest firearms info in the industry.