How one gun writer had constructed a custom Glock 19 over the years.
Why the Glock is so customizable:
Ample selection of aftermarket parts.
Ease of installing upgrades.
The improved performance once parts are installed.
One of the main reasons Glock has become such a popular pistol in recreation, competition and law enforcement circles is the ease of customization and nearly unlimited availability of aftermarket parts and manufacturers. From slides, barrels, triggers and strikers, to minor accessories, the shooter can create countless combinations.
I own a Gen 2 Glock 19. I can't recall how long I've owned this particular pistol, but according to the serial number, it was manufactured in October 1994, making it almost 24 years old. I've carried this particular pistol on and off since 2004, and I've done several upgrades along the way.
My first modification happened in 2005, when I replaced pretty much everything except the frame, barrel, slide and extractor with factory Glock parts purchased at Brownells. I've changed sights several times. I just replaced my Tru-Glo TFO sights with yellow rears to the new Tru-Glo TFX Pro Sights, and I will be leaving these on for a long time.
For the trigger, I picked my favorite: the APEX Action Enhancement Kit for Glock. This particular kit is designed for the Gen 2, 3 and 4 9mm/.40 S&W models only, but a trigger for the Gen 5 is already available.
For the sake of reliability, durability and aesthetics, I sent my slide to ROBAR to get the NP3 finish added. I did that refinish almost 10 years ago and the NP3 only needs a little polishing once in a while to look like I had it done yesterday.
I wanted my frame to be unique, so I contacted Molon Labe, LLC, and had my frame laser-engraved with a honeycomb texture, which not only looks great but gives me a more positive grip on the pistol.
To finish it all, I picked up a couple of accessories from Molon Labe. They have a great selection of baseplates, striker plates and grip plugs for all generations and calibers of Glock pistols, and they can also custom engrave any logo you desire.
There are so many other ways to customize your Glock pistols, from lights and lasers that can be attached to rail models to custom paint jobs done by a plethora of authorized Cerakote applicators that will take your Glock to the next level. The limit is only dictated by your imagination.
Editor's Note: This article originally appeared in the May 2018 issue of Gun Digest the Magazine.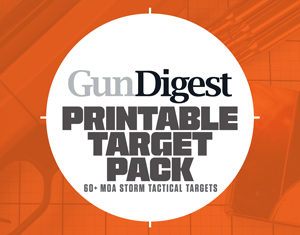 Next Step: Get your FREE Printable Target Pack
Enhance your shooting precision with our 62 MOA Targets, perfect for rifles and handguns. Crafted in collaboration with Storm Tactical for accuracy and versatility.
Subscribe to the Gun Digest email newsletter and get your downloadable target pack sent straight to your inbox. Stay updated with the latest firearms info in the industry.