Mossberg ups the ante with the extended capacity, yet highly concealable, MC2 compact pistol.
What Does The MC2c Offer:
13-round flush fit and 15-round extended double-stack magazines.
Slim 1.1-inch width.
Safe and easy takedown that does not require a trigger pull.
Very economical starting MSRP of $490.
The shocker at last year's SHOT Show was Mossberg. After 100 years since introducing a new pistol model, the company raised more than one eyebrow with the introduction of the MC1sc 9mm compact. It appeared a wise move, with the smooth shooting and relatively economical single-stack winning over a fair following. Not Mossberg is set to capture lightning in a bottle again.
On the cusp of the 2020 SHOT Show, the company has followed up on the MC1sc with the MC2c compact, a slightly larger variation with enhanced capacity. And while the 13+1 capacity of the new pistol is enough to perk up most shooters' ears, its how Mossberg pulled it off that's the intriguing story. While the double-stack MC2c boasts a bit longer barrel (3.9 inches) and comes in a touch taller (4.9 inches) than its older sibling, it remains nearly as slim and unimposing. A width of 1.1 inches, the pistol should prove extremely easy to carry and disappear on your person.
To accomplish this feat, Mossberg had to break some from the original design, in particular, the material its magazines are made from. Previously, the MC1sc utilized semi-translucent polymer magazines and was compatible with Glock 43 magazines, but had to turn to steel to pull off the svelte compact. To boot, they're a proprietary design, though feature an extended base plate that increases the magazine capacity to 15 rounds.
Learn More About Handguns:
From there, the pistol remains very familiar. The MC2c has the same comfortable ergonomics as the original, stainless steel slide with DLC or matte stainless finish, fore and aft cocking serrations, flat-faced trigger (also break around 5 pounds or so), oversized trigger guard and cross-bolt safety. The striker-fired also has the same unique and safe takedown procedure as the MC1sc, which does not require a trigger pull and allows easy access to the striker. Additionally, the MC2c is offered with your choice of low-profile 3-dot sights or optional Truglo night sights.
Sticking the what the MC1sc established, the MC2c comes in extremely affordable with an MSRP of $490 for all three-dot sight models and $595 if you pick Truglo sights.
More From Mossberg:
NORTH HAVEN, CT – Following the phenomenal success of the MC1sc™, Mossberg's first semi-auto pistol in the company's 100-year history, Mossberg is announcing the next in its series of feature-rich handguns: the MC2c (compact) 9mm pistol. Combining superior ergonomics, performance-driven features and increased capacity with its double-stack magazines, makes the MC2c a great size for concealed carry or home protection. Five initial offerings will include two frame variants (standard and cross-bolt safety); choice of slide finishes (black DLC-finished or bead-blasted stainless steel); and optional TRUGLO® Tritium Pro™ Night sights. And all MC2c models come with 13-round flush and 15-round extended coated-steel magazines.

Carryability begins with the compact size of the MC2c which features a 3.9-inch barrel and has an overall length of 7.1 inches; surprisingly-slim width of 1.10 inches; and height of 4.90 inches. Weighing in at 21 ounces (unloaded), this semiauto is designed to be incredibly narrow for its capacity. In addition to its concealability, the MC2c pistol's ergonomic features help ensure that this compact is comfortable to shoot. The grip has an added palm swell and grip angle, like a 1911, and features Mossberg's signature aggressive texturing for a more confident, firm grip. The stainless-steel slide features aggressive multi-angle serrations that provide positive slide manipulation and MC2c pistols also have a reversible magazine release, located behind the trigger guard. Models are available with a cross-bolt safety, which is reversible for right or left-handed shooters.

The MC2c frames are constructed of glass-reinforced polymer, which provides for high tensile strength and stiffness as well as high impact and chemical resistance. Slides are stainless steel with the option of Black DLC (Diamond-Like Coating) or Matte Stainless finish. And integrated into the slide is the Mossberg STS™ (Safe Takedown System), which unlike competitive products, does not require the user to pull the trigger to dissemble for routine cleaning or maintenance. Other standard features include dovetail-mounted, low-profile white 3-dot sights (drift adjustable); stainless steel barrel with cut-broached rifling and 1-in-16 twist rate with black DLC finish; front accessory rail; oversized trigger guard; and flat-profile trigger with integrated blade safety. Trigger features include short, tactile reset; reduced overtravel; and approximate 5.5-pound trigger pull weigh.

The MC2c flush 13-round and an extended 15-round double-stack magazines are constructed of coated steel which offers low friction and superior wear-resistance. The magazines also feature easy-to-remove floorplates for ease of cleaning and high-visibility followers.
MC2c Specs
Caliber: 9mm
Capacity: 13+1 flush-fit magazine; 15+1 extended magazine
Barrel Length: 3.9 inches
Sights: White 3-Dot; Truglo Tritium Pro
Overall Length: 7.1 inches
Height: 4.9 inches
Width: 1.1 inches
Weight: 21 ounces unloaded
MSRP: $490 3-dot sights; $595 Truglo
For more information on the Mossberg MC2c, please visit www.mossberg.com.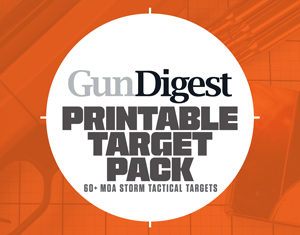 Next Step: Get your FREE Printable Target Pack
Enhance your shooting precision with our 62 MOA Targets, perfect for rifles and handguns. Crafted in collaboration with Storm Tactical for accuracy and versatility.
Subscribe to the Gun Digest email newsletter and get your downloadable target pack sent straight to your inbox. Stay updated with the latest firearms info in the industry.